'Women of the Movement' review legacy: An ABC miniseries revisits Emmett Till's murder and its civil-rights legacy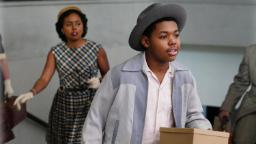 The structure shows rather ungainly, with the concentrate on Mamie Till-Mobley (Adrienne Warren, a Tony winner for "Tina: The Tina Turner Musical") fading in and out, though the task rallies down the stretch, that includes a destructive reenactment of the criminal offense.
Mamie is presented bring to life Emmett (played by Cedric Joe, fresh off the "Space Jam" reboot), a tough experience that leaves her naturally protective of her child.
When it's recommended that the 14-year-old Emmett leave Chicago to check out Mississippi in 1955, remaining with his great-uncle Mose Wright (Glynn Turman, excellent as constantly), she alerts him about the culture in the Jim Crow South, advising him, as he duplicates, to "keep my eyes down" around White individuals.
Hanging out with some other young boys, Emmett is basically attempted into entering into a supermarket, where he smiles at the White female behind the counter (Julia McDermott). When somebody whistles as she leaves it triggers a flurry of racist hysteria, resulting in her other half (Carter Jenkins) and brother-in-law (Chris Coy) snatching Emmett, who is later on discovered dead.
The truth that audiences do not instantly see what took place does not make those occasions, or Mamie's sorrow, any less disastrous. Yet "Women of the Movement" — put together from a set of books, consisting of Till-Mobley's narrative — does not actually strike its stride up until the mom starts pursuing justice for her child, getting press reporters and working with the NAACP.
"No one will believe it, what they did," she says staring at her child's body, later on demanding an open coffin at his funeral service, stating, "I want them to see what was taken from me."
Justice, nevertheless, is an evasive product, even with a district attorney (Gil Bellows) going to pursue the case, taking on a legal representative (Timothy Hutton) excited to take advantage of the neighborhood's bigotry.
The last chapters (the 6 parts will air in 3 weekly installations) end up being a bit excessive of a standard courtroom drama, down to the pleasant atmosphere, prior to Till-Mobley rotates to dealing with the consequences of the trial and discovering her voice as a civil-rights leader.
The title in fact signifies this story as the very first in what's planned to be an anthology dedicated to various females who played crucial functions in the motion. In addition, ABC will supplement the drama with a docuseries, "Let the World See," dedicated to Till-Mobley's advocacy.
Considered that the pursuit of justice for Till has actually continued for more than 75 years, "Women of the Movement" is barely simply a dry recitation of some far-off past. It's an exceptional start to a job imbued with a level of aspiration and significance that, in the modern-day age, broadcasters too hardly ever display.
"Women of the Movement" premieres Jan. 6 at 8 p.m. ET on ABC.
Jobber Wiki author Frank Long contributed to this report.