CLEARWATER — An active assailant exercise was recently conducted at High Point Elementary School, as Pinellas County Sheriff Bob Gualtieri led a mass-casualty simulation July 20.
The multi-agency event took place following months of planning, according to Gualtieri, who was picked by Gov. Ron DeSantis to lead the Marjory Stoneman Douglas High School Public Safety Commission in the wake of the school shooting in Parkland in February 2018 but was delayed due to the coronavirus.
"What we did today was something we've been wanting to do for years but weren't able to do because of COVID," Gualtieri said during a press conference roughly an hour into the drill, which featured 15 lead agencies, including the Clearwater, Largo and Pinellas Park police departments, plus 130 actors and 100 observers. "And that is to test all of the training, the policies, protocols and procedures we put in place in Pinellas County over the last few years to address an active assailant situation, especially in a school."
The realistic scenario unfolded at around 9 a.m. when, as Gualtieri explained, a distraught wife of a teacher attempted to gain entry through the school's main entrance at 5921 150th Ave. N.
As emergency response units rolled in, the woman rushed into the building and began shooting students, teachers, and staff as she made her way to her husband's classroom before ultimately being cornered in a portable and killed by responding officers. The realistic scene included victims and survivors, some clad in fake blood, being rescued through a broken window by first responders, where they were then escorted to the 'casualty collection point' and later, the reunification center to be reunited with family members.
Gualtieri later said he was pleased with the coordinated response while acknowledging mistakes are expected with a drill of this scale that has never been practiced before. 
"We're doing everything we can to be as prepared as we can, and that's why we're testing ourselves and trying to find the holes and find the vulnerabilities," he said following the initial part of the drill, which lasted about an hour. "I told our people going into it to go full throttle, give it 110% and don't be afraid to fall down, because we're going to fall down because we're testing things we put into place that we haven't had an ability to test. So, embrace the mistakes or things that were less than ideal because we're gonna learn from it."
The event began with a barrage of gunfire and an active assailant warning blaring over the school's loudspeakers. When asked about the effect the exercise could have on participants, Gualtieri admitted the harrowing scene "certainly strikes a chord" while stating realism was a necessary component of the drill.
"Every agency in this county has put their personnel through active assailant training," he said. "But in that active assailant training, you're not injecting into the scenario the stressors that we injected today. You have to put stressors on people to simulate it the best you can."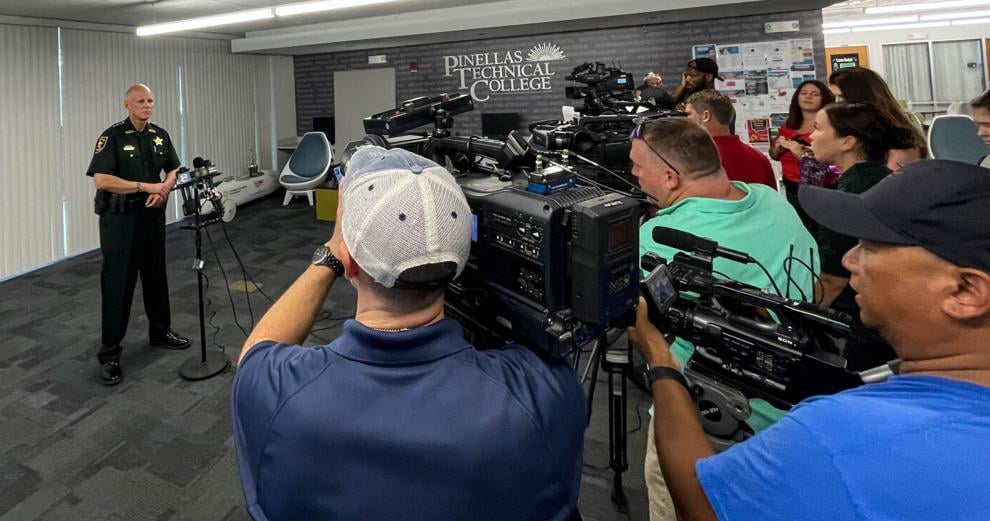 In response to a question of whether the exercise had been altered in the wake of the most recent school shooting in Uvalde, Texas, where a lone gunman shot and killed 19 students and two teachers on May 24 while barricaded in a classroom as officers waited to enter, Gualtieri said no, it had been planned well before. But he didn't pull any punches when asked how he felt about the tragedy at Robb Elementary, saying he was "disgusted" by the delayed response and the "obvious lack of leadership" on scene.
"One of the things that sticks in my mind is that one officer who's sitting in the hallway while the shots are ringing out and the kids are screaming, and he's going out and using the hand sanitizer. I mean really? What is going on?" Gualtieri said. "They say, and it's true, you don't know how somebody is going to react until they're actually tasked with reacting, but the volume of people there and the magnitude of the incompetence is mind-boggling." 
Gualtieri promised there would be no repeat of the mistakes made in Uvalde and Parkland in Pinellas County, and Pinellas County Schools Superintendent Kevin Hendrick said he was thankful for the sheriff's commitment to preventing such a tragedy from happening here.
"These types of situations, we all fear them, and we don't want to see them in Pinellas County schools, but we must be prepared," Hendrick, who took over for the retired Michael Grego on July 1. "I think every educator is sickened by any scene they see in a school, but today wasn't like that because we were doing something to prevent those things … and to make something like this less likely to happen in Pinellas County and to make sure we're all prepared in every way we can be."
Gualtieri said the department would produce an after-action report detailing the results of the drill in roughly 30 days, and noted they plan to do another simulation at a different location, possibly a store, after the New Year. Afterward, Belleair Police Chief Rick Doyle, who was part of the observation team, said it's imperative for area first responders to be prepared to face an active assailant or mass casualty scene.
"The fact we have to conduct a mass casualty drill is unfortunate, but it's necessary to help prepare and coordinate all first responders efforts for that type of situation," Doyle said via email. "Talking about what everyone needs to do in a situation like this is one thing. When you play the scenario out like they did, it gives you an entire list of things you don't think about, and we are fortunate we live in a county where all law enforcement agencies and first responders work and train well together."