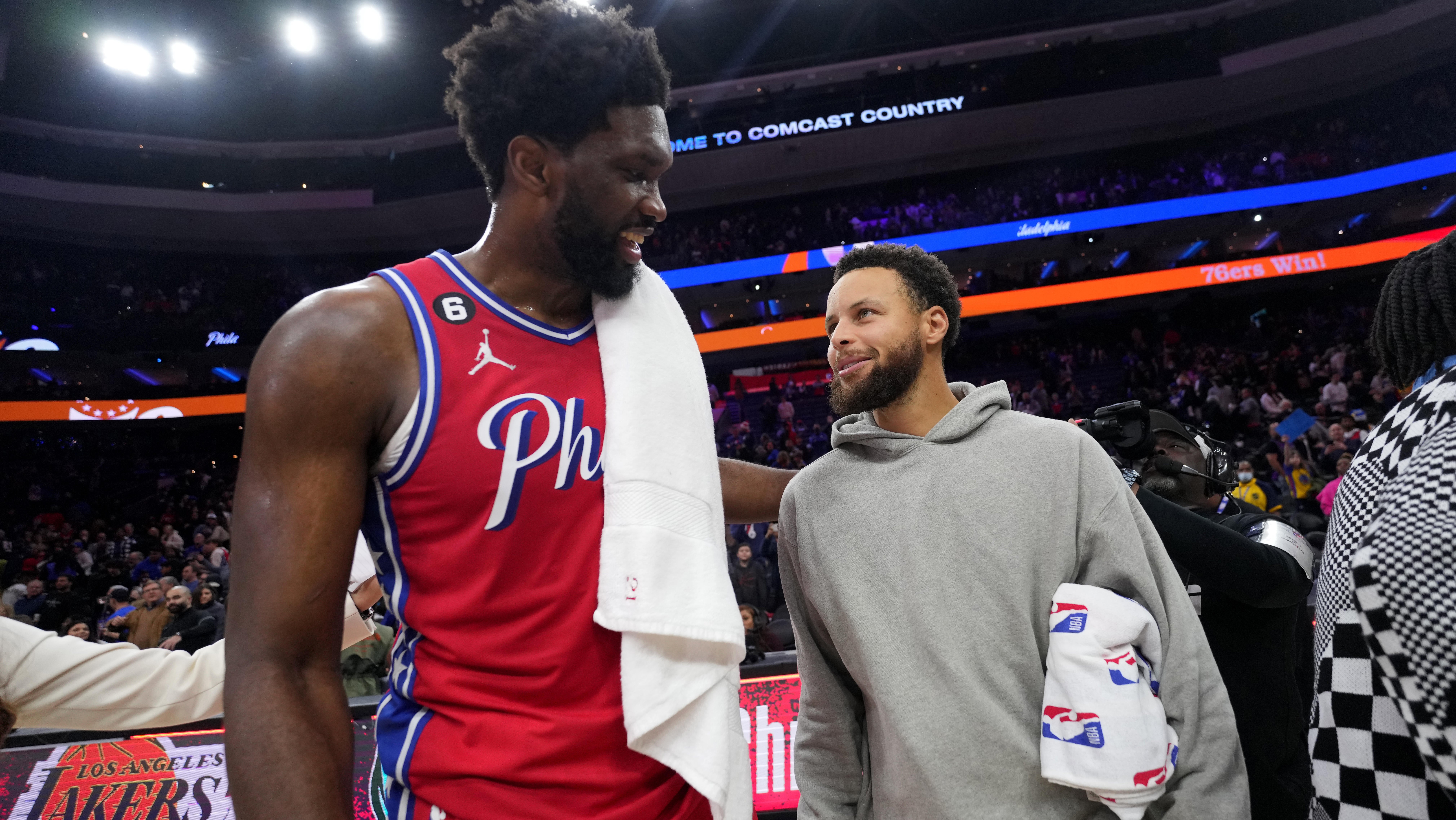 When it comes to winning NBA MVP Awards, Golden State Warriors star guard Stephen Curry knows a thing or two. Curry is a two-time MVP winner, and he became the first unanimous MVP winner in league history in 2016. Curry isn't in the running for the award this season, but he does have an opinion regarding who should win the NBA's most prestigious individual award. 
"I would say Joel [Embiid]," Curry said of who he would vote for, via Bleacher Report. "Any person you pick, their body of work could be compared to Jokić or Giannis. But Joel took a leap that I think a lot of people didn't expect because he was dominant already. That leap turned heads and put Philly in a great position. If I had to pick, it would be him."   
Curry joins his Warriors teammate Draymond Green in publicly showing support for Embiid in what has shaped up to be an extremely tight award race. 
"Right now in the MVP race, I think it's Joel. I think it's Joel's award to lose," Green said late last month. "I think the way he loses that award is his team starts losing. Joel's going to put up Joel numbers, Joel going to do what Joel has been doing. It's Joel's award to lose. It's interesting how much things are changing, you look at the standings, this MVP stuff is changing. Joel should get his first MVP this year. I don't expect Philly to hit some crazy losing streak. And be that they won't do that, it should be Joel's to lose."  
Portland Trail Blazers star guard Dame Lillard also expressed a similar sentiment recently. 
"I pick Joel Embiid because I feel like he's been dominant all season long," Lillard said of the MVP race. "His team is winning. I feel like he could've won it one of the last two years, but Jokic won it both times.
"I just think because he's been, to me, the most dominant player and has been carrying his team, you can't continue to give it to a guy who's won it twice in a row, especially when you have a guy like this that's performing at the same level, maybe even higher. And he also didn't get it one of the last two times when he was at that level. I just think that's not how it should work."
After finishing as runner-up to Nuggets center Nikola Jokic in each of the past two seasons, Embiid is poised to claim the award as his own finally. The Sixers center is having the best season of his career and averaging personal bests in points per game (33) and field goal percentage (54). He's also in line to win his second consecutive scoring title and again has the Sixers looking like a legitimate contender in the Eastern Conference. 
Embiid is far from a shoo-in to win the award, though, as he faces some extremely stiff competition from Jokic and Bucks forward Giannis Antetokounmpo. All three players are having spectacular seasons, and a strong argument could be made in favor of each of them. Picking between them is like splitting hairs, as they say. But only one guy can win, and some of the top players in the league think it's Embiid's time. Even if Embiid doesn't ultimately win the award, he clearly has the respect of his peers, and that's meaningful in itself.