'WandaVision' review: Elizabeth Olsen and Paul Bettany add power to Disney+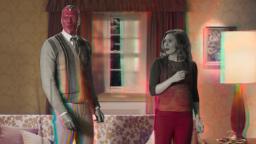 The very first 3 episodes of the nine-part series show stingy with substantial ideas, so the audience ought to be forewarned to buckle in for the trip. The satirical structure — putting the main duo in old comedies — will likewise resonate more with an audience able to value how thoroughly director Matt Shakman and head author Jac Schaeffer have actually reproduced them, unless the kids were weaned on programs like "The Dick Van Dyke Show" and "Bewitched" and will get visual gags about couples in different beds.
The most familiar components, gladly, see the return of Elizabeth Olsen and Paul Bettany as Wanda and the Vision, the Scarlet Witch and artificial android whose not likely love affair moved from the pages of the Avengers comics to the screen.
They're reestablished, rather jarringly, in a black-and-white comedy episode, showing a genuine fondness for the category, and represented with spot-on efficiencies by the leads. The program includes lots of understanding nods to early-TV conventions — consisting of canned laughter, Kathryn Hahn as the meddlesome next-door neighbor, and signature tune thanks to Robert Lopez and Kristen Anderson-Lopez, the couple that lodged all those "Frozen" tunes in moms and dads' heads.
What's truly going on here, offered where movie-goers saw these Avengers last? That's the essential secret, one the producing group is plainly in no rush to reveal. Perseverance ends up being a virtue, taking in the comedy tributes while keeping a careful eye for sly Marvel referrals and skillfully positioned dollops of color, providing possible fractures in the black-and-white veneer.
The typical special-effects pyrotechnics, on the other hand, are funnelled into far more subtle accomplishments of production style and costuming — a TELEVISION program that turns years of TELEVISION history into an ally.
In General, "WandaVision" works as a wise and normally excellent calling card for Marvel's wider Disney+ method, after the high bar that Lucasfilm developed with "The Mandalorian." Unlike the smaller-scale reveals produced for ABC and Netflix, these tasks bring into play prominent names from the films — with the still-to-come "Loki" and "The Falcon and the Winter Soldier" — then display them in manner ins which stress character over cinematic hit features.
Obviously, something structured like "WandaVision" can just really be evaluated when you have actually reached completion of the journey. For beginners, however, the studio's streaming vision looks rather clear, even if these heroes' black-and-white fate does not.
"WandaVision" premieres Jan. 15 on Disney+.
Jobber Wiki author Frank Long contributed to this report.