Key events
Kwarteng: I'm confident our plan will work
UK chancellor Kwasi Kwarteng has told leading bankers, insurers and asset managers at today's meeting that he is "confident" that his economic strategy will work.
In his meeting with City chiefs this morning, Kwarteng said he was confident that the long-term strategy to drive economic growth through tax cuts and supply side reform would work.
In an attempt to reassure the City of London, rocked by days of turmoil, the chancellor reiterated the government's commitment to fiscal sustainability (days after annoucing unfunded tax cuts that will require a surge in borrowing…).
He also argued that supply side reforms would cool inflation, as increased capacity brings down prices.
Kwarteng said:
"I'm confident that with our growth plan and the upcoming medium-term fiscal plan — with close co-operation with the Bank — our approach will work."
It shows that Kwarteng plans to stick to his economic strategy in the face of a market selloff that sent the pound crashing.
But of course it's the confidence of international markets – not the chancellor – that really matters, and will determine whether the crisis abates, or intensifies.
What would it take to prompt the Bank of England into an emergency rate hike, ahead of their scheduled meeting in early November?
Professor Costas Milas of the University of Liverpool's Management School tells us that a credit rating downgrade could be a possible trigger for emergency action to boost sterling.
He explains:
I believe that the Bank of England will have to act if credit rating agencies (CRAs) downgrade the UK sovereign debt. This, in my view, is likely. CRAs usually take action when either economic policy uncertainty rises significantly and/or debt rises to unsustainable levels.

Economic policy uncertainty (measured here) is at its highest level since the beginning of the COVID-19 pandemic.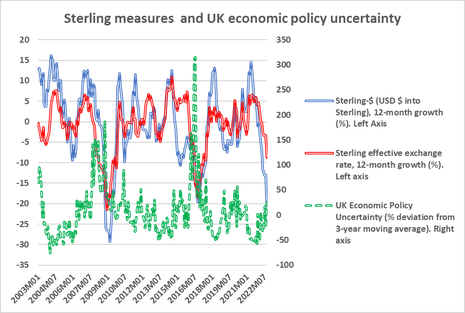 This is 'hammering' both the sterling effective exchange rate and sterling against the dollar. At the same time, UK debt will rise significantly following the chancellor's min-Budget.

What remains to be seen is how high the UK debt will go since, currently, we do not have official estimates of the additional debt burden. Something that will tempt CRA's to think seriously about a credit rating downgrade.
The Treasury and the Bank of England could, and should, have done a better job in helping the UK through the very difficult winter ahead, argues Dario Perkins, managing director for Global Macro at TS Lombard.
Perkins, a former Treasury economist, has also argued that the UK is now suffering from a "Moron Risk Premium" (MRP).
Basically, because the markets think government policy is fundamentally incoherent, and don't trust the Bank of England to step in, they downgrade UK assets across the board, from the pound to gilts.
Economist Jonathan Portes has covered this compelling theory in the i, here.
As an aside, Perkins also came up with the superb "Paolo Maldini guide to central banking", coined after the legendary defender known for his superb positioning and timing.
The idea is simple: once inflation is a problem, there is no real chance of a "soft landing" because the central bank has already messed up.
More here: Don't Bet On A Soft Landing
These days, Italian defenders use cruder tactics when they're caught out of position – and the Bank may have to do the same to pull back runaway inflation….
This is an important point about the pound's modest recovery today:
The jump in mortgage costs is a real worry to homeowners on fixed deals, especially borrowers who still have a lot of their loan to pay off.
Britain's long-term borrowing costs are continuing to climb, worryingly.
The yield, or interest rate, on 30-year gilts has jumped above 4.6% this morning, up from 4.4% on Monday. That's the highest since 2008.
At the start of last week, 30-year gilts were trading at a yield of 3.5%.
Yields move inversely to prices, so this shows it will cost Britain significantly more to borrow for the next 30 years.
Virgin Atlantic chief urges UK government to reverse course to lift pound
Virgin Atlantic's chief executive has called on the UK government to "consider reversing" some of the policies announced last week, to prop up the pound.
Shai Weiss told a press conference in London that sterling's fall in value is hurting the economy and hurting consumers, and fuelling the UK's inflation cycle.
Weiss said that Virgin Atlantic had taken some "very smart financial positions" to ease the impact of the weak pound on its business [which suggests they're hedged against a fall in sterling]
But the company is concerned about the economic environment. And Weiss suggested that Liz Truss should take a "difficult decision" to reverse sterling's slide, arguing:
"Sometimes all of us in this room should be humble enough to say: 'If I did something that is not working, maybe I should reverse course.'

"That is not a bad thing to do."
That would mean dropping some of the tax-cutting measure in the mini-budget that will drive up borrowing, fuel inflation, and worsen Britain's current account deficit.
Wess said Truss should take steps to protect the country from the loss of confidence in international markets, which risks driving up interest rates, and hurting the economy.
"The message to Government is pretty clear in my mind. Prime Minister Liz Truss has taken difficult decisions upon entering into the role

"Maybe you need to take a more difficult decision to reverse the declining pound and ensure that this country is not left with unsustainable perceived weakness in international markets, which of course then impact interest rates, impact consumers, impact mortgage rates, impact the entire economy.
Deutsche Bank have calculated that the surge in UK 10-year borrowing costs in recent days is the biggest shift in gilt yields since 1976.
That year, Britain turned to the IMF for a loan to prop up the pound, following the inflationary surge caused by the infamous giveaway Barber budget of 1972.
Jim Reid of Deutsche Bank says there have only been four larger moves since 1934, underlining the dramatic volatility created by the mini-budget.
So these are really big moves and continue the rolling VAR shocks of the last 12 months in fixed income.
[VAR measures the riskiness of a bond]
Hundreds of mortgage deals vanished in market turmoil
Zoe Wood
Nearly 300 mortgage deals have been pulled in the last 24 hours by banks and building societies after the fall in the pound fuelled forecasts of a jump in interest rates.
The Bank of Ireland, Clydesdale Bank, Post Office Money and a slew of building societies including Monmouthshire, Furness and Darlington are among the names to have withdrawn products, our consumer affairs correspondent Zoe Wood writes.
In a statement Bank Of Ireland said that:
"due to changes in the financial market, we don't currently have any new rates available for new or existing customers. We'll launch a new range of mortgage rates as soon as possible".
There are now 3596 residential mortgage deals available, down from 3880 at the start of this week, according to data firm Moneyfacts. At the end of last year would be borrowers would have had 5315 products to choose from.
Rachel Springall, finance expert at Moneyfacts, said the market was extremely volatile at the moment so borrowers need to seek independent advice to assess what their best options are right now:
"The upheaval in the mortgage market may cause frustration amongst both borrowers and brokers as they see deals disappear overnight."
The overnight reduction in deals – the equivalent of about 7% – comes as lenders struggle to accurately price their products after last week's mini budget sent the pound and government bonds plunging.
Virgin Money and Skipton Building Society were among the lenders who pulled their range of mortgage deals on Monday, while Halifax is withdrawing its fee-paying mortgage products
The financial markets are now pricing a slightly lower surge in UK interest rates.
UK Bank Rate is now expected to rise to around 5.8% by next summer, below the 6% peak seen yesterday.
But that would still be more than double current levels of base rate (2.25%).
Germany worried about UK's 'major experiment'
The German government is concerned that Britain is conducting a 'major' experiment, by cutting taxes and boosting borrowing just as the central bank is raising interest rates.
German finance minister Christian Lindner raised doubts about the British government's plans to accelerate spending while the central bank tightens policy to rein inflation.
In another sign of rising international concern, Lindner warned:
"In the UK, a major experiment is starting as the state simultaneously puts its foot on the gas while the central bank steps on the brakes,"
Speaking last night, at an event hosted by the Frankfurter Allgemeine Zeitung newspaper, Lindner suggested that it wouldn't end well….
"I would say we wait for the results of this attempt and then draw the lessons."
JP Morgan economist Allan Monks argues that Kwasi Kwarteng will need to reverse his strategy.
This can't wait until chancellor lays out his medium-term fiscal plan on November 23rd, Monks warned (via Reuters).
Monks said the statements from Kwarteng, and the Bank of England, yesterday were "measured"….
"But there is still no clear sign that the source of the problem – the government's fiscal strategy – is being reversed or reconsidered.

This will need to happen before November in order to avoid a much worse outcome for the economy.
Summers: crisis could drive pound below euro and dollar parity
Larry Summers, a former US Treasury secretary, has warned that the UK government's 'utterly irresponsible' plans could drag the pound below parity against the euro, as well as the dollar.
Summers has heavily criticised chancellor Kwasi Kwarteng for undermining credibility by saying 'incredible things' about planning more tax cuts — those weekend comments pushed the pound to a record low of $1.0327 on Monday.
Summers says he was "very pessimistic about the consequences of utterly irresponsible UK policy on Friday," but didn't expect the markets to get so bad so quickly.
Summers also suggests the Bank of England should have taken more decisive action, rather than its 'timid' statement yesterday.
Summers says:
The first step in regaining credibility is not saying incredible things. I was surprised when the new chancellor spoke over the weekend of the need for even more tax cuts.

I cannot see how the BOE, knowing the government's plans, decided to move so timidly.
Summers pointed to surging interest rates of long-dated British debt as a "hallmark of situations where credibility has been lost".
"This happens most frequently in developing countries but happened with early Mitterrand before a U-turn, in the late Carter Administration before Volcker and with Lafontaine in Germany."
Summers warns that there could be global consequences from a currency crisis in the pound, as it is a reserve currency.
The magnitude of Britain's trade current account deficit underscores the seriousness of its challenges. My guess is that pound will find its way below parity with both the dollar and euro.
Currently the pound is trading at €1.12, having hit €1.08 in yesterday's crash, the weakest since the end of 2020.
Here's the full thread.