As Tropical Storm Ian churns away in the Caribbean, it maintains a troubling forecast path toward Southwest Florida, expected to strike sometime late Wednesday near Tampa.
Ian is expected to become a powerful Category 3 hurricane as it nears Cuba.
Heeding meteorologists, Gov. Ron DeSantis declared a state of emergency in Florida's 24 southernmost counties counties Friday afternoon, and later expanded the state of emergency to cover the entirety of the state on Saturday.
"Today, I signed an Executive Order issuing a State of Emergency due to the threat of Tropical Depression 9," DeSantis said. "This storm has the potential to strengthen into a major hurricane and we encourage all Floridians to make their preparations. We are coordinating with all state and local government partners to track potential impacts of this storm."
"Early next week, Ian is forecast to move near or over western Cuba as a strengthening hurricane and then approach the Florida peninsula at or near major hurricane strength, with the potential for significant impacts from storm surge, hurricane-force winds and heavy rainfall," according to the National Hurricane Center (NHC).
"While it is too soon to determine the exact magnitude and location of these impacts, residents in Cuba, the Florida Keys and the Florida peninsula should ensure they have their hurricane plan in place and closely monitor forecast updates through the weekend."
Here is the latest update, with previous updates under that:
Update – Saturday – 5 p.m. — Meteorologists expect Tropical Storm Ian to become a hurricane Sunday night, while uncertainty remains over where Ian will make landfall.
The storm led to the delay of a launch attempt this Tuesday for NASA's Artemis I mission to the moon.
Senators Rick Scott and Marco Rubio also sent a letter to President Joe Biden to approve Florida's request for a federal pre-landfall disaster declaration ahead of the storm.
***
Update – Saturday – 1 p.m. — DeSantis has expanded the state of emergency statewide, amending Friday's executive order.
The Governor made the decision as Tropical Storm Ian has sustained winds of 40 mph and continues to grow.
"The threat posed by Tropical Storm Ian requires that timely precautions are taken to protect the communities, infrastructure and general welfare of Florida," a press release from the Governor's Office states.
***
Update – Saturday – 11 a.m. — Most of Florida remains in the path of the storm, although forecasters did shift the cone slightly west, removing much of the Keys and areas of Miami-Dade and Broward counties.
The National Hurricane Center predicted a landfall sometime Wednesday north of Tampa, although heavy winds and rain may be felt across the state throughout the week. Much of the peninsula remains under a state of emergency as the path still remains uncertain.
***
Update – Saturday – 9:45 a.m. — U.S. Reps. Charlie Crist, Val Demings and Darren Soto will visit Puerto Rico this weekend in response to the devastation brought by Hurricane Fiona.
Although Fiona was only a Category 1 storm, it wreaked havoc on the island with flooding.
"The people of Puerto Rico continue to be in my heart and prayers following yet another devastating natural disaster," said Charlie Crist. "The wounds of Maria have still not healed which is why it is so important for all of us – as private citizens and government officials – to provide all the support we can following yet another devastating storm."
***
Update – Saturday – 8 a.m. — Tropical Storm Ian is moving along at 15 mph with 45 mph winds.
"A westward to west-northwestward motion is expected through early Sunday," according to the NHC. "A turn to the northwest is forecast late Sunday, followed by a north-northwestward turn by late Monday.
"On the forecast track, the center of Ian is forecast to move across the central Caribbean Sea today, pass southwest of Jamaica on Sunday, and pass near or over the Cayman Islands Sunday night and early Monday. Ian will then approach western Cuba on Monday."
Ian's expected to develop into a hurricane sometime late Sunday.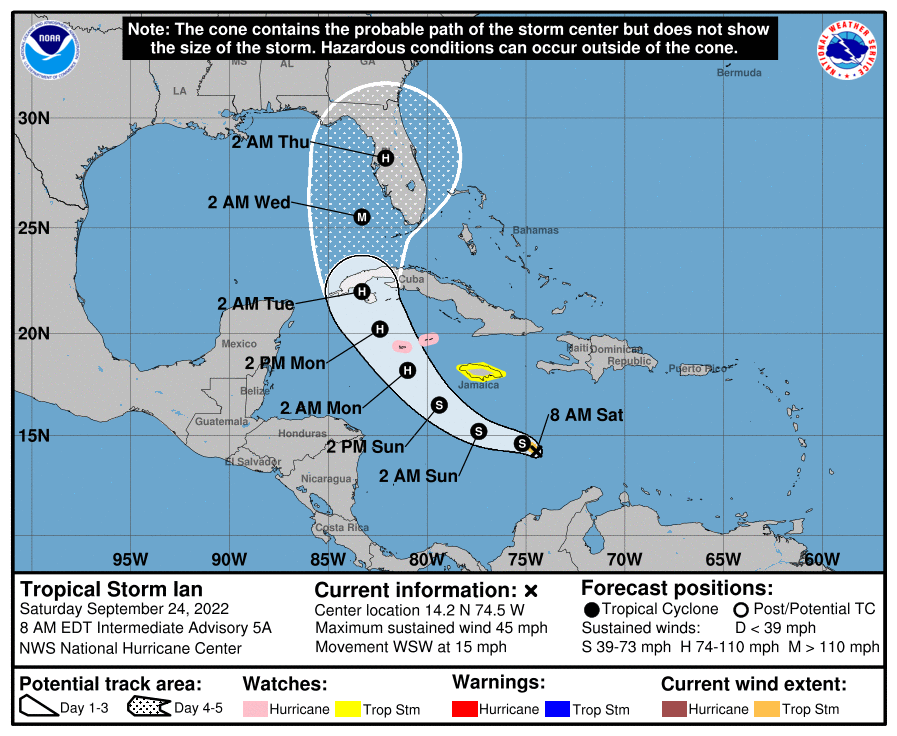 ***
Update – Saturday – 5 a.m. — Tropical Storm Ian grew overnight in the Caribbean still with a path that could bring it to Florida next week as a major Category 3 hurricane prompting Gov. DeSantis to declare a state of emergency in 24 counties.
The National Hurricane Center's 5 a.m. update puts Tropical Storm Ian's center about 315 miles southeast of Kingston, Jamaica and about 600 miles east-southeast of Grand Cayman with maximum sustained winds of 45 mph moving west at 14 mph. Tropical-storm-force winds extend out 45 miles.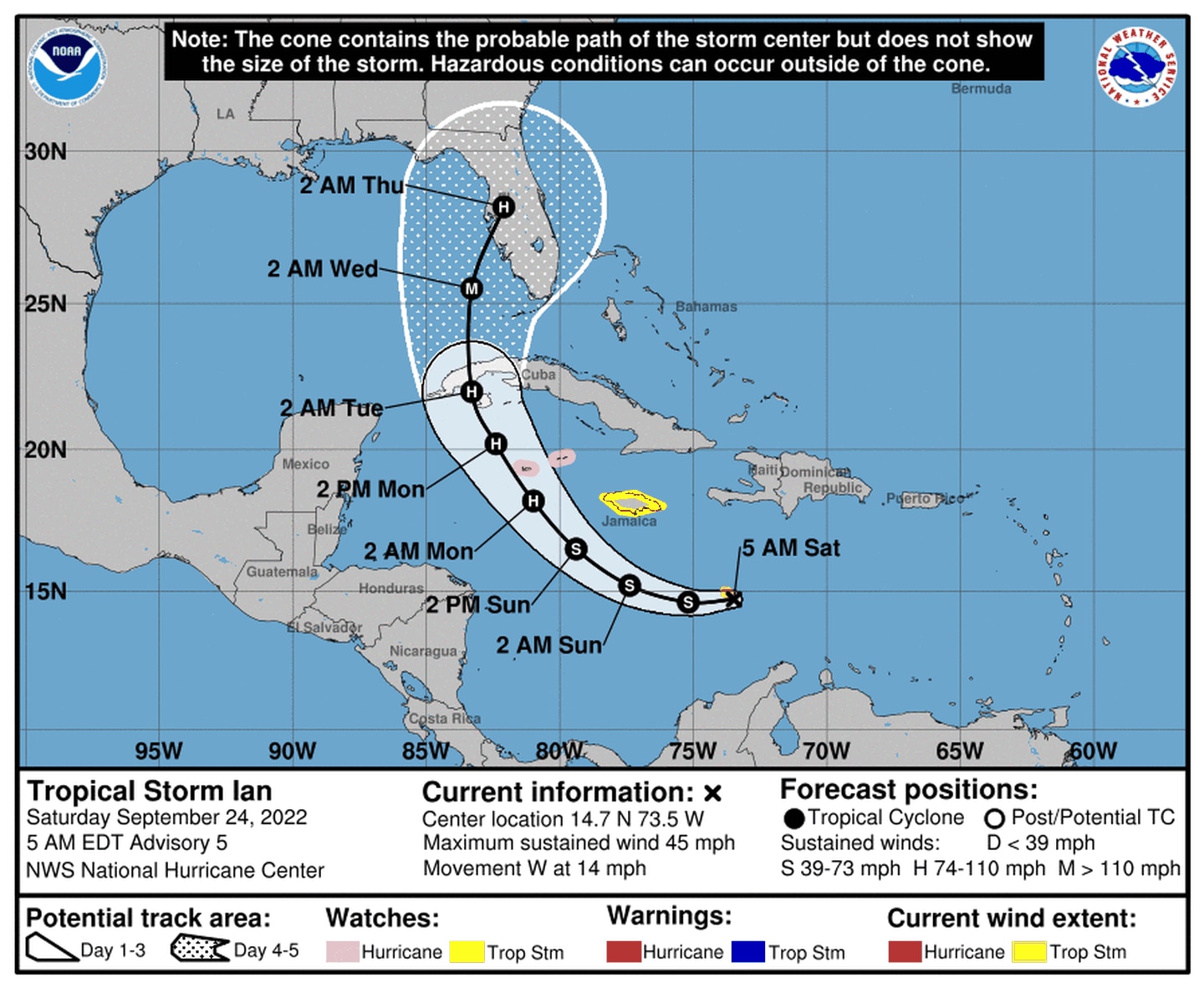 ***
Update – Friday – 11 p.m. the National Hurricane Center (NHC) declared that Tropical Depression 9 had strengthened, forming a Tropical Storm. It is predicted to make landfall in Southwest Florida as a major hurricane around Wednesday afternoon.
***
There's news in the tropics, and it's not good. The message is to get ready, because a storm is coming. Tropical Depression 9, while underpowered and far away at the moment, is predicted to make landfall in Southwest Florida as a major hurricane around Wednesday afternoon.
Tropical storm conditions are possible in Jamaica on Sunday. Hurricane conditions are expected in the Cayman Islands by early Monday.
As of the 11 p.m. update, maximum sustained winds are near 40 mph at the moment, with higher gusts. Ian is to significantly intensify Sunday and Monday, becoming a hurricane sometime Monday morning.
Tropical Storm #Ian Advisory 4: Tropical Storm Ian Forms Over the Central Caribbean Sea. Hurricane Conditions Possible in the Cayman Islands Early Monday. https://t.co/tW4KeFW0gB

— National Hurricane Center (@NHC_Atlantic) September 24, 2022
___
Renzo Downey contributed to this report.

Post Views:
0