Tom Hanks makes cameo in '1883'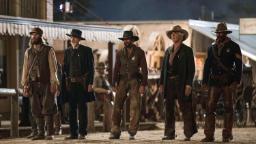 The Oscar winner appeared on the 2nd episode of the Paramount+ program with Tim McGraw.
As it ends up, McGraw is in fact old pals with Hanks.
"You never want to botch a scene when you got Tom Hanks in there with you," McGraw informed Cinemablend. "But yeah, he's a great guy. We've been friends for a long time. Rita, his wife, and Faith are best friends, and Tom and I've been friends for 25 years, 24 years. I knew that there was this part in there, and I gave him a call said, 'Hey, would you be interested in showing up doing a cameo in this show that we're doing?' And he goes, 'Tell me when to be there,' and he just showed up.'"
"1883" is the prequel to the hit program, "Yellowstone." McGraw stars as James Dillard Dutton along with his partner, Faith Hill, who is likewise in the program.
Jobber Wiki author Frank Long contributed to this report.