To sir, with love: Entertainers and activists pay tribute to Sidney Poitier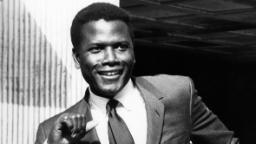 Star Sidney Poitier stars in "Buck and the Preacher," a movie that he likewise directed in 1972.
Poitier appears with Glenn Ford in a scene from the movie "Blackboard Jungle" in 1955. It was Poitier's advancement function, 5 years after he made his movie launching in "No Way Out." Poitier was born in Miami in 1927, however he invested much of his youth in the Bahamas. A heavy Bahamian accent and restricted reading capability when cost him a performing job at Harlem's American Negro Theater, however he dealt with his accent by mimicing radio commentators and he enhanced his reading abilities by studying papers.
Poitier and Tony Curtis are chained together in 1958's "The Defiant Ones." Both males were chosen for the Academy Award for finest star. It was the very first time a Black guy had actually been chosen for the award.
Poitier and his very first partner, Juanita, unwind at their house in New york city in 1959. They had 4 children prior to separating in 1965.
Poitier speak to Dorothy Dandridge in the 1959 musical "Porgy and Bess." At right is Pearl Bailey.
Poitier, center, participates in a civil-rights rally near the Statue of Liberty in 1960. Vocalist and star Harry Belafonte is on the far left.
Poitier appears on the talk show "Open End" with star Tony Franciosa, host David Susskind, singer and star Harry Belafonte and actress Shelley Winters.
Civil rights leader Martin Luther King Jr., left, is joined by, from left, vocalist and star Harry Belafonte, activist Asa Philip Randolph and Poitier circa 1960. A few years later, Poitier was one of the Hollywood celebrities who attended the 1963 March on Washington.
Poitier attends the Cannes Film Festival in France in 1961. He starred in the theatrical version of "A Raisin in the Sun," which won the Gary Cooper Award at the festival.
Poitier also starred in the stage version of "A Raisin in the Sun."
Poitier appears with Diahann Carroll in a scene from the 1961 movie "Paris Blues."
Poitier appears with Lilia Skala in the 1963 film "Lilies of the Field."
Poitier holds his best actor Oscar after winning for "Lilies of the Field." It was the first time a Black man had won the award for best actor.
Poitier signs his name and leaves his handprints at the famous Grauman's Chinese Theatre in Hollywood.
Poitier stars in 1967's "To Sir, with Love."
Poitier appears in a scene from "In the Heat of the Night." The 1967 film won the Oscar for best picture and is also known for one of Poitier's most famous film quotes: "They call me Mister Tibbs!"
Poitier talks with Spencer Tracy and Katharine Hepburn in a scene from another 1967 hit, "Guess Who's Coming to Dinner."
Poitier appears in "The Lost Man" with Joanna Shimkus in 1969. The two married in 1976.
From left, actors Steve McQueen, Paul Newman, Barbra Streisand and Poitier gather at their movie production company First Artists in 1972.
Poitier carries his daughter Anika as his wife, starlet Joanna Shimkus, wheels their younger daughter Sydney at Heathrow Airport in London in 1974.
Bill Cosby talks to Poitier during a scene from the film "Uptown Saturday Night" in 1974.
Poitier explains a scene to actor Richard Pryor as he directs the 1980 comedy "Stir Crazy."
Poitier stands near President Bill Clinton and first lady Hillary Clinton at the Kennedy Center Honors in 1995. At left is ballet dancer Jacques d'Amboise, who also was honored that year.
South African President Nelson Mandela stands next to Poitier at a news conference in Cape Town, South Africa, in 1996. Poitier played Mandela in the film "Mandela and de Klerk."
Poitier chats with Supreme Court Justice Ruth Bader Ginsburg before the premiere of the film "Mandela and de Klerk" in 1997.
Poitier plays around with boxing legend Muhammad Ali at an ESPY Awards rehearsal in 1997. Poitier would present Ali with the Arthur Ashe Award for Courage.
Poitier is signed up with by his wife, Joanna, and several of his daughters at the Screen Actors Guild Awards in 2000.
Poitier is presented with a Hall of Fame tribute at the NAACP Image Awards in 2001.
Poitier laughs with star Denzel Washington at an NBA playoff game in Los Angeles in 2002.
Poitier and Diahann Carroll present an award at the NAACP Image Awards in 2005.
Poitier talks to children in Porto Novo, Benin, during a measles vaccination campaign organized by the Red Cross in 2005.
President Barack Obama talks with Poitier after presenting him with the Presidential Medal of Freedom in 2009. "It's been said that Sidney Poitier does not make movies, he makes milestones — milestones of artistic excellence; milestones of America's progress," Obama said during the ceremony. "On screen and behind the camera, in films such as 'The Defiant Ones,' 'Guess Who's Coming to Dinner,' 'Uptown Saturday Night,' 'Lilies of the Field' — for which he became the first African American to win an Academy Award for best actor — Poitier not only entertained, but enlightened, shifting attitudes, broadening hearts, revealing the power of the silver screen to bring us closer together."
Poitier participates in a tribute to starlet Shirley MacLaine in 2012.
Poitier and actress Angelina Jolie provide an Academy Award together in 2014.
Poitier's handprints are seen at the TCL Chinese Theatre in Hollywood in 2020.
Jobber Wiki author Frank Long contributed to this report.