Tim McGraw wasn't so sure about Taylor Swift naming a song after him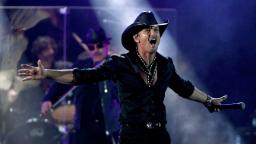 As you might remember, Swift's launching single, "Tim McGraw," was launched in 2006 off her self-titled album.
"I thought, have I gotten to that age now to where they're singing songs about me? Does that mean I've jumped the shark a bit? Is everything still cool?" he informed Apple Music Nation.
However then he altered his tune.
"And then I realized that somebody had told me that she was in her seventh-grade math class when she wrote the song, so it made me feel a little bit better about that because she was so young writing it. So I didn't feel like I was that terribly old," he stated.
It wound up being the start of a relationship that caused them teaming up on McGraw's 2013 tune, "Highway Don't Care."
Ever Since, Swift has actually gone on to turn into one of the most significant names in music.
Jobber Wiki author Frank Long contributed to this report.