'The Simpsons' will team up with Loki for a new short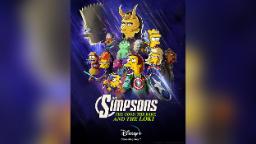 Structure on the buzz produced from its "Simpsons"-"Star Wars" team-up, Disney+ revealed on Wednesday its next brief will bring the precious Loki into the animated world of "The Simpsons."
The Marvel-themed brief will premiere on Disney+ on July 7.
"The Good, the Bart and the Loki" will discover the God of Mischief collaborating with TELEVISION's most naughty small Bart Simpson "in the ultimate crossover event paying tribute to the Marvel Cinematic Universe of Super Heroes and villains," according to a release from Disney+.
Tom Hiddleston will voice Loki in the brief.
"The Simpsons" executive manufacturer Al Jean, when speaking with CNN around the release of "Maggie Simpson in 'The Force Awakens From Its Nap,'" had actually stated more partnerships in between "The Simpsons" and residential or commercial properties from the Disney universe remained in the works.
"It's really a great set of material," he stated at the time.
Marvel Studios' "Loki" is presently streaming on Disney+, with brand-new episodes readily available on Wednesdays.
Jobber Wiki author Frank Long contributed to this report.