'The Masked Dancer' reveals the celebrity hiding under Cricket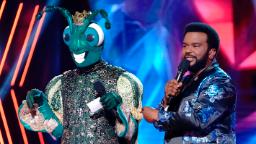 After dancing to Montell Jordan's "This Is How We Do It," he was unmasked for audiences and the panelists. Previously in the competitors, he danced to "Jump (For My Love)," by the Tip Siblings.
Amongst the panelists, Paula Abdul thought best with McKnight, Ken Jeong thought it was Michael Phelps, Brian Austin Green thought Ryan Lochte, and Ashley Tisdale thought Cricket was Ashton Kutcher. Rob Lowe, looking like a visitor panelist, likewise selected Lochte.
For the program's clue-dropping function, "Word Up," in which each entrant drops a one-word hint to assist panelists determine who they are, McKnight utilized "accomplished " then "all-star."
Along with Cricket, this season's outfits consist of Sloth, Unique Bird, Zebra, Tulip, Fairy Floss, Moth, Disco Ball, Ice and Hammerhead.
Up until now the program has actually unmasked Costs Nye the Science Person as Ice, Elizabeth Smart as Moth, and Ice-T as Disco Ball.
For McKnight, his next task will be a virtual Valentine's Day performance on Feb. 13.
Jobber Wiki author Frank Long contributed to this report.