'The Falcon and the Winter Soldier' shows Marvel's 'WandaVision' wasn't a blip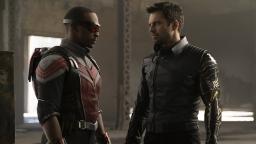 "Captain America: Civil War" relatively came across the chemistry in between the 2 as a squabbling odd couple. The conceit here is what occurs to them post-"Avengers: Endgame," without the red, white and blue icon that linked them.
That concern, a minimum of, needs to wait, as the 2 characters — Mackie's the Falcon, a.k.a. Sam Wilson, and Stan's The second world war super-soldier Bucky Barnes, looking excellent for 106 — at first run on parallel tracks.
Undoubtedly, in the very same method "WandaVision" invested numerous chapters prior to setting out its cards, this program seems in no rush to disgorge its tricks or deal break-the-internet minutes, showing easy to understand self-confidence that fans will remain while the very first episode expands the characters.
That's not to state the opening hour — directed by Kari Skogland ("The Handmaid's Tale") and composed by Malcolm Spellman ("Empire") — is uneventful, starting as it does with a rousing action series including a military objective that looks as great as practically anything you'd see on the cinema.
Still, those excited to enjoy the 2 swap insults while tossing punches rather get an intro to Sam's household and an upgrade on how Bucky has actually been killing time, adapting to life after his days as a near-unstoppable assassin.
The primary style of "Falcon and the Winter Soldier" really dovetails perfectly with the obstacle that Marvel itself deals with, after a year with delayed films and the departure of signature characters that assisted release the business on its controling course.
"We need new heroes," Sam is informed, a recommendation to the disorderly times following the defeat of Thanos that appears especially substantial, both to the program and to Marvel on a more comprehensive level.
Marvel and Lucasilm have actually shrewdly built their series to make the most of their streaming house's weekly episodic method (or as the kids utilized to call it, "television"), turning each Friday's drop into the equivalent of a film best when there weren't any significant ones to mention. Customers keeping up late or waking at the break of day to enjoy brand-new installations probably will not cancel for the next 6 weeks, and already "Loki" will be on the horizon.
Because sense, this series — initially meant to lead off Marvel's Disney+ lineup — maybe accidentally fits the minute. As the Falcon and Winter season Soldier join to fill deep space left by the loss of their good friend, the program is serving a comparable function for those who last saw them in a congested theater, emerging from websites and all set to conserve the world.
"The Falcon and The Winter Soldier" premieres March 19 on Disney+.
Jobber Wiki author Frank Long contributed to this report.