'The Equalizer' review: Queen Latifah gives the CBS drama a new look in its post-Super Bowl launch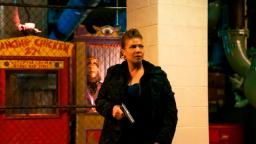 CBS mored than happy sufficient with the principle, purchased as a series without the typical pilot procedure, to provide it a sought after intro after the Super Bowl, which ought to guarantee a reasonable quantity of tasting. The best does a good job of setting out all the active ingredients, hoping a minimum of a few of that audience will return for seconds.
If they remain in the marketplace for another procedural with a pleasant lead and an extraordinarily great cast for this sort of by-the-numbers venture, they simply might. Robert McCall has actually ended up being Latifah's Robyn McCall, a previous CIA representative silently raising her teenage child (Laya DeLeon Hayes) with aid from her live-in auntie (Lorraine Toussaint).
Easily finding a girl in jeopardy — she saw a murder by some extremely bad individuals — McCall rapidly shows her unique abilities, prior to getting in touch with some old pals and coworkers for support. They consist of Bishop (Chris Noth), now running a private-security company, and a husband-and-wife group that includes a sharpshooter (Liza Lapira) and hacker (Adam Goldberg), both extraordinarily helpful abilities in a pinch.
OK, so it's not rather granny's "The Equalizer," although the very first program was most likely most remarkable for its manufactured style. Like the CW's current revival of another old CBS title, "Walker, Texas Ranger," the program stresses household a life apart from crimefighting in a manner the initial didn't — a more character-driven indication of the times, transparently looking for to humanize its inherently-likable star beyond simply working as a robotic dispenser of justice.
Established by previous "Castle" manufacturers Andrew W. Marlowe and Terri Edda Miller (signed up with by Queen Latifah, a.k.a. Dana Owens, amongst the executive manufacturers), it's a plain workout that takes advantage of its New york city setting, a bit like the previous CBS hour "Person of Interest." There's even an NYPD investigator (Tory Kittles) questioning who this strange vigilante may be.
"Who do you go to if you can't go to the cops?" the best's damsel in distress asks, encapsulating the underlying property in a single sentence. (The program brings a devotion to the initial program's co-creator, Richard Lindheim, who passed away in January.)
When such difficulty comes, you go to "The Equalizer," naturally. The concerns are whether Hollywood has actually rather greedily provided that call when frequently, and the number of of those post-football audiences return for mor
"The Equalizer" premieres Feb. 7 after the Super Bowl on CBS.
Jobber Wiki author Frank Long contributed to this report.