'The Courier' review: Benedict Cumberbatch delivers in a taut Cold War thriller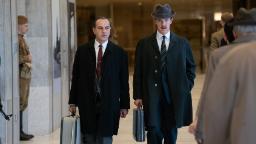 British and American espionage authorities were not surprisingly excited to collect info from Oleg Penkovsky (Georgian-born Merab Ninidze, likewise great), a high-ranking Soviet authorities who has actually grown significantly alarmed by leader Nikita Khrushchev's determination to look for fight with the West. However they require a method to get to what Penkovsky understands, utilizing somebody "who the KGB won't suspect" in order to gather his tricks.
They end up approaching Cumberbatch's Greville Wynne, a rather staid married man who regularly takes a trip to Moscow on service. "I'm just a salesman," Wynne demonstrations, and he seems truly worried and concerned, prior to lastly concurring.
What follows, as directed by theater director Dominic Cooke from a script by Tom O'Connor, is a reasonable quantity of cloak-and-dagger gamesmanship, with Penkovsky attempting to assure Wynne by informing him of the spying eyes on both of them, "I'm better at this than they are."
Wynne, on the other hand, need to keep the entire operation trick from his spouse (Jessie Buckley), who ends up being suspicious of his habits, that includes more interest in physical conditioning — and energy in the bed room — than he formerly had.
Cumberbatch is great at representing Wynne as a normal chap tossed into amazing situations, whose MI-6 and CIA handlers (the latter played by "The Marvelous Mrs. Maisel's" Rachel Brosnahan) are worried about his well-being however still going to threaten him thanks to the important info that Penkovsky is feeding them.
The motion picture's heart, nevertheless, lives in the bond created in between the 2 main characters, whose commitment to and empathy towards each other eclipses worldwide borders and stress, unfolding prior to the Cuban Rocket Crisis as a sobering suggestion of the stakes included.
Cumberbatch has actually mastered a variety of various espionage-type jobs, consisting of "The Imitation Game" and a variation of John Le Carre's "Tinker Tailor Soldier Spy" a years back. He brings a lot of downplayed star power to a film that otherwise gain from how securely built it is, without a great deal of fat on its bones or embroidery around its edges.
On that level, and others, "The Courier" more than provides.
"The Courier" premieres March 19 in theaters. It's ranked PG-13.
Jobber Wiki author Frank Long contributed to this report.