'The Beatles: Get Back' may surprise even hardcore fans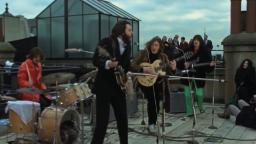 One that got Stephen Colbert was how pianist Billy Preston became called "the fifth Beatle."
Throughout an interview on his late program that aired on Thanksgiving, Colbert talked with Peter Jackson, who directed the freshly launched Beatles docuseries.
They talked about how Preston concerned get on the secrets with the renowned band, comprised of John Lennon, Paul McCartney, George Harrison and Ringo Starr.
"He wasn't even supposed to be on the album," Colbert stated. "He was just a friend of George's who stopped by."
"The album" is 1970's "Let It Be." The brand-new docuseries constructs on audio and movie from the 1970 "Let It Be" documentary.
"The Beatles: Get Back" checks out Harrison giving up the band and McCartney presuming more of a management function as John Lennon concentrated on his marital relationship and work with Yoko Ono.
Jackson talked with the Washington Post about dealing with the job.
"I tried to make a very honest movie," he stated.
Jobber Wiki author Frank Long contributed to this report.