Suni Lee shares why she was too shy to meet Justin Bieber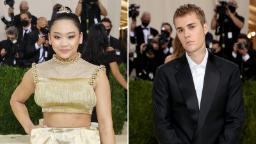 The gold medalist had the chance previously this month at the Met Gala, and states she is sorry for not taking it now. Lee appeared on Thursday's episode of "The Ellen DeGeneres Show," where she described her issue.
"I met Rihanna," she informed DeGeneres. "I met Hailey Bieber — oh, my gosh, I love her."
She continued: "I talked to her, and I was shaking, and I was like, 'Hi, I'm Suni.' And then I was just telling her how I was dancing to Justin Bieber's 'Stay' for my first 'Dancing With the Stars' dance. And she's like, 'You should tell him.' And I'm like, 'OK.'"
She had actually carried out the jive to the tune with Sasha Farber.
However in reality, she could not face him.
"Then when I got the chance to see him, I got too scared. I was like, 'I'm not doing it,'" she informed DeGeneres, who asked, "You didn't walk over to him and say hi? He's so nice. He's so sweet."
Lee states she was too anxious after enjoying the vocalist as a kid, describing that she had posters and blankets of his face in her space.
"Me and my sister, when we were younger, we had posters of him and blankets of him, and the posters have kissy marks on it with red lipstick," she stated.
DeGeneres offered her tickets to an upcoming Bieber program and included that she hopes the 2 fulfill in the future. "I hope so, too," Lee stated.
Jobber Wiki author Frank Long contributed to this report.