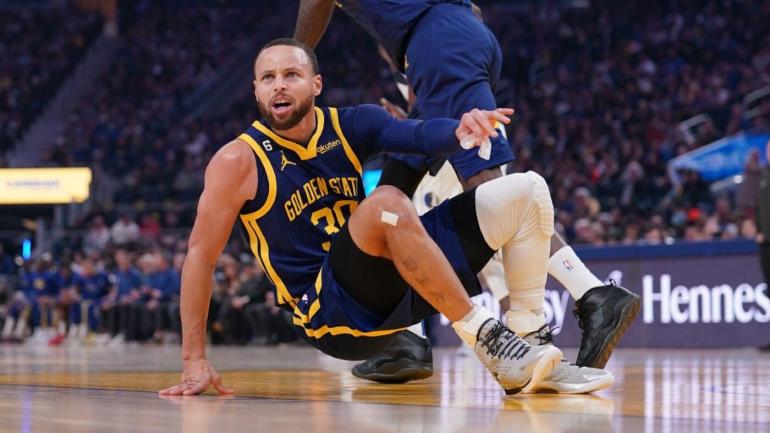 USATSI
Stephen Curry exited Saturday's Golden State Warriors battle with the Dallas Mavericks due to an apparent knee injury. The moment came in the third quarter, with Golden State holding a sizable lead over the Mavs, who were playing without star point guard Luka Doncic. Curry was defending a drive by young Mavericks guard Jaden Hardy when he suffered the apparent injury to his left knee. 
He left the game from there and went into the locker room.
The team announced that X-rays on Curry's leg were negative but he would be getting an MRI. "Any time a guy gets an MRI, there's a concern level," coach Steve Kerr told reporters. "We'll just have to wait and see the results."
Curry missed 11 games earlier this season due to a left shoulder subluxation. Durability has always been a concern for the smaller Curry. He missed 18 games last season, and in the 2019-20 campaign he suited up only five times. Early in his career, a series of ankle injuries hampered his development, but he was able to eventually overcome them and grow into an MVP-caliber player.
An extended Curry absence would be a serious concern for a Golden State team that is underperforming expectations this season. Despite winning the championship last year, the Warriors are just 26-26 through 52 games. They currently occupy the No. 10 seed in the Western Conference, but the standings are so crowded that any time spent without Curry could knock them out of the play-in round entirely. The No. 13-seeded Lakers are currently only two games behind them.
The Warriors are deep at the guard positions. Jordan Poole and Klay Thompson can scale up their usage, and Donte DiVincenzo has had a strong comeback season in Golden State. But there is no true substitute for the greatest shooter of all time, so the Warriors just need to hope that their best player is healthy as soon as possible.