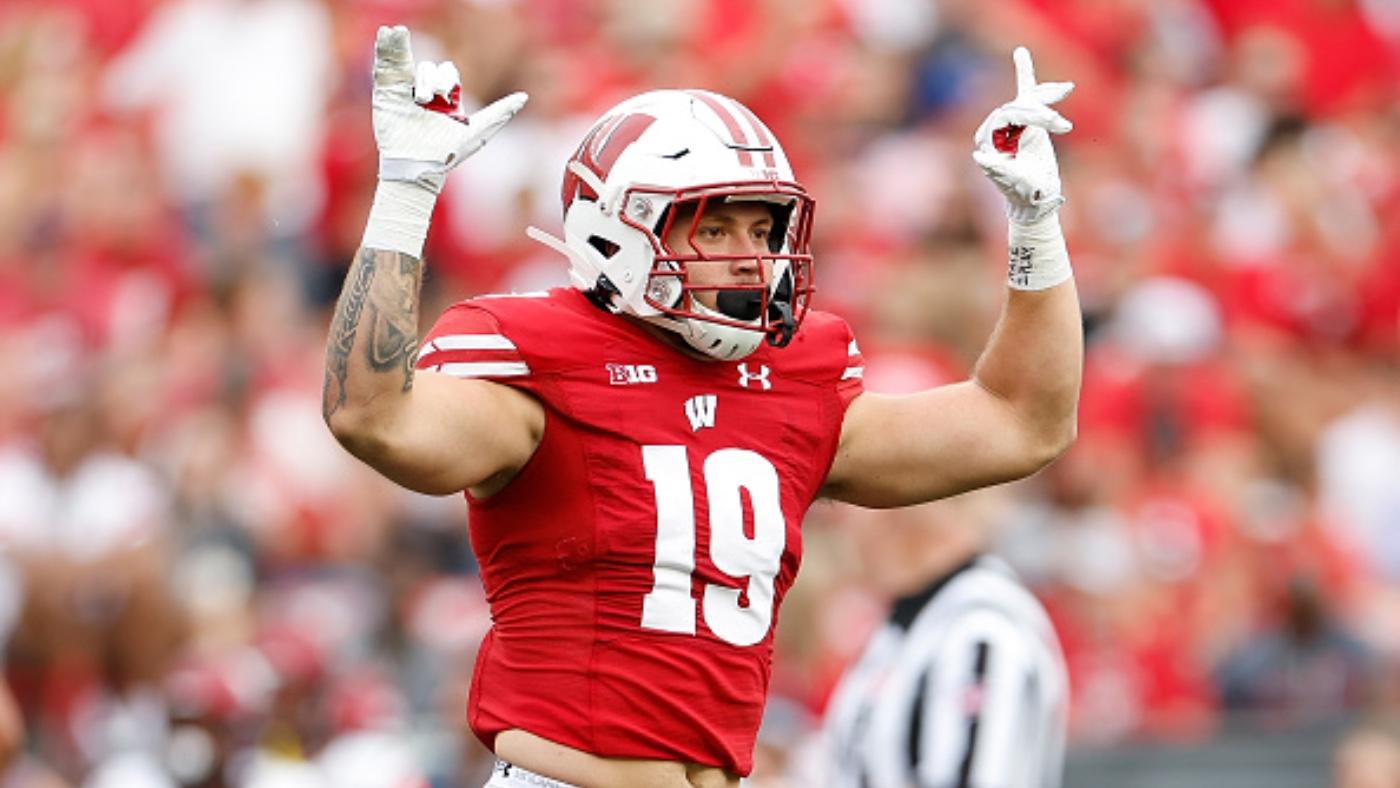 While it was the unofficial song of the 1979 world champion Pittsburgh Pirates, the hit '70s song "We Are Family" certainly applies to Mike Tomlin's Steelers. Pittsburgh once again reunited a pair of brothers during Day 3 of the 2023 NFL Draft when they acquired former Wisconsin pass rusher Nick Herbig with the 132nd overall pick. 
Herbig is the younger brother of Nate Herbig, a veteran offensive lineman who signed with Pittsburgh this offseason. The older Herbig lobbied for the Steelers to draft his little brother as soon as he stepped into the facility. 
The Steelers obliged. 
"Me and him talked about this since we were little kids," Nick Herbig said shortly after being drafted. "We grew up and shared the same dream. We work out together, we do everything together. That's my best friend. I don't think blood could make us any closer, and in my brother's famous words, 'I'm just happy to be here.'" 
The Herbig boys are the latest pair of brothers on the Steelers' roster. Last fall, the Steelers drafted tight end Connor Heyward, the younger brother of defensive captain Cameron Heyward. Three years ago, the Steelers signed free agent fullback Derek Watt, the younger brother of former Defensive Player of the Year T.J. Watt. 
Tomlin hasn't shied away from the fact that he likes the benefits associated with rostering players from the same family. Along with drafting the younger Herbig, the Steelers drafted Joey Porter Jr., the son of former Pittsburgh linebacker Joey Porter, with the 32nd overall pick. 
"You know, we value the intangible quality, and when you're doing business with one, it probably gives you an indication about the intangible quality of the other," Tomlin said at the conclusion of last year's draft. "We're all continually trying to measure that which we cannot, and that probably is what drives us toward the brother game.
"But the guys that we do business with, they're here on their own merits and their own capabilities. In some instances, they just happen to be brothers." 
The Steelers' brotherly combos have led to some memorable moments. In 2020, Derek, T.J. and then-Texans defensive end J.J. Watt became the second trio of brothers to play in the same NFL game. The first instance, ironically enough, involved the Steelers when then-Steelers Trey and Terrell Edmunds shared a field when then-Bills linebacker Tremaine Edmunds late in the 2019 season. 
Last year, Heyward scored his first career touchdown in Atlanta, which is where he and Cam's father, Craig "Ironhead" Heyward, made a name for himself as a Pro Bowl running back. Craig Heyward passed away in 2006 after a courageous battle with a recurring brain tumor. Connor Heyward pointed to the sky after his score that contributed to the Steelers' 19-16 win. 
While they never employed the eldest Watt, former Steelers GM Kevin Colbert said that they could see J.J.'s influence on T.J. when the Steelers were scouting him prior to the 2017 NFL Draft. While it wasn't the reason why they ultimately drafted T.J., the fact that his brother was a three-time DPOY certainly didn't hurt. 
"T.J. was a very fundamentally, mechanically sound outside linebacker," Colbert said in Jim Wexell's book, On The Clock: Behind the scenes with the Pittsburgh Steelers at the NFL Draft. "Most of the time when we've had to take players for that position, they've had to learn how to play on their feet because most of them are college defensive ends. Well, T.J. wasn't. He played that position in a 3-4 defense at Wisconsin. You could see him understanding how to play the schematic. It was very similar to ours. But his advanced use of his hands as a pass-rusher was something that stood out, and I'm sure he got a lot of that not only from the Wisconsin staff but from J.J. as well. 
"So along those lines, he obviously benefitted from his brother's experience. But we didn't take him because his name was Watt." 
The Steelers probably felt the same way about Herbig, who racked up 20 sacks and 30 tackles for loss during his final two years in Madison. His production, along with their desire to provide Watt and Alex Highsmith with an adequate backup, were probably the two biggest factors led to Pittsburgh drafting him. The fact that his big brother is already a Steeler was icing on the cake. 
"Talking about Wisconsin and Herbig, there's not a lot of speculation," Tomlin said. "That guy held down the same position that I watched T.J. play in that place, and I think it was (Andrew) Van Ginkel after him. They asked him to do a lot of things. You see them do NFL things. They rush, they drop. It's fun to watch Wisconsin tape for those reasons."