Ship runs aground and splits in two in Japan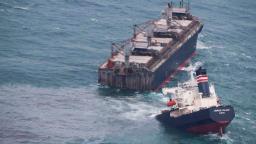 The 39,910-ton vessel, the "Crimson Polaris," was bring wood chips when it ran aground on Wednesday early morning in Hachinohe harbor.
It handled to totally free itself, however due to bad weather condition was not able to move far and wound up anchoring about 4 kilometers (2.4 miles) out from the port.
The vessel, which was at completion of a trip from Thailand, split in 2 early Thursday, the Coast Guard stated.
An oil slick 5.1 kilometers long by about 1 kilometer large showed up later on in the day, however containment procedures were being taken by patrol boats.
The vessel's 2 parts have actually stagnated and are being carefully kept an eye on by patrol boats, and by late afternoon there had actually been no obvious significant modification in its scenario, a Coast Guard representative stated.
Jobber Wiki author Frank Long contributed to this report.