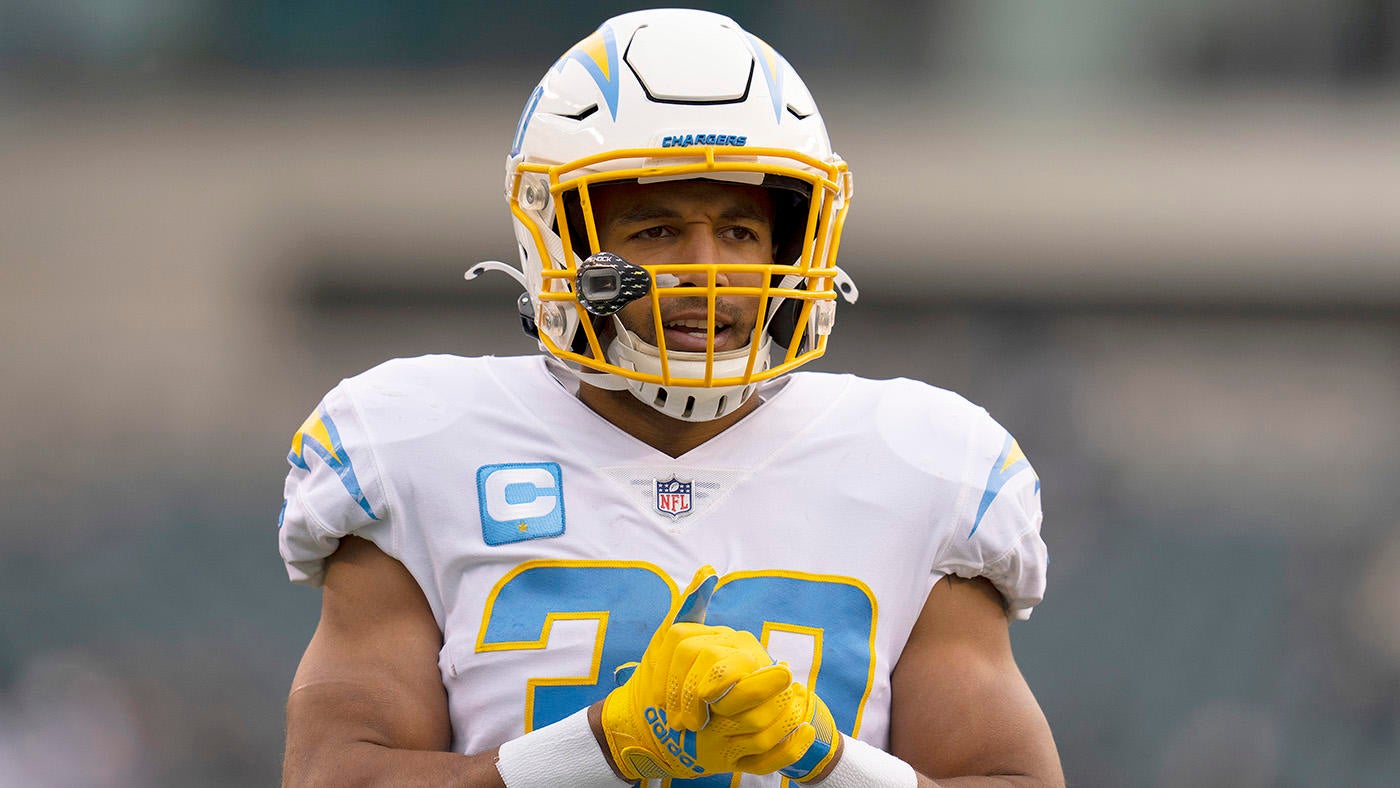 It's seven-round mock draft season, people. All 259 picks perfectly predicted. Essentially after reading this mock, you'll have no use to even watch the draft next weekend because you'll have already seen all the selections. 
In all seriousness, I attempted to make this mock as "realistic" as possible with a litany of trades, highlighted by a monster at the end of the first round. 
Ok, let's get to the picks!
For more draft content, check out our latest prospect rankings and mock drafts, as well as our new weekly podcast, "With the First Pick," featuring former Vikings general manager Rick Spielman. (Check out the latest episode below.)
Round 2
32. Pittsburgh Steelers – Isaiah Foskey, EDGE, Notre Dame
33. Houston Texans – Darnell Washington, TE, Georgia
34. Arizona Cardinals – Nolan Smith, EDGE, Georgia
35. Indianapolis Colts – Felix Anudike-Uzomah, EDGE, Kansas State
36. Los Angeles Rams – John Michael Schmitz, OC, Minnesota
37. Seattle Seahawks (from Denver) – Hendon Hooker, QB, Tennessee
38. Las Vegas Raiders – Calijah Kancey, DT, Pittsburgh
39. Carolina Panthers – Dawand Jones, OT, Ohio State
40. New Orleans Saints – Adetomiwa Adebawore, DL, Northwestern
41. Tennessee Titans – O'Cyrus Torrence, OG, Florida
42. Green Bay Packers (mock trade with Jets) – Mazi Smith, DT, Michigan
43. New York Jets – Will McDonald, EDGE, Iowa State
44. Atlanta Falcons – Josh Downs, WR, North Carolina
45. Green Bay Packers – Drew Sanders, LB, Arkansas
46. New England Patriots – Keion White, EDGE, Georgia Tech
47. Washington Commanders – B.J. Ojulari, EDGE, LSU
48. Detroit Lions – Trenton Simpson, LB, Clemson
49. Pittsburgh Steelers – Blake Freeland, OT, BYU
50. Tampa Bay Buccaneers – Steve Avila, IOL, TCU
51. Miami Dolphins – Siaka Ika, DT, Baylor
52. Cleveland Browns (mock trade with Seahawks) – Gervon Dexter, DT, Florida
53. Chicago Bears (from Baltimore) – Luke Musgrave, TE, Oregon State
54. Philadelphia Eagles (mock trade with Chargers) – Kelee Ringo, CB, Georgia
55. Detroit Lions (from Minnesota) – Jahmyr Gibbs, RB, Alabama
56. Jacksonville Jaguars – JL Skinner, S, Boise State
57. New York Giants – D.J. Turner, CB, Michigan
58. Dallas Cowboys – Tucker Kraft, TE, South Dakota State
59. Buffalo Bills – Sam LaPorta, TE, Iowa
60. Cincinnati Bengals – Tuli Tuipulotu, EDGE, USC
61. Chicago Bears (from San Francisco through Carolina) – Rashee Rice, WR, SMU
62. Philadelphia Eagles – Derick Hall, EDGE, Auburn
63. Denver Broncos (mock trade with Chiefs) – Clark Phillips, CB, Utah 
Round 3
64. Chicago Bears – Zach Charbonnet, RB, UCLA
65. Arizona Cardinals (mock trade with Texans) – Cody Mauch, OL, North Dakota State
66. Arizona Cardinals – Jonathan Mingo, WR, Ole Miss
67. Kansas City Chiefs (mock trade with Broncos) – A.T. Perry, WR, Wake Forest
68. Denver Broncos – Keeanu Benton, DT, Wisconsin
69. Los Angeles Rams – Jaelyn Duncan, OT, Maryland
70. Las Vegas Raiders – Sydney Brown, S, Illinois
71. Buffalo Bills (mock trade with Saints) – Colby Wooden, DL/EDGE, Auburn
72. Tennessee Titans – Luke Wypler, OC, Ohio State
73. Houston Texans (from Cleveland) – Kayshon Boutte, WR, LSU
74. Seattle Seahawks (mock trade with Browns) – Cedric Tillman, WR, Tennessee
75. Atlanta Falcons – Eli Ricks, CB, Alabama
76. New England Patriots (from Carolina) – Noah Sewell, LB, Oregon
77. Los Angeles Rams (from New England through Miami) – Owen Pappoe, LB, Auburn
78. Los Angeles Chargers (mock trade with Packers) – Marvin Mims, WR, Oklahoma
79. Indianapolis Colts (from Washington) – Jordan Battle, S, Alabama
80. Pittsburgh Steelers – Antonio Johnson, S, Texas A&M
81. Detroit Lions – Clayton Tune, QB, Houston
82. New York Giants (mock trade with Buccaneers) – Devon Achane, RB, Texas A&M
83. Seattle Seahawks – Ja'Ayir Brown, S, Penn State
84. Miami Dolphins – Tyrique Stevenson, CB, Miami
85. Green Bay Packers (mock trade with Chargers) – Brandon Joseph, S, Notre Dame
86. Baltimore Ravens – Julius Brents, CB, Kansas State
87. Minnesota Vikings – Kyu Blu Kelly, CB, Stanford
88. Jacksonville Jaguars – Joe Tippmann, OC, Wisconsin
89. San Francisco 49ers (mock trade with Buccaneers) – Jaylon Jones, CB, Texas A&M
90. Dallas Cowboys – Daiyan Henley, LB, Washington State
91. Buffalo Bills – Warren McClendon, OT/OG, Georgia
92. Tampa Bay Buccaneers (mock trade with Bengals) – D.J. Johnson, EDGE, Oregon
93. Carolina Panthers – Nathaniel Dell, WR, Houston
94. Cleveland Browns (mock trade with Eagles) – Andre Carter, EDGE, Army
95. Kansas City Chiefs – Jartavius Martin, S, Illinois
96. Arizona Cardinals – Israel Abanikanda, RB, Pittsburgh
97. Washington Commanders – YaYa Diaby, EDGE, Louisville
98. Seattle Seahawks (mock trade with Browns) – Jaquelin Roy, DT, LSU
99. Tampa Bay Buccaneers (mock trade with 49ers) – Tank Bigbsy, RB, Auburn
100. Las Vegas Raiders – Zach Kuntz, TE, Old Dominion
101. San Francisco 49ers – Matthew Bergeron, OT/OG, Syracuse
102. San Francisco 49ers – Tyler Scott, WR, Cincinnati
Round 4
103. Chicago Bears – Chandler Zavala, OG, NC State
104. Houston Texans – Jaren Hall, QB, BYU
105. Arizona Cardinals – Olusegun Oluwatimi, OC, Michigan
106. Indianapolis Colts – Isaiah McGuire, EDGE, Missouri
107. New England Patriots (from Rams) – Ricky Stromberg, OC, Arkansas
108. Denver Broncos – Tyler Steen, OL, Alabama
109. New Orleans Saints (mock trade with Raiders) – Xavier Hutchinson, WR, Iowa State
110. Atlanta Falcons (from Tennessee) – Henry To'o To'o, LB, Alabama
111. Philadelphia Eagles (mock trade with Browns) – Chase Brown, RB, Illinois
112. New York Jets – Zach Harrison, EDGE, Ohio State
113. Jacksonville Jaguars (mock trade with Falcons) – Brenton Strange, TE, Penn State
114. Carolina Panthers – Kendre Miller, RB, TCU
115. Las Vegas Raiders (mock trade with Saints) – Mohamoud Diabate, LB, Utah
116. Green Bay Packers – Zacch Pickens, DL, South Carolina
117. New England Patriots – Tyjae Spears, RB, Tulane
118. Washington Commanders – Dorian Williams, LB, Tulane
119. Minnesota Vikings (from Detroit) – Darius Rush, CB, South Carolina
120. Pittsburgh Steelers – Dontayvion Wicks, WR, Virginia
121. Atlanta Falcons (mock trade with the Jaguars) – Emil Ekiyor, OL, Alabama
122. Kansas City Chiefs (from Miami) – Bryce Ford-Wheaton, WR, West Virginia
123. Seattle Seahawks – Jayden Reed, WR, Michigan State
124. Las Vegas Raiders – (mock trade with Ravens) – Tre Tomlinson, CB, TCU
125. Las Angeles Chargers – Trey Dean, S, Florida
126. Cleveland Browns (from Minnesota) – Demarvion Overshown, LB, Texas
127. Jacksonville Jaguars – Marte Mapu, S, Sacramento State
128. New York Giants – Rezjohn Wright, CB, Oregon State
129. Dallas Cowboys – Michael Wilson, WR, Stanford
130. Baltimore Ravens (mock trade with Saints) – McClendon Curtis, OG, Chattanooga
131. Cincinnati Bengals – Rashad Torrence, S, Florida
132. Carolina Panthers (from San Francisco) – Dorian Thompson-Robinson, QB, UCLA
133. Chicago Bears (from Philadelphia) – Wanya Morris, OT, Oklahoma
134. Kansas City Chiefs – Eric Gray, RB, Oklahoma
135. New England Patriots – Jordan McFadden, OL, Clemson
Round 5
136. Chicago Bears – Byron Young, EDGE, Tennessee 
137. Buffalo Bills (from Arizona) – Jalen Cropper-Moreno, WR, Fresno State
138. Indianapolis Colts – Ronnie Hickman, S, Ohio State
139. Denver Broncos – SirVocea Dennis, LB, Pittsburgh
140. Cleveland Browns (from Rams) – Jammie Robinson, S, Florida State
141. New Orleans Saints (mock trade with Raiders) – Payne Durham, TE, Purdue
142. Philadelphia Eagles (mock trade with Browns) – Myles Brooks, CB, Louisiana Tech
143. New York Jets – DeWayne McBride, RB, UAB
144. Las Vegas Raiders (from Atlanta) – Brodric Martin, DT, Western Kentucky
145. Carolina Panthers – Jon Gaines, OL, UCLA
146. New Orleans Saints – Mekhi Garner, CB, LSU
147. Tennessee Titans – Andrei Iosivas, WR, Princeton
148. Chicago Bears (from New England through Baltimore) – Trey Palmer, WR, Nebraska
149. Green Bay Packers – Carrington Valentine, CB, Kentucky
150. Washington Commanders – Jakorian Bennett, CB, Maryland
151. Seattle Seahawks (from Pittsburgh) – Sidy Sow, OL, Eastern Michigan
152. Detroit Lions – Kei'Trel Clark, CB, Louisville
153. Tampa Bay Buccaneers – Isaiah Land, EDGE, Florida A&M
154. Seattle Seahawks – Andrew Vorhees, OG, USC
155. San Francisco 49ers (from Miami) – John Ojukwu, OT, Boise State
156. Los Angeles Chargers – Keaton Mitchell, RB, East Carolina
157. Baltimore Ravens – Zach Evans, RB, Ole Miss
158. Minnesota Vikings – Parker Washington, WR, Penn State
159. San Francisco 49ers (mock trade with Lions) – Braeden Daniels, OL, Utah
160. Tampa Bay Buccaneers (mock trade with Giants) – Mike Morris, EDGE, Michigan
161. Houston Texans (from Dallas) – Jarrett Patterson, OL, Notre Dame
162. Indianapolis Colts (from Buffalo) – Tanner McKee, QB, Stanford
163. Cincinnati Bengals – Moro Ojomo, DT, Texas
164. Detroit Lions (mock trade with 49ers) – Luke Schoonmaker, TE, MIchigan
165. Baltimore Ravens (mock trade with Saints) – Cory Trice, CB, Purdue
166. Kansas City Chiefs – K.J. Henry, EDGE, Clemson
167. Los Angeles Rams – Ali Gaye, EDGE, LSU
168. Arizona Cardinals – Karl Brooks, EDGE/DL, Bowling Green
169. Green Bay Packers (mock trade with Cowboys) – Will Mallory, TE, Miami
170. Indianapolis Colts (mock trade with Packers) – Roschon Johnson, RB, Texas
171. Los Angeles Rams – Tavion Thomas, RB, Utah
172. New York Giants – Riley Moss, CB, Iowa
173. San Francisco 49ers – Demario Douglas, WR, Liberty
174. Las Vegas Raiders – Jay Ward, CB/S, LSU
175. Tampa Bay Buccaneers – Terell Smith, CB, Minnesota
176. Indianapolis Colts – Ronnie Bell, WR, Michigan
177. New England Patriots (mock trade with Rams) – Charlie Jones, WR, Purdue
Round 6
178. Kansas City Chiefs (from Chicago through Miami) – Dante Stills, DT, West Virginia
179. Tampa Bay Buccaneers (from Houston) – Mekhi Blackmon, CB, USC
180. Arizona Cardinals – Darrell Luter Jr., CB, South Alabama
181. Tampa Bay Buccaneers (from Indianapolis) – Brenton Cox, EDGE, Florida
182. Los Angeles Rams – Anthony Bradford, OG, LSU
183. Detroit Lions (from Denver) – Jalen Graham, LB, Purdue
184. Los Angeles Rams (mock trade with Patriots) – Daniel Scott, S, California
185. Jacksonville Jaguars (from Jets) – Jaxson Kirkland, OL, Washington
186. Tennessee Titans (from Atlanta) – Garrett Williams, CB, Syracuse
187. New England Patriots (from Carolina) – Hunter Luepke, RB, North Dakota State
188. Houston Texans (from New Orleans) – Habakkuk Baldonado, EDGE, Pittsburgh
189. Los Angeles Rams (from Tennessee) – Ivan Pace, LB, Cincinnati
190. Seattle Seahawks (mock trade with Browns) – Anthony Johnson, CB, Virginia
191. Los Angeles Rams (from Green Bay) – Carter Warren, OT, Rams
192. New England Patriots – Cameron Mitchell, CB, Northwestern
193. Washington Commanders – Thomas Incomm, EDGE, Central Michigan
194. Detroit Lions – DeMarcco Hellams, S, Alabama
195. Denver Broncos (from Pittsburgh) – Xazavian Valladay, RB, Wyoming
196. Tampa Bay Buccaneers – Tyler Lacy, EDGE/DL, Oklahoma State
197. Miami Dolphins – Mo Ibrahim, RB, Minnesota
198. Seattle Seahawks – Rakim Jarrett, WR, Maryland
199. New Orleans Saints (mock trade with Ravens) – Deuce Vaughn, RB, Kansas State
200. Los Angeles Chargers – Justin Shorter, WR, Florida
201. Houston Texans (from Minnesota) – Jake Moody, K, Michigan
202. Atlanta Falcons (mock trade with Jaguars) – Spencer Anderson, OG, Maryland
203. Houston Texans (from Giants) – Jadon Haselwood, WR, Arkansas
204. Las Vegas Raiders (from Cowboys) – Juice Scruggs, IOL, Penn State
205. Buffalo Bills – Jalen Redmond, DL, Oklahoma
206. Cincinnati Bengals – Anthony Johnson, S, Iowa State
207. New York Jets (from San Francisco through Houston) – Stetson Bennett, QB, Georgia
208. Jacksonville Jaguars (from Philadelphia) – Ryan Miller, RB/WR, Furman
209. New York Giants (from Kansas City) – Nic Jones, CB, Ball State
210. New England Patriots – Yasir Abdullah, LB/EDGE, Louisville
211. Minnesota Vikings – Shaka Heyward, LB, Duke
212. Dallas Cowboys – Josh Whyle, TE, Cincinnati
213. Arizona Cardinals – Gervarrius Owens, S, Houston
214. Las Vegas Raiders – Tyreque Jones, S, Boise State
215. Washington Commanders – Cam Jones, LB, Indiana
216. San Francisco 49ers – Deneric Prince, RB, Tulsa
217. Kansas City Chiefs – Tyrus Wheat, EDGE, Mississippi State
Round 7
218. Chicago Bears – Puka Nacua, WR, BYU
219. Philadelphia Eagles (from Houston through Minnesota) – Max Duggan, QB, TCU
220. Las Vegas Raiders (from Arizona) – Viliami Fehoko, EDGE, San Jose State
221. Indianapolis Colts – Chris Rodriguez, RB, Kentucky
222. Detroit Lions (mock trade with 49ers) – DeWayne McBride, RB, UAB
223. Los Angeles Rams – Atonio Mafi, OG, UCLA
224. Atlanta Falcons (from Las Vegas) – Nick Broeker, OL, Ole Miss
225. Atlanta Falcons – Dontay Demus, WR, Maryland
226. Jacksonville Jaguars (from Carolina) – Kaevon Merriweather, S, Iowa
227. New Orleans Saints – Joey Fisher, OL, Shepherd
228. Tennessee Titans – Tiawan Mullen, CB, Indiana
229. Cleveland Browns – Aidan O'Connell, QB, Purdue
230. Houston Texans (from Jets through Tampa Bay) – Alex Forsyth, OC, Oregon
231. Las Vegas Raiders (from New England) – Jordan Howden, S, Minnesota
232. Green Bay Packers – Tyson Bagent, QB, Shepherd
233. Washington Commanders – Malik Cunningham, QB, Louisville
234. Los Angeles Rams (from Pittsburgh) – Jason Brownlee, WR, Southern Miss
235. Green Bay Packers (from Detroit through Rams) – Nesta Jade Silvera, DT, Arizona State
236. Indianapolis Colts (from Tampa Bay) – Jovaughn Gwyn, OG, South Carolina
237. Seattle Seahawks – Nick Herbig, EDGE, Wisconsin
238. Miami Dolphins – Henry Bainivalu, OG, Washington
239. Los Angeles Chargers – Anfernee Orji, LB, Vanderbilt
240. New York Giants (from Baltimore) – Dee Winters, LB, TCU
241. Pittsburgh Steelers (from Minnesota through Denver) – Jacob Slade, DL, Michigan State
242. Green Bay Packers (from Jacksonville) – Antoine Green, WR, North Carolina
243. New York Giants – Arquon Bush, CB, Cincinnati
244. Dallas Cowboys – Tashawn Manning, OG, Kentucky
245. Los Angeles Rams (mock trade with Patriots) – Connor Galvin, OT, Baylor
246. Cincinnati Bengals – Cameron Brown, CB, Ohio State
247. San Francisco 49ers – Xavier Henderson, S, Michigan State
248. Philadelphia Eagles – Starling Thomas, CB, UAB
249. Kansas City Chiefs – Derius Davis, WR, TCU
250. Kansas City Chiefs – Marshon Ford, TE, Louisville
251. Pittsburgh Steelers (from Rams) – Blake Whiteheart, TE, Wake Forest
252. Tampa Bay Buccaneers – Elijah Higgins, WR, Stanford
253. San Francisco 49ers – Earl Bostick, OT, Kansas
254. New York Giants – Chamarri Conner, S, Virginia Tech
255. San Francisco 49ers – Evan Hull, RB, Northwestern
256. Green Bay Packers – Cory Durden, DT, NC State
257. New Orleans Saints – Kobie Turner, DT, Wake Forest
258. Chicago Bears – Ryan Hayes, OT, Michigan
259. Houston Texans – Byron Young, DT, Alabama