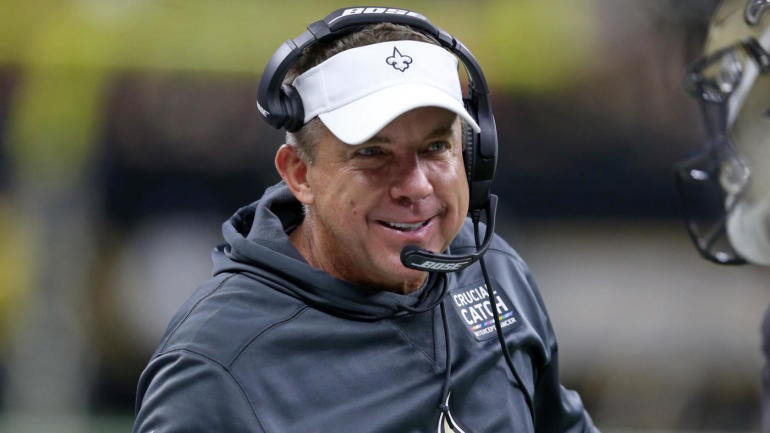 Sean Payton is a popular man these days. The former Saints head coach is mulling a return to the NFL in 2023 and clubs are starting to line up for his services. Already the Denver Broncos have made their intentions of wooing Payton known, and now three more teams are in the mix, with the Texans officially interviewing the former Super Bowl champion on Monday.
NFL Media reports that the Arizona Cardinals and Carolina Panthers have also been granted permission to speak with Payton about their head coaching vacancy after firing Kliff Kingsbury last. 
Arizona is in the midst of a seismic shake-up after firing Kingsbury and seeing GM Steve Keim step down from his role due to health reasons. A veteran coach like Payton would be a welcome sight to an organization that is looking to contend sooner rather than later, especially after inking Kyler Murray to a massive contract extension just prior to the start of the season.
Meanwhile, Payton, an NFL analyst for Fox Sports this season, said on "The Herd" with Colin Cowherd on Monday that he's set to meet with Panthers owner David Tepper later this week in New York. The interview is set for Friday, per ESPN.
The Texans quickly requested permission to interview Payton for their head coaching job in the aftermath of firing Lovie Smith, per Fox Sports. Unlike Denver and Arizona, the Texans are a bit more of a blank page and have no franchise quarterback already established. However, the club does have the No. 2 overall pick in the 2023 NFL Draft, so that destination could be attractive if Payton has his eyes on any of the quarterback prospects set to come out this spring. 
Teams could not formally interview Payton until Jan. 17, but informal discussions were permitted if granted by the Saints. Of course, whatever team ultimately strikes a deal with Payton for him to become their next head coach would then need to have a discussion with the Saints as it relates to compensation as the franchise still holds his rights.
Payton said on "The Herd" with Colin Cowherd on Monday that he has had conversations with Saints general manager Mickey Loomis and that the trade compensation required to get him will be "a mid-to-late first-round pick."
Before stepping down after last season, Payton had been in New Orleans dating to 2013. He is 152-89 as a head coach in the regular season and 9-8 in the playoffs, which includes a Super Bowl XLIV victory.