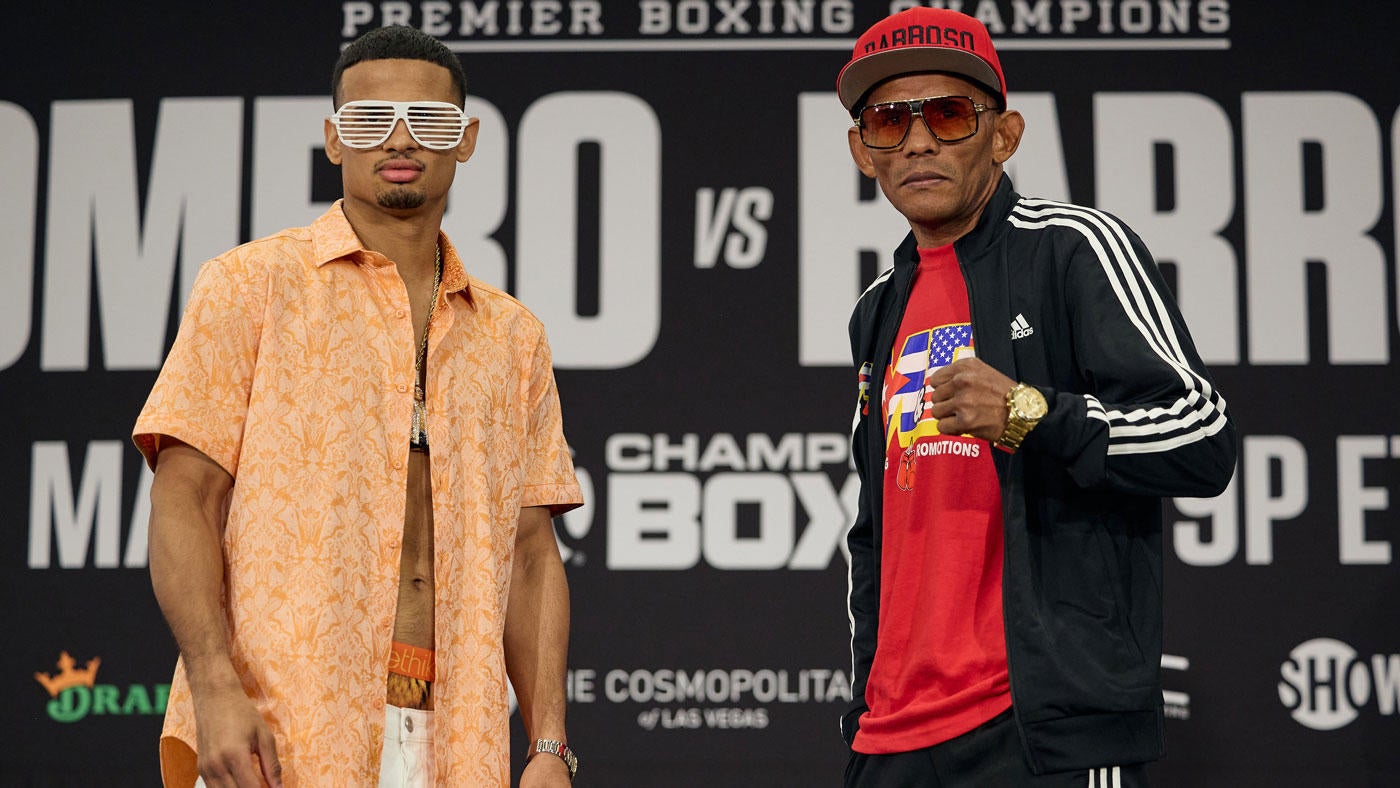 Even a dedicated boxing fan would be forgiven for not fully understanding the factors that led to Saturday's fight between Rolando Romero and Ismael Barroso having the WBA super lightweight title on the line. For starters, the Showtime Boxing main event wasn't even supposed to feature Barroso in the first place, despite his waiting more than three years for a title shot.
Romero was originally set to face champion Alberto Puello in the main event. That matchmaking was already a bit suspect, with Romero having no meaningful experience at 140 pounds and coming off a brutal knockout loss to Gervonta "Tank" Davis in his most recent outing. Puello was forced out of the bout after failing a VADA drug test, however, and the WBA decided to move him to "champion in recess" status as the bout between Romero and Barroso — who stepped up on late notice — was now for the world title.
Barroso won a WBA secondary title in December 2019 with a decision win over Yves Ulysse Jr. After former undisputed champion Josh Taylor was stripped of his WBA belt in May 2022 because his team failed to respond to an order he defend against Puello, who held mandatory status, the WBA then took an odd path to determine how to crown a new champion.
While the sensible approach would have been to make a bout between Puello and Barroso, the No. 1 and 2 ranked fighters in the WBA rankings, the WBA had their six top-ranked fighters give 15-minute pitches on why they should take one of the spots in the vacant title fight. This led to the decision that Puello would face No. 6 ranked Batyr Akhmedov. Puello won a split decision this past August.
Ahead of Puello vs. Akhmedov, the WBA had ordered that the winner must face Barroso within 90 days. That, of course, did not happen, and in December, the WBA announced that Puello's inaugural title defense would come against No. 8 ranked Gary Antuanne Russell, a fight which also would not happen.
Barroso again got the short end of the stick as the sanctioning body moved on from Puello vs. Russell and to Puello vs. Romero, a fight that couldn't really be backed up with any logic beyond Romero being more of a "name" fighter.
Puello's drug test failure opened the door for Barroso to finally get his opportunity to compete for the world title. The circumstances are less than ideal, but at 40 years old and with the WBA showing no real commitment to him, it's understandable why Barroso would jump at the opportunity.
As for Romero's somewhat undeserved title shot, the brash 27-year-old addressed the situation in an interview with ESPN.
"I'm Rolly, I get special Rolly privileges," Romero said. "Sorry that I'm getting a title shot … but also I'm by far one of the most entertaining boxers in the sport. You don't wanna give me title shots, don't watch my fights."
Let's take a look at the rest of the fight card before getting to a prediction and pick on the main event.
Romero vs. Barroso fight card, odds
Odds via Caesars Sportsbook
Rolando Romero -1000
Ismael Barroso +650
Vacant WBA super lightweight title
Kenneth Sims Jr. -125
Botirzhon Akhmedov +105
Super lightweight
Rances Barthelemy -195
Omar Juarez +165
Super lightweight
Prediction
For everything said above, with Barroso being due a title shot for years and Romero not really "deserving" an opportunity at the tile by any conventional measure, Romero enters the fight as a heavy favorite. Romero has heavy hands and is a slightly better boxer than he's usually given credit for. He managed to trouble Davis a bit in his most recent fight before getting obliterated by a left hand. Defensive lapses are Romero's biggest issue, as seen against Davis or in sparring footage from earlier this year where Romero was dropped hard.
Still, Barroso is 40 years old and hasn't been fighting a murderer's row of opposition since his win over Ulysse in late 2019. He also has been knocked out twice and is going to be the slower, less explosive fighter in the ring on Saturday night. At least Barroso will finally get his opportunity, even if it isn't likely to go well for him. Pick: Rolando Romero via TKO4