Sunak and Truss prepare for first official Tory hustings in Leeds tonight at 7pm
Rishi Sunak and Liz Truss are poised to go head to head in the first official hustings with Tory members in Leeds, PA Media reports. PA says:
It is the first of 12 sessions for party faithful across the country to quiz the final two candidates before voting for the next party leader and prime minister closes on 2 September.

The two-hour hustings will be broadcast on LBC radio from 7pm and hosted by presenter Nick Ferrari.

The event takes place in Leeds, where Truss was hoping to shore up voters' support by backing Northern Powerhouse Rail in full and pledging to "turbocharge investment" into the north of England.

During a visit to the Yorkshire city, Truss insisted she is "completely committed" to the scheme to improve rail connections between Liverpool and Leeds, which was originally announced by Boris Johnson but subsequently scaled back.

She told reporters: "I grew up in Leeds, I know how poor the transport is and, frankly, it's not got much better since I was a teenager getting the bus into Leeds city centre. What I want to see is really fantastic rail services, better roads so people are able to get into work".

Asked how she would afford the scheme, given the vast tax cuts she has pledged, Truss said: "The taxes that I am cutting are affordable within our budget. By creating new low-tax investment zones in places like West Yorkshire, by enabling the post-Brexit reforms to take place, unleashing more investment from the city, we will grow the economy faster – that will bring in more tax revenue, and that will enable us to afford those projects".

She also promised to "fix the Treasury's funding formula" if she gets the keys to No 10 to make sure the region gets a "fairer share" of resources.

Truss took a thinly veiled swipe at Sunak, who is the MP for the North Yorkshire seat of Richmond, when she was asked whether he was as committed to the rail project, saying: "The thing about me is I'm prepared to take on the Whitehall orthodoxy, I'm prepared to challenge the groupthink that has, over decades, not put enough investment into this part of the country."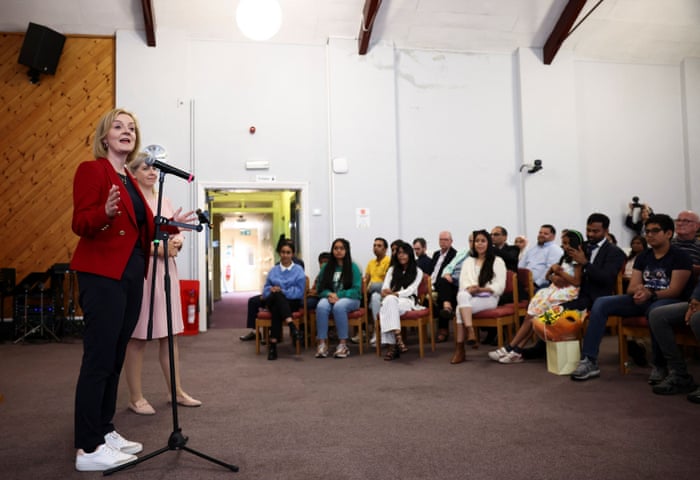 Key events
Truss is asked about company profits, and is asked about windfall taxes. She says she doesn't support another one as it puts off investment.
She said she would be encouraging Shell and other companies to invest in the UK to improve productivity. She would create low-tax investment zones to encourage more investment.
Truss seems to be addressing the audience as well as Ferrari, more than Sunak was doing earlier.
Ferrari brings up her previous republicanism and asks what happens if the Queen asks about it during their first audience.
"Almost as soon as I made the speech I regretted it. I was a bit of a teenage controversialist.
"Within these four walls, I was briefly a member of the Liberal Democrats, I did leave it when I was 21 when I came of ways and realised the error of their ways."
Truss said that Margaret Thatcher was the best Conservative PM, after "turning around the country … as the sick man of Europe".
"What I sensed in the 1980s was a growing sense of pride in our country and a growing sense of optimism in our future. I think the pinnacle was when we saw the Berlin Wall fall. When we saw the freedom and democracy and pride in our values influencing the rest of the world."
On to the yes or no questions.
Is Love Island misogynistic, Ferrari asks. Truss says she watched it recently with her daughter and was horrified but does not answer the question directly.
Then Ferrari asks if England and Wales should boycott the World Cup in Qatar, after previously backing a boycott of the Champions League final in Moscow. She says not.
"If we insisted that every contry we traded with, or did business with, or attended a football match in, had the same standards as the United Kingdom, we wouldn't be doing business with many countries. We need to be pragmatic. What Russia did to Ukraine was beyond the pail."
Truss then says she has never used illegal drugs.
Ferrari asks Truss if her plans really add up.
She says all of her tax reductions are costed.
"There is £30bn in the budget, and we will be able to start paying down debt in three years. It's a false economy to raise taxes when it can cut off growth, we know that, we know what Britain was like in the 1970s with high taxes and militant trade unions. I didn't agree with those people who say you can keep raising tax and the money will keep rolling in."
She says people won't want to work and won't invest if taxes stay high.
Truss says that the tax system in the UK is too complicated, in response to a question about inheritance tax. It needs to be fairer, she says, and would look at inheritance tax.
"I'd look at the overall tax system in the round and make sure it's fair. We need to reward people who do the right thing, who set up businesses, who earn money and want to pass it on to their children."
Ferrari asks who was better, Theresa May or Boris Johnson after Truss served both of them.
"Put it this way, in the 2016 leadership election after the referendum I backed Boris first, then I backed Theresa May once Boris had left the race. I've always been a fan of Boris Johnson, I think he did a fantastic job as prime minister, he delivered Brexit, he delivered on the vaccine and I was proud to serve as a loyal member of his cabinet."

Liz Truss now in the hot seat, with Nick Ferrari kicking things off by asking if there is a risk of Truss accidentally walking the UK into a nuclear war, after Vladimir Putin put his forces on high alert after her comments earlier this year.
She says: "The fact that Russia have spread propaganda about me, is I think a sign that the strength the United Kingdom has shown in leading the free world in the fight against Russia and supporting Ukraine has had a real impact.
"I take it as a badge of honour that I have been sanctioned by the Russian regime. We have stood up to Russia, we have encouraged our allies in the free world to stand up to this appalling regime. It's completely wrong to listen to any of the sabre-rattling or propaganda. The reason they are doing this is that Putin's evil plans to take Kyiv in a few days didn't work."
Sunak finishes up after questions about the benefits system, which he says he would tighten up, and about appointing William Hague, his predecessor in Richmond, as Conservative party chair.
Sunak says he doesn't think the former Tory leader would be interested.
Sunak accused of 'stabbing Johnson in the back'
Another audience member accuses Sunak of "stabbing Johnson in the back" over his resignation. He asks how will take the party through the next general election.
Sunak says he didn't stab Johnson in the back. "There was a speech that was due to be given and it was clear we had very different points of view."
He adds: "It was a very difficult decision – it wasn't one I took lightly. I am very grateful to the PM for making me chancellor. I gave everything for that job and delivering for you and getting through coronavirus and I do think he was the only person who could have broken the Brexit gridlock.

"It got for me personally to a position where I couldn't stay. I had a significant difference of opinion in the challenges ahead of us, and there was no way I could stay. There is no way a chancellor and a PM cannot be joined at the hip. I had no choice but to resign and that was the right thing to do."
Sunak says he would be firm with Nicola Sturgeon about another referendum. He says that the government should not just "devolve and forget" with ministers needing to be "more active" in Scotland.
"We can't just talk in arguments to do with our head. Nationalism is a seductive and romantic idea. We have got to make arguments about the union that speaks to people's hearts and their emotions. If we focus on the practicalities we will not be successful."
A councillor in Selby asks about keeping small business relief to help support shops.
Sunak says he will. He refers to his "help to grow" programme among other initiatives he introduced as chancellor.
Theresa then asks about controlling illegal immigration with small boats arriving from France.
"That's one of the things I want to grip as quickly as possible as PM. Some of the things we need to do quickly; we need to change the definition from what counts as asylum and move away from the very expansive ECHR definition where people can claim all sorts of reasons for being here, and move towards the refugee convention definition which is tighter.
"We should make our foreign policy more linked to taking back failed asylum seekers. If we are going to provide aid to countries, we should be linking it to taking back asylum seekers we want to make sure aren't here any more. We need to improve the current system to get through it. We need to look at our rates of objection and acceptance. For some reason we reject far fewer asylum seekers than other countries."
Sunak says he will make the Rwanda policy work, and believes it is workable in the long term.

Sunak is now taking questions from the audience. Laura up first.
She asks a left-field one to get the ball rolling: if greyhound racing will be banned on animal rights grounds.
He says he hasn't ever looked at it in great detail.
Sunak says that 'Eat out to help out wasn't a mistake despite a rise in coronavirus infections. "Every country in Europe ended up having the same spike thereafter, every single one, and they ended up putting more restrictions in place afterwards. It's hard to say that's the difference."
He says it helped protect jobs in hospitality, who are younger and on lower incomes. More applause.
Sunak is asked what he would say to the defence secretary, Ben Wallace, to try and attract his support. He won't give a figure on increases to defence spending, saying he doesn't believe in "arbitary targets".
He says: "I was a chancellor who supported Ben in the largest uplift in [defence] spending since the cold war, and we did that before we settled any other department in the middle of Covid, I was also the chancellor who ensured we supported Ben to get £2bn of aid to Ukraine to stand up to Russian aggression."

A question from Ferrari on image: Sunak is told he has Prada shoes, a photo opportunity with a car he doesn't own, he pours pints for cameras despite being teetotal, and has a green card despite living in Downing Street. Ferrari asks what people should make of this.

"This is not about what shoes I wear, it's about what I want to do in Downing Street," he says. This gets the most applause he's had this evening.
Ferrari says that about 14,000 members of the Conservative party want Johnson back on the ballot. This gets support and applause from the audience. He asks what Sunak thinks of this.
"Close to 60 people resigned in parliament, it's incumbent on the prime minister to have the confidence of the parliamentary party," Sunak says. "That wasn't there at the end. Whether he's on the ballot or not, you have to command the confidence of your MPs, and we got to a position where 60 of them resigned from government."

Ferrari asks about using Boris Johnson as an envoy to Ukraine, after Volodymyr Zelenskiy's praise for him. He asks whether the former chancellor would give him a role in his government. Sunak says he wouldn't offer him a job in the cabinet.
"I don't know if he would want to do it … I'm not going to sit here and allocate jobs to people, but I do think we need to move forward, I don't see that being a role in the cabinet for Boris, but I do think he'll have a role in public life. He's an extraordinary figure and I'm sure he has a lot more to give."