'Raya and the Last Dragon' review: Disney mixes a serious message with its latest animated action movie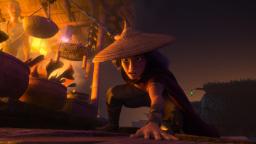 Checking out excessive political subtext into this film — which strikes theaters in addition to Disney+, like "Mulan," at a premium cost — will not be an issue for the kids viewing it. Yet the grownups who join them may discover something much deeper in the styles, in a movie that's otherwise vibrant, action-packed, and more than a little complicated in establishing its facility.
Representing Disney animation's very first Southeast Asian heroine, the Raya of the title (noticable "Rye-uh") is as much a warrior as a princess, gladly, voiced by Kelly Marie Tran of the current "Star Wars" motion pictures. She sets out the story in an opening narrative, in which dragons eradicated a risk 500 years previously to the legendary kingdom of Kumandra, which consequently divided into 5 unique lands.
Raya's dad (Daniel Dae Kim) stayed in belongings of a gem that held the last vestiges of the dragons' magic, and imagined reuniting the kingdom. However those strategies go awry, leaving a dystopian landscape that requires Raya to take a trip to each of the numerous lands — careful as they are of each other — to reunite the gem and bring back consistency to their fractious world.
It's a lot to absorb, consisting of the dragon of the title, Sisu, voiced with Eddie Murphy-in-"Mulan"-like energy by Awkwafina. The dragon promotes the concept of relying on others, however Raya has a little bit of history with the princess of the Fang lands, Namaari ("Crazy Rich Asians'" Gemma Chan), who is every bit her equivalent in fight.
The abovementioned partners abound and in some circumstances rather enjoyable, amongst them an exceptionally beneficial creature/mode of transport called Tuk Tuk (unintelligibly voiced by Alan Tudyk) and a thieving young child. The dragon, alas, ought to be the focal point of the action, and the style is a little too cartoony and plush-toy friendly — less magnificent and wonderful, a minimum of the majority of the time, than merely type of goofy.
As constantly, there's some stunning images along the method, and a strong reward after what total up to the episodic nature of Raya's journey. However the movie feels too notably like a work by committee than among motivation (the movie credits 4 directors or co-directors, and 10 names as having actually added to the story), missing out on the trigger that has actually identified the studio's finest animated fare, consisting of Pixar's current "Soul."
Because sense, Raya's obstacle rather mirrors that of the movie itself. The pieces are all there, however the real step of success come down to how well you put them together.
"Raya and the Last Dragon" premieres March 5 in theaters and for an additional cost that date on Disney+. It's ranked PG.
Jobber Wiki author Frank Long contributed to this report.