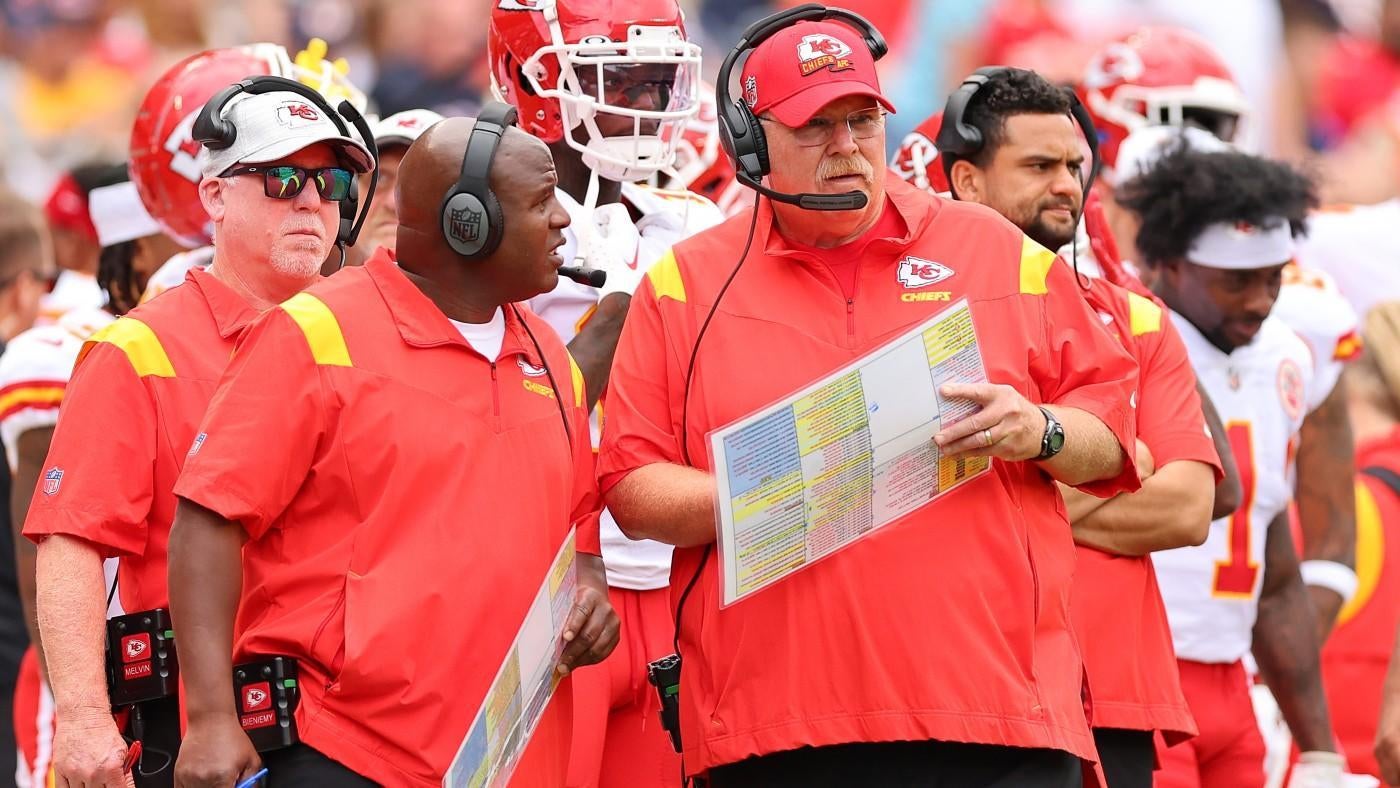 After 18 weeks of regular-season games, the NFL playoffs are finally here. At least, they'll be here this weekend. 
Throughout this week, you've likely seen all sorts of team-focused coverage on this site. Reasons each team can win or lose, why you should or shouldn't root for certain squads, injury reports, power rankings, quarterback rankings, and a whole lot more. We're here today to focus on a group of people who will have a great impact on the results of these games, but maybe aren't getting quite as much attention at the moment: the coaches. 
That's right, we are here once again to rank all 14 playoff coaching staffs — head coach, and offensive and defensive coordinator (or play-caller, or top assistant). As with the rankings from each of the last two years, there are a few things worth noting before we dive in: 
I came up with my own rankings to start things off, then ran them by the CBSSports.com staff over the past several days and weighed their input. That process is how we came up with rankings that are both tiered and numbered.
The tiers themselves should be considered rigid, while the rankings within them are fluid. That means if you wanted to slot one Tier 2 team ahead of another, there would be very little argument, as we are basically splitting hairs. But if you tried to move a Tier 4 team ahead of one of the teams in Tier 1 or 2, that would draw more forceful pushback. 
What you see below is my analysis of why the teams ended up in the tiers they did, and the strengths and weaknesses of the coaches that factored into them.
Not Enough Information
14. Minnesota Vikings: HC Kevin O'Connell, OC Wes Phillips, DC Ed Donatell
13. Miami Dolphins: HC Mike McDaniel, OC Frank Smith, DC Josh Boyer
12. New York Giants: HC Brian Daboll, OC Mike Kafka, DC Wink Martindale
We have three first-year head coaches among this group, and three first-time offensive play-callers (O'Connell and McDaniel each call plays for their teams after not having done so under Sean McVay and Kyle Shanahan, while Daboll has Kafka call plays, something he never did while working under Andy Reid and Eric Bieniemy) — each of whom is paired with a veteran (or semi-veteran) defensive coordinator. 
O'Connell seems to have brought about a positive culture change in Minnesota, bringing a much more relaxed atmosphere than the one that permeated the building under Mike Zimmer. McDaniel built one of the NFL's most explosive offenses when all his players were healthy, and clearly seems to be able to get through to players with his style of leadership. And Daboll arguably did the best "more with less" job of any coach in the NFL this season. But while we did get to see each of these coaches lead their teams to above-expectation performances throughout the regular season for those reasons and more, the truth is we do not have a very big sample on them just yet.
We will learn a lot about these coaching staffs this week, and even more next year. It's worth noting that two of the coaching staffs who were in the "Not Enough Information" tier last season have moved up significantly this year (the Eagles and Bengals), while the other two are no longer in place (Raiders and Cardinals).
Tier 5: Are We Sure They're Good?
11. Tampa Bay Buccaneers: HC Todd Bowles, OC Byron Leftwich, DC Kacy Rodgers/Larry Foote
10. Los Angeles Chargers: HC Brandon Staley, OC Mike Lombardi, DC Renaldo Hill
This Bucs coaching staff seems to approach most games like it is still the 1990s out here, and that's not a good thing. Try to keep track of how many times the Bucs run the ball on first-and-10 compared with how much they pass it, and how little success they have when they do try to run the ball. It's not an accident that they have consistently been at their best this year when operating in the two-minute drill and other hurry-up situations. It's the only time they're actually maximizing for offensive efficiency. Bowles has also proven himself to be hyper-conservative when it comes to managing fourth-down decisions. When you have the kind of roster advantages the Bucs had in the previous two seasons, you can maybe get away with that. But when you're not quite as good, you need to try to build as many in-game advantages as possible, and Bowles seems unwilling to do that. 
Staley started out on the other end of the spectrum, consistently making hyper-aggressive decisions and trusting the best player on his team (Justin Herbert) to create advantages out of them. But he came under such heavy criticism for unorthodox decision-making that he seems to have been shocked too far in the opposite direction, and likely was a net negative this year on fourth-down, two-point, and other game management decisions. That was especially true in the injury management department, where the team risked Herbert playing with rib injuries, allowed Mike Williams and Keenan Allen to come back too early from lower-body injuries, and then played all of its starters in Week 18 despite the game meaning nothing to its playoff seeding. I had high hopes for Lombardi when he came to L.A. from the Saints, but the failure to expand the playbook beyond what New Orleans ran in the late Drew Brees years has been disappointing. Pay close attention to the Chargers' performance in third- and fourth-and-short situations. They're not very good there, and it's because they're extremely predictable. 
Tier 4: Trust Issues
9. Seattle Seahawks: HC Pete Carroll, OC Shane Waldron, DC Clint Hurtt
8. Dallas Cowboys: HC Mike McCarthy, OC Kellen Moore, DC Dan Quinn
Both Carroll and McCarthy have Super Bowl victories to their name, but they're pretty far in the rearview mirror at this point. They each have disconcerting game-management tendencies and at times have appeared stubborn in their approach to the game. 
But Carroll does seem to have turned a corner (or at least peeked around it) when it comes to his offensive philosophy, and has undergone something like a revolution on the other side of the ball. That openness to new ideas is good, and especially encouraging for an older coach. Waldron seemed to be doing a fantastic job early in the year, but the late-season slowdown of the offense — and Geno Smith in particular — is a bit troubling. Can he get that unit back on track? Hurtt, along with Karl Scott and others, have been able to unlock some really nice players (like rookie corner Tariq Woolen), but that unit still lags far behind the offense. 
At times, Moore's offense can look unstoppable. At others, it can look discombobulated. There's really no telling which version we'll get until the Cowboys take the field. His addiction to first-down runs needs to be cured, especially given how poor the Dallas run game has looked of late, and especially if the team is going to revert to an Ezekiel Elliott-led backfield rather than a Tony Pollard-led one. (Thankfully, the Cowboys seem to have recognized that they need the explosiveness Pollard brings to the offense. He absolutely cannot get just four touches like he did in last year's loss to San Francisco.) Quinn's defense just keeps forcing turnovers, but the ferocious pass rush from early in the season has been neutered, and he's not able to be as aggressive with his coverages now that the team's cornerback depth has been decimated. We'll need to see what other kinds of ideas he has in store because the way that unit has played of late is concerning.
Please check the opt-in box to acknowledge that you would like to subscribe.
Thanks for signing up!

Keep an eye on your inbox.

Sorry!

There was an error processing your subscription.

Tier 3: Good, With Reservations
7. Jacksonville Jaguars: HC Doug Pederson, OC Press Taylor, DC Mike Caldwell
6. Baltimore Ravens: HC John Harbaugh, OC Greg Roman, DC Mike Macdonald
5. Cincinnati Bengals: HC Zac Taylor, OC Brian Callahan, DC Lou Anarumo
Going from Urban Meyer to just about anyone would have been one of the greatest season-to-season upgrades in the history of the league, but Pederson has also pushed all the right buttons to put his players in position to succeed. Trevor Lawrence's Year 2 leap was real and spectacular, but just look at the way he has weaponized players like Evan Engram, Christian Kirk, and Zay Jones, compared with how they were used before. Taylor is and has been Pederson's right-hand man, so it's tough to know how much value he adds independent of the head coach, and the jury remains out on Caldwell after the Jags spent a bunch of money and draft capital to improve their defense and didn't get great results. 
Harbaugh is perhaps the NFL's most flexible coach, willing to bend and shape his scheme to fit the players on his team in a way very few can do. His loyalty to Roman as his offensive coordinator, though, is starting to hold the offense back. The passing concepts are somehow both too simplistic and too complex, and the lack of quick-game options is a detriment to success. The Ravens do have one of the league's most diverse run games, but the options are limited when they're not centered around the skill set of Lamar Jackson. The switch from Martindale (now in New York) to Mike Macdonald finally paid fruit down the stretch of the season, as the Ravens now have defensive results to match their talent on that side of the ball. 
The ability of both Callahan and Anarumo to adjust on the fly this season has been really impressive. Anarumo has been forced to use a bunch of new, young players in the secondary and, at times, up front due to injuries, and the Bengals remain very tough to move the ball against. Cincinnati's offense was mind-numbingly predictable at the beginning of the season, but after a game against (coincidentally) the Ravens early on, it changed things up and became much more efficient and explosive as a result. Callahan and Taylor can still at times become a bit too conservative and run-focused, but their willingness to lean into Joe Burrow's strengths over the course of this season took the team as a whole to another level. 
Tier 2: Elite
4. Philadelphia Eagles: HC Nick Sirianni, OC Shane Steichen, DC Jonathan Gannon

3. San Francisco 49ers: HC Kyle Shanahan, OC Anthony Lynn, DC DeMeco Ryans

2. Buffalo Bills: HC Sean McDermott, OC Ken Dorsey, DC Leslie Frazier
Sirianni, Steichen, and Gannon were in our "Not Enough Information" tier last season, and we saw enough from them this year to give them a huge bump. These guys know how to craft a scheme to fit their personnel, and know how to weaponize the skills of elite players — especially on the offensive side of the ball. The only thing holding us back from ranking them higher is Gannon's insistence on playing His Way at all times, even if he doesn't have the right bodies to play the run up front the way he wants to. Sometimes, that can come back to bite the Eagles. But they're talented enough that it doesn't happen very often. 
Shanahan is perhaps the league's premier schemer at the moment, able to put his offensive players — and especially his quarterback — in position to succeed like few others in the history of the sport. The results he has gotten from this offense while going through three quarterbacks, the most recent of whom was Mr. Irrelevant in this year's draft, are borderline comical. Meanwhile, Ryans' defense is maybe the most well-coached unit in the league, swarming around like a group of flying banshees, erasing any and all possible space opposing offenses have in which to work. It helps to have the high-level talent he's been afforded, of course, but he does a fantastic job of getting the most out of it, and of developing players into high-level contributors in the right role for their specific skill sets. 
Buffalo lost Daboll to New York but slid Dorsey in as his replacement, and the ship has mostly kept right on running the same course. The Bills have had some down games here and there as they dealt with offensive line issues, Josh Allen's elbow injury, and the inconsistency of their non-Stefon Diggs receivers, but Dorsey has also deliberately made the team more versatile in their use of formations and personnel, and that should pay off. McDermott and Frazier, as usual, have their defense playing at an extraordinarily high level. And they all clearly have the buy-in of their team, as we saw from the way the players responded to them in the wake of Damar Hamlin's scary on-field cardiac arrest. Just watch the way Allen talked in a press conference about how McDermott handled that throughout the last week, and you'll see what I mean. 
Tier 1: Unimpeachable
1. Kansas City Chiefs: HC Andy Reid, OC Eric Bieniemy, DC Steve Spagnuolo
Reid is the best offensive coach of his generation, and he has now had the same two veteran coordinators for several years. Even after losing Tyreek Hill, the Chiefs offense remains nigh-unstoppable, an absolute machine built around the best player in football. Kansas City's production this season nearly matched what the team did during Patrick Mahomes' 2018 campaign. That's outright ridiculous. (It remains puzzling that Bieniemy has not gotten a head-coaching opportunity.) Kansas City's defense has, as usual, played better down the stretch of the season, as Spagnuolo has figured out the specific strengths and weaknesses of his personnel. This is never going to be a dominant unit over the course of an entire year, but his ability to create a game plan to attack a specific opponent is extremely important, and helps make this team one of the Super Bowl favorites year in and year out.