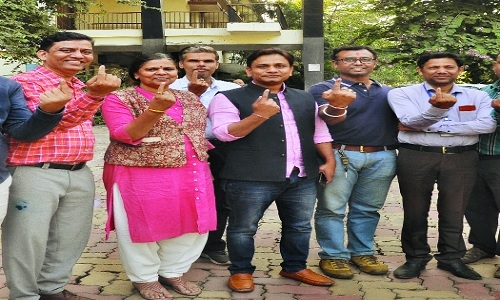 Staff Reporter
In Senate polls of Rashtrasant Tukadoji Maharaj Nagpur University (RTMNU), held on Sunday, around 83.61% voters exercised their franchise. The percentage of voting this year is slightly lesser than the last Senate elections as in last elections the polling percentage was 88.73. The number of voters, too, has reduced in this year's polls. The elections were conducted in a smooth manner and no untoward incident was witnessed, informed Dr Raju Hiwase, Registrar and Chief Returning Officer informed 'The Hitavada'.
The elections were held in Nagpur, Nagpur rural, Gondia, Bhandara, Wardha and Bhusawal (in Bhusawal one college is affiliated to RTMNU). The categories were Teachers-College Teachers and University Teachers;, Academic Council; Management; and Board of Studies. Wardha registered the highest polling percentage among all the districts coming in the ambit of RTMNU. It was 86%. As per the statistics, in categories, University teachers showed quite enthusiasm in voting as 97.76% came out to exercise their franchise; followed by 96.71% voting in Principal category. Both these categories have very limited number of voters, in three digits.
The voting percentage in various categories included Principal (96.71%), College Teachers (81.73%), University Teachers (97.76%), Academic Council (82.24%), Management (94.81%), BoS (94.65%).
The groups that fielded their candidates included Nagpur University Teachers Association (NUTA), Young Teachers Association- Secular- Dr Babasaheb Ambedkar Teachers Organisation (combine), Vidyapeeth Shikshan Manch.
In last elections, there were 12,503 total votes of which 11,095 votes were polled, with voting percentage of 88.73%. On Sunday, of 10,602 votes, 8,864 exercised their franchise with voting percentage of 83.61%. This shows the number of voters and voting both have come down. Actually, colleges were supposed to send their voters' list separately for various categories viz Teachers, Management, Principal, Academic Council and Graduates to university. If the colleges fail to do so, university has the voters registered with them received by it. In recent past some colleges in RTMNU have been closed, some have joined Dr Babasaheb Ambedkar Technological University (BATU). These changes led to reduction in number of voters.
'Voting should have been on working day'
Some sections have raised an issue of voting for Graduate category being put on working day (Wednesday November 30). They demanded that the voting should be held on holiday like on Sunday and not on working day. Contrary to this perception, some people felt, the voting on Sunday (for Teachers, Principal, Management) witnessed less turnout as expected because it was holiday. Had it been conducted on working days, more voters would have come to exercise their franchise.
'Candidates should collect passes for counting'
The counting for voting conducted on Sunday will be held on November 22 at RTMNU's Jamnalal Bajaj Bhavan. RTMNU has issued a notification according to which if the candidates and their representatives wish to attend counting process inside the hall, then they have to procure entry passes. They should approach university's election cell on Monday, November 21 and submit the application along with photo and get the entry pass between 10.30 am and 5 pm.