Online harassment of Rachel Lindsay condemned by 'Bachelor' franchise producers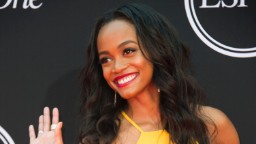 They published
a declaration on Twitter supporting
the very first Black "Bachelorette" after she got harassment online following an interview with the franchise's host, Chris Harrison.
"As Executive Producers of the Bachelor Franchise we would like to make it perfectly clear that any harassment directed towards Rachel Lindsay in the aftermath of her interview with Chris Harrison is completely inexcusable," the declaration checked out. "Rachel has received an unimaginable amount of hate and has been subjected to severe online bullying, which, more often than not, has been rooted in racism."
"That is totally unacceptable," the declaration went on to check out. "Rachel has been an incredible advocate for our cast, and we are grateful that she has worked tirelessly towards racial equity and inclusion."
In her capability as a reporter for the TELEVISION program "Extra," Lindsay spoke with Harrison about an entrant on the existing season of "The Bachelor," Rachael Kirkconnell, who was apparently photographed at an antebellum plantation-themed fraternity official in 2018.
Lindsay stated it was "not a good look."
"Well, Rachel is it a good look in 2018," Harrison reacted. "Or, is it not a good look in 2021? Because there's a big difference."
"It's not a good look ever," Lindsay stated.
Harrison excused appearing to safeguard Kirkconnell and revealed he was "stepping aside" from his "Bachelor" franchise tasks "for a period of time."
Lindsay deactivated her Instagram account after she got reaction.
"The Bachelor/Bachelorette" franchise has long been the topic of conversations concerning race and equality.
This season's "Bachelor," Matt James, is the very first African American to hold the title.
Jobber Wiki author Frank Long contributed to this report.