Nintendo is back with its goofy nature as users have reported spotting 65-minute maintenance for its games. The franchise made the announcement a few weeks back without giving out any more details for the same. 
ADVERTISEMENT
Article continues below this ad
The downtime will start late on Wednesday night and last for over an hour, locking 20 games from fans' libraries. However, some of the games will have an additional locking time, limiting fans to a few titles. To mention names, Mario Kart ranks at the top under this category, as fans reported an hour and thirty-minute downtime for this.
ADVERTISEMENT
Article continues below this ad
Mario Kart fans don't seem to understand what Nintendo is up to amidst its maintenance break
A few days back, Nintendo announced a massive maintenance break for 20+ titles starting late Wednesday night. They reported this downtime to go on for 65 minutes, as they wished to work and update a few things inside of them. However, they have not mentioned the reason behind this break, baffling fans from different parts of the world.
The games that will go under lockdown will include Dark Souls, Luigi's mountain, Minecraft, Pokemon, Mario Kart, and many more. Despite the maintenance break looking like just a routine check, fans have once again spotted a Nintendo secret. Interestingly, the franchise has added a different downtime for Mario kart as compared to other games getting the maintenance break.
While the other games will walk out of the vault in 65 minutes, Mario Kart 8 Deluxe will remain intact for an added 25 minutes. This has sparked theories among the community as fans expect something massive from the franchise.
ADVERTISEMENT
Article continues below this ad
First, they have developed the question of why Nintendo is setting a different time frame for Mario Kart if the break is just meant for maintenance. Second, they have started predicting that the franchise might drop a new character, Hakama, in the game.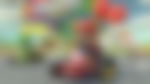 With such less information about this secret downtime update, fans have concluded their theories by also predicting fresh race courses and cosmetics. After all, all of us are aware of Nintendo's goofy nature, so the predictions might not always be correct. Plus, the franchise is releasing Xenoblade Chronicles 3 in the coming week, so most fans will have their eyes fixed on them.
ADVERTISEMENT
Article continues below this ad
WATCH THIS STORY: Ranking The Highest Selling Nintendo Games of All Time
What are your thoughts about this? Do you have a theory for Mario Kart maintenance? Let us know your valuable opinions in the comments section.