Nicole Kidman is not here for this Tom Cruise question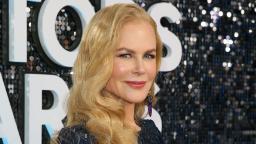 Kidman rapidly shut it down when a reporter from The Guardian asked if a few of her remarks about Ball and her partner Desi Arnaz (played in the movie by Javier Bardem) were likewise about Kidman's previous marital relationship to Tom Cruise.
"Oh, my God, no, no. Absolutely not," Kidman stated. "No. I mean, that's, honestly, so long ago that that isn't in this equation. So, no."
"And I would ask not to be pigeonholed that way, either," Kidman included.
"It feels to me almost sexist, because I'm not sure anyone would say that to a man," she stated." And at some point, you go, 'Give me my life. In its own right.'"
"Being the Ricardos" centers around the lives and marital relationship of Ball and Arnaz and occurs throughout a week of recording their renowned television program "I Love Lucy."
Kidman and Cruise wed in 1990 and like Ball and Arnaz were costars.
The previous couple, who divided in 2001, starred together in "Days of Thunder" in 1990, "Far and Away" in 1992 and "Eyes Wide Shut" in 1999.
Jobber Wiki author Frank Long contributed to this report.