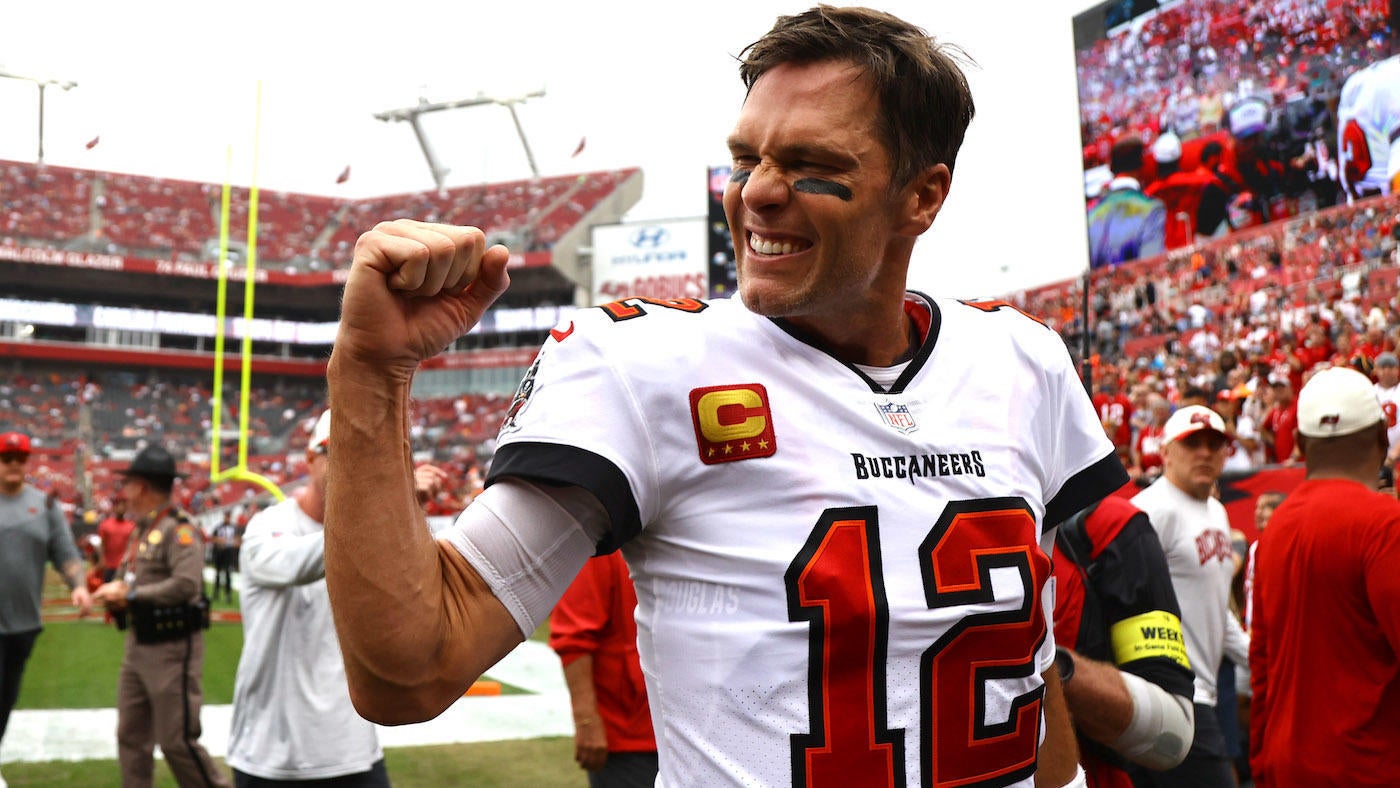 With multiple playoff spots up for grabs on Sunday, this turned into a week where the contenders were separated from the pretenders. 
One team that definitely qualifies as a pretender is the Washington Commanders, who saw their playoff chances go down the drain after losing to the Browns. Although the Commanders won't be in the playoffs, the three other NFC East teams will. We already saw the Eagles and Cowboys clinch spots earlier this season and on Sunday, the Giants joined them thanks to their win over the Colts. 
Of course, you can't have an NFL postseason without Tom Brady and he'll be headed to the playoffs for the 14th straight season after his Buccaneers clinched the NFC South title with a win over the Carolina Panthers. The Bucs beat the Panthers 30-24 after digging themselves out of a 14-0 hole. 
So what kind of grade do you get for making a 14-point comeback with the division title on the line? Let's get to the Week 17 grades and find out. If you're looking for a deeper dive on the Cowboys' 27-13 win over the Titans that was played Thursday, you can check that out here.
Tampa Bay 30-24 over Carolina 
Panthers-Buccaneers grades by Jordan Dajani (Love the grades? Hate the grades? Let him know on Twitter.)
N.Y. Giants 38-10 over Indianapolis
Colts-Giants grades by John Breech (Love the grades? Hate the grades? Let him know on Twitter.)
Cleveland 24-10 over Washington
Browns-Commanders grades by John Breech (Love the grades? Hate the grades? Let him know on Twitter.)
Detroit 41-10 over Chicago
Bears-Lions grades by John Breech (Love the grades? Hate the grades? Let him know on Twitter.)
Jacksonville 31-3 over Houston
Jaguars-Texans grades by John Breech (Love the grades? Hate the grades? Let him know on Twitter.)
Atlanta 20-19 over Arizona
Cardinals-Falcons grades by John Breech (Love the grades? Hate the grades? Let him know on Twitter.)
Kansas City 27-24 over Denver
Broncos-Chiefs grades by John Breech (Love the grades? Hate the grades? Let him know on Twitter.)
New Orleans 20-10 over Philadelphia
Saints-Eagles grades by Jeff Kerr (Love the grades? Hate the grades? Let him know on Twitter.)
New England 23-21 over Miami
Dolphins-Patriots grades by Garrett Podell (Love the grades? Hate the grades? Let him know on Twitter.)
San Francisco 37-34 in OT over Las Vegas
49ers-Raiders grades by John Breech (Love the grades? Hate the grades? Let him know on Twitter.)
L.A. Chargers 31-10 over L.A. Rams
Rams-Chargers grades by John Breech (Love the grades? Hate the grades? Let him know on Twitter.)
Green Bay 41-17 over Minnesota
Vikings-Packers grades by Cody Benjamin (Love the grades? Hate the grades? Let him know on Twitter.)
Seattle 23-6 over N.Y. Jets
Jets-Seahawks grades by Jared Dubin (Love the grades? Hate the grades? Let him know on Twitter.)