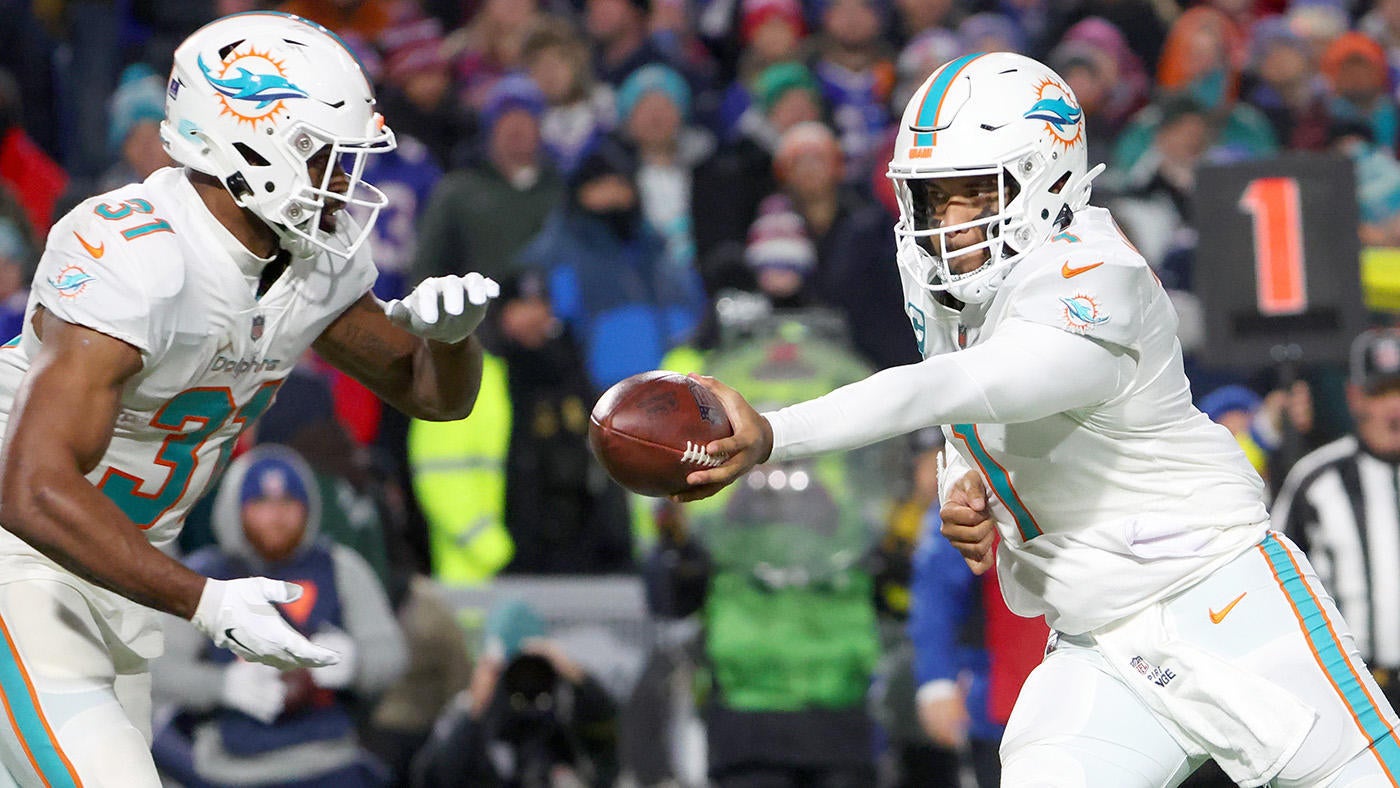 The NFL playoffs are here, and it's time to figure out who is for real and who is not. All 14 teams are 0-0 at this point, but one thing our playoff contenders unfortunately can't wipe clean are their injury reports. Some teams like the Miami Dolphins and Baltimore Ravens limped into the postseason with quarterback issues, while others like the Los Angeles Chargers could be missing a couple of playmakers. 
Below, we will break down the final injury reports for Super Wild Card Weekend. Who's in? Who's out? Who's trending in the right direction? This is your one-stop shop for everything injury related in the NFL this week. 
All NFL odds via Caesars Sportsbook.
The Dolphins are banged-up entering the postseason, and it will again be Skylar Thompson under center instead of Tagovailoa or Bridgewater. Apart from quarterback, offensive tackle is a worrisome spot as well, as Armstead, Lamm and Shell are questionable to play. Shell missed practice all week. Chubb is another player to keep an eye on, as he missed practice on Wednesday, but returned on Thursday and Friday as a limited participant. He's officially questionable to play. Mostert will be inactive after breaking his thumb.
McKenzie and Phillips are questionable to play this weekend, but neither practiced at all on Thursday or Friday. McKenzie was limited on Wednesday. Star quarterback Josh Allen was listed on the injury report with ankle and right elbow issues, but he was a full participant in all three practice sessions. 
The Giants are healthy, as no players carry a game designation into this weekend. For the Vikings, Dantzler is questionable to play after missing practice all week due to an ankle injury and personal matter, while Smith is questionable with a knee injury, but he was a limited participant all week. Nwangwu popped up on the injury report Friday with an illness. He is questionable as well. 
Jackson has officially been ruled out for the Ravens, as he once again missed practice all week with his knee injury. Huntley is expected to start in his stead, and he was a full participant in practice on Friday. However, he is officially listed as questionable. Stephens was hospitalized last week after becoming acutely ill. He will be inactive this weekend.
Cincy won't have Cappa in the wild-card round, as he injured his ankle last week vs. the Ravens. Wide receiver Tee Higgins missed practice on Wednesday with an illness, but he carries no designation into this weekend. 
Cowboys defensive end Demarcus Lawrence was again a limited participant in practice Friday with a foot injury, as was offensive tackle Tyron Smith with his knee injury. Cornerback Trayvon Mullen missed practice with an illness.
For the Buccaneers, offensive guard Nick Leverett was the only player who missed practice Friday due to knee and shoulder issues. Center Robert Hainsey was limited with a hamstring injury, while tight end Kyle Rudolph and defensive back Logan Ryan were limited with knee injuries. Nose tackle Vita Vea was also a limited participant with a calf injury.