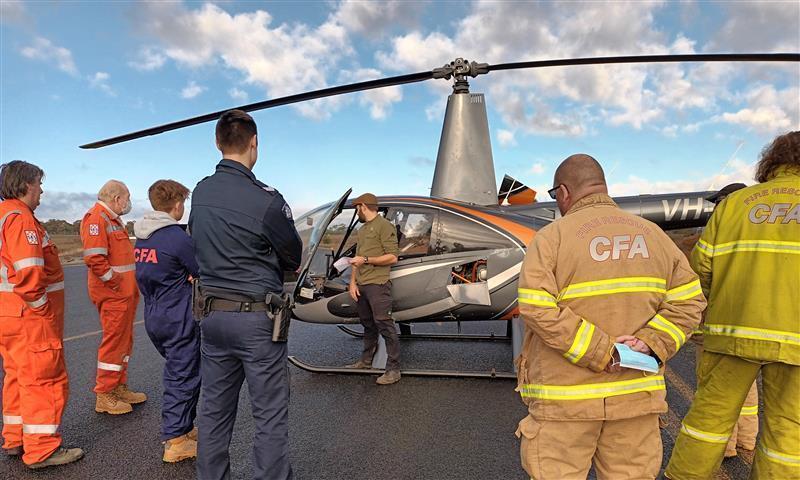 CFA volunteers recently joined other emergency service personnel from the Northern Grampians area for an airbase familiarisation tour and simulated plane crash exercise.
Brigade members from Great Western, Stawell and Halls Gap, along with Victoria Police, DELWP, VICSES and Ambulance Victoria personnel joined representatives from Northern Grampians Shire Council at the Stawell airbase for the exercise on 24 July.
Stawell brigade member Zach Portelli, who also works at the airbase full-time, originally planned to hold a simple walkthrough with fellow brigade members.
"When I was speaking to others from the brigade, I learned some of them hadn't been to the airport in over 10 years," Zach said.
"The airport has changed dramatically in that time. Even simple things like new access gates, so it's changed quite a lot."
Zach's walkthrough idea quickly evolved into a full airbase tour and a simulated incident designed to test and review response and coordination procedures, while familiarising emergency service personnel with the airbase.
Stawell Airbase is one of the busiest fixed wing firebombing airbases in Victoria, permanently hosting five aircraft on standby during the Fire Danger Period (FDP).
Zach said throughout the fire season the airbase can go from very little activity to aircraft landing and taking off every 15 minutes.
"During a reasonable-sized incident, additional fire related aircraft can also be relocated by the state air desk, which can see up to ten fire-related aircraft operating from the airbase at any time," he said.
"In addition to this, incident management team (IMT) personnel often require charter aircraft at the same airbase.
"Plus the support activity required, which can see a dramatic increase in operations very quickly, with mixing and loader crews and fuel trucks coming and going.
"When the airbase gets busy, not only with fire-related aircraft but with normal air traffic and training aircraft as well, it makes the airport quite busy.
"It was important to have participation from all agencies involved in the simulated incident," Zach said.
"For example, DELWP has a big presence at the airbase during FDP, so they would be first on scene even if an incident didn't involve a fire-related aircraft."
CFA Commander Tony Miles said the exercise gave all agencies involved valuable lessons and experience working together in an emergency with several complexities.
"The simulated incident involved a plane that had come off the runway, and was leaking an unknown pesticide, with the pilot trapped in the cockpit," Commander Miles said.
"The exercise was an excellent opportunity for first responders to work together to combat the incident, as well as IMT personnel holding regular briefings to discuss strategies and overcome barriers to bring the incident to a successful conclusion."
Tony said it was agreed that similar exercises would be held on a regular basis to enhance response protocols for multi-agency personnel in the Northern Grampians area. 
CFA District 16 Headquarters Brigade members provided catering on the day.
Both Zach and Tony thanked everyone involved in making the day a success, with a special mention to Justin Neofitou, the owner and operator of a local helicopter business who volunteered his time, knowledge, and helicopter for the benefit of all involved.