Method Man and the stars of 'Power Book II: Ghost' talk second season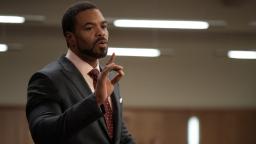 "Power," the rapper-turned-actor reacted when inquired about the character's inspiration. "I think Davis eventually wants a seat at the table. He wants to be one of the smartest people in the room, if not the smartest. He's very ambitious."
And he's not the only one.
Season 2 of the Starz drama began Sunday and continues to follow the turbulent life of Tariq St. Patrick and those in his universe.
It's the extension of the initial "Power" and part of the franchise developed by Courtney A. Kemp.
She informed CNN the program happened in part since Starz desired a seventh season of "Power" which wasn't possible.
"I was like 'There isn't another season of this to tell,'" Kemp stated. "But there is a way to keep the story going and explore different piece of it and that's where ["Power Book II: Ghost"] came from.
This season serves up "More of what you like" she said.
"You'll be chewing out the tv," Kemp said. "Certainly some delights, some chills, some murder, a little sex. You understand, the typical mixed drink."
Shane Johnson and Larenz Tate portrayed Cooper Saxe and Rashad Tate respectively on the original "Power" and in the sequel.
Both said they are enjoying playing characters that many viewers love to hate.
"It's a departure from my reality, since in reality I'm a hero," Tate said. "I'm all excellent in reality, so it's sort of good to have a good time and play a little an autocrat sometimes."
"It's fascinating since the program is integrated in such a manner in which the heroes of the program are doing a great deal of 'bad things' like eliminating individuals and things like that," Johnson said. "I believe Cooper Saxe considers himself 'I'm the hero of my own story.' I go off the rails a bit and I start to jeopardize my principles, however I'm constantly after something."
"Power Book II: Ghost" airs Sunday nights on Starz.
Jobber Wiki author Frank Long contributed to this report.