Mariah Carey reminds us she's the queen of Christmas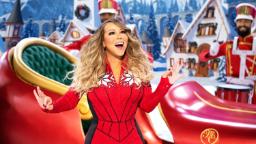 The vocalist published a video Monday to both tease something coming November 5 and advise us that she rules when it concerns the Christmas vacation.
In it, there are 3 pumpkins utilized to define "It's not time." Carey, worn a sparkly red gown and shoes, smashes the pumpkin identified "not" utilizing a huge sweet walking stick like sticky.
Her hit "All I Want For Christmas is You" starts to play as we see the queen in a few of her Christmas landscapes finery.
"It's Time!!!," a note flashes at the end of the video. "To smash that pumpkin and treat it as pie…cause we still gotta get through Thanksgiving!!!"
Recently Carey had an amusing action after somebody tweeted about a note on a jukebox stating her hit vacation tune "will be skipped if played before Dec. 1" and just "allowed one time a night" after that date.
After another user tweeted "is this the war on Christmas I've heard about?"
Carey retweeted
utilizing a picture of her dressed for fight in a picture from her "Game of War" computer game project.
Jobber Wiki author Frank Long contributed to this report.