'Long Live Rock' review: A hard-rock documentary celebrates its communal vibe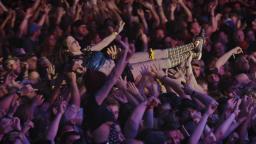 Director Jonathan McHugh speaks with a variety of entertainers, from groups like Metallica, Korn and Rage Versus the Maker, in addition to specialists and fans for whom acid rock is their enthusiasm. The last bracket consists of a billing supervisor in Ohio with young kids — who describes celebrations as "my therapy" — a couple that has actually turned crowd-surfing into a shared activity, and another lover who goes over briefly losing her prosthetic limb while cruising throughout a sea of hands.
Still, the documentary distributes its absence of neutrality with the subtitle "Celebrate the Chaos," savoring the sense of escape stemmed from crashes within mosh pits, with nary a reference of the variety of healthcare facility gos to such activities may produce.
Rather, the academics concentrate on the tribal nature of the fan base and sensations of neighborhood, explaining the bruising physical elements of the associated routines as an initiation rite. The bodies knocking together in mosh pits or the "wall of death" are truly "a camaraderie thing," states Korn diva Jonathan Davis, a method for participants to "get their aggressions out." And hi, as he keeps in mind, a minimum of they're not letting off steam by playing golf.
The one darker side checked out includes substance abuse and overdose deaths by popular artists — a reasonably quick detour, in which Dr. Drew Pinsky (who constructed a reality-TV franchise around star dependency) goes over the relationship in between rock and chemical reliance.
McHugh at the same time appears to have actually approached the movie as a valentine to hard-rock fans and as a sociologist looking for to describe the music's customizeds to those who are complete strangers to it. The genuine missed out on chance, however, remains in a minimum of resolving deep space left throughout a year in which the pandemic has actually denied those profiled from this type of expression due to the distinctively crowded, contact-oriented qualities of such occasions.
In among the more intriguing observations, Rage Versus the Maker's Tom Morello points out the relationship in between acid rock and social modification, specifying, "No progressive, radical or revolutionary social movement has ever succeeded without a great soundtrack."
There's potentially an intriguing documentary because, however "Long Live Rock" lastly seems like an ode to this tribal art type that does not have much appeal, in spite of its intents, to those outside the people.
"Long Live Rock … Celebrate the Chaos" premieres as a virtual Watch Now @ House Movie Theater Release on March 12 after its March 11 opening night.
Jobber Wiki author Frank Long contributed to this report.