'Lisey's Story' review: Stephen King adapts his own book for Apple TV+, with disappointing results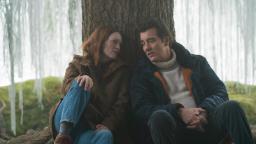 The Lisey of the title is played by Julianne Moore, who enjoyed her hubby Scott Landon (Clive Owen), a popular author, be killed right in front of her. However Lisey's hesitation to part with his unpublished works annoys a scholastic ("This is Us'" Ron Cephas Jones) who yearns to get his hands on them, and results in letting loose a crazed fan (Dane DeHaan) to pursue the manuscripts.
Still, that just scratches the surface area of the thick and time-hopping story, because Scott keeps appearing to Lisey, giving unclear recommendations and puzzling ideas about what she'll require to deal with the hazards she deals with, exchanges that unfold greatly garnished by surreal and supernatural images.
Contributing To the "ick" element, Lisey's catatonic, institutionalized sis (Joan Allen) — who is susceptible to cutting herself — figures into the bigger plot, as do quite gruesome levels of violence and the periodic series including characters throwing up terrific gushes of water.
At its core, King checks out styles about the rate of popularity, severe fandom and primary the procedures of love, loss and sorrow, with peeks of Lisey and Scott's grand love as the 8 episodes — directed totally by Chilean director Pablo Larraín — leap backward and forward in time.
King's participation, nevertheless, hasn't repaired what has actually ailed some previous adjustments. Rather, the author end up muddling and muddying that defies easy category category — "macabre" would be the personnel term — in too-drawn-out style, as Lisey gradually finds the dreadful tricks from Scott's past.
In spite of his unequal screen performance history, the mix of King's faithful fans, the requirement for fresh material and the box-office success of the most recent "It" models have actually sustained a cinematic attack of his work, old and brand-new. Current TELEVISION productions alone consist of HBO's fascinating "The Outsider" and the less-satisfying Paramount+ remake of "The Stand" in 2015, along with the upcoming "Chapelwaite" for Epix.
Like a well-traveled transit line, if you miss out on a King production, never ever fear, another will be along quickly. And the huge names regardless of, if you bypass the stop for "Lisey's Story," you will not have actually missed out on much.
"Lisey's Story" premieres June 4 on Apple TELEVISION+.
Jobber Wiki author Frank Long contributed to this report.