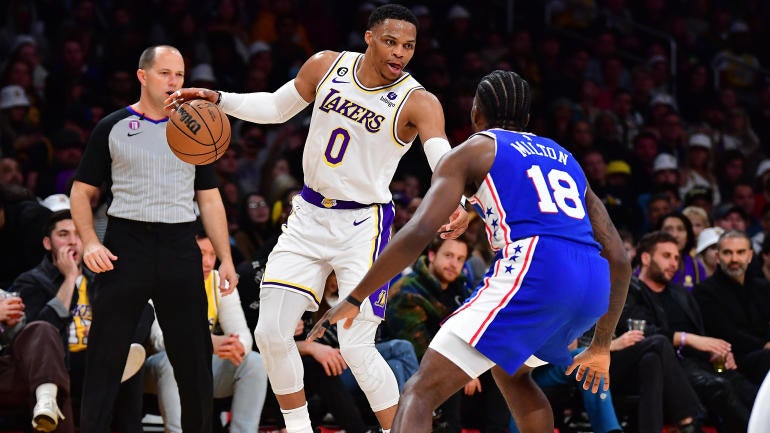 Gary A. Vasquez / USA TODAY Sports
Los Angeles Lakers guard Russell Westbrook is already the NBA's all-time leader in triple-doubles, and now he's also the all-time leader in triple-doubles off of the bench. 
Westbrook recorded 20 points, 14 rebounds and 11 assists in 34 minutes off of the pine in L.A.'s 113-112 loss to the Philadelphia 76ers on Sunday night. It was Westbrook's fourth triple-double as a reserve on the season, which is the most in NBA history. Detlef Schrempf has the second most with three. The former MVP now has 198 career triple-doubles, and counting. 
After starting for the entirety of his career, Westbrook definitely deserves some credit for embracing a bench role for the Lakers this season. He has managed to remain productive and energetic while not playing with L.A.'s first five. As a result, he's a legitimate candidate for the NBA's Sixth Man of the Year Award. If he were to win Sixth Man of the Year, he would become just the third player in league history to win both that award and NBA MVP. James Harden and Bill Walton are the only players to have done so. 
Unfortunately for the Lakers, Westbrook's production against Philadelphia wasn't enough to propel the team to a win as his questionable decision-making at the end of the game will likely overshadow his stat line. With the Lakers trailing by one and the clock winding down, Westbrook decided to call his own number. He tried to take Sixers center Joel Embiid to the basket, but he was unable to make a play. 
Westbrook claimed that he was fouled by Embiid on the play after the game, but if he was, it was obviously missed by the refs. In that situation, getting the ball to LeBron James would probably have been a wiser decision. But, while Westbrook's decision-making can be questioned at times, his production can't be, whether he's starting or coming off the bench.