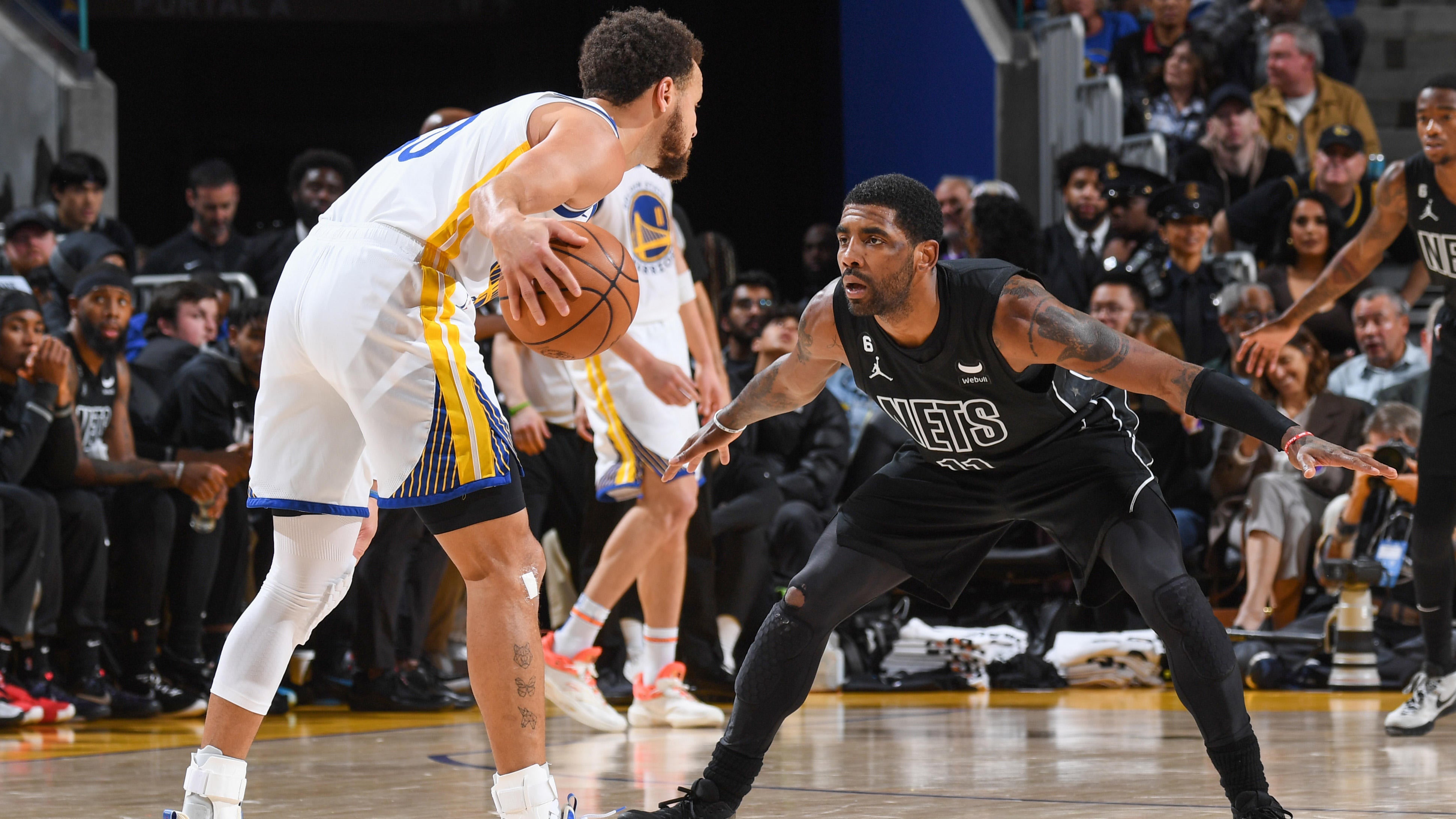 After struggling with his efficiency in his first three outings following Kevin Durant's sprained MCL, Kyrie Irving, for the first time in his career, has logged three consecutive games with at least 30 points, five assists and five rebounds. 
It started with 30-7-7 against the Suns. Then 48-11-6 in a win over the Jazz. Finally, Irving went for 38 points, nine assists and seven rebounds against just one turnover in Brooklyn's 120-116 victory over the Warriors on Sunday. 
But I'm not here to highlight Irving's offense. You know all about that. I'm here to highlight his defense, which, relatively speaking, has actually been quite good for quite a while now. The effort and attention to detail are evident, and the same footwork that Irving uses to dizzy defenders when he has the ball proves just as useful when he's on the other side of the dance. 
Watch here as Irving crowds Stephen Curry starting at half court, cramping the ball-screen space before putting on a defensive-slide clinic when Curry rejects the screen. It kills the whole possession, as by the time Curry gives it up, the Warriors are forced to ask Klay Thompson to create against a dwindling shot clock. No dice. 
Irving took on the Curry assignment all night. He consistently picked up high and dared Curry to beat him off the dribble, and save for a couple of instances in the first half, Curry wasn't able to do so. Watch here at the end of the third quarter. Irving again puts a lot of ball pressure on Curry and then, isolated on an island, stays disciplined as Curry tries to shimmy into some kind of separation, which he doesn't get. 
Late in the fourth, Curry again finds himself one on one against Irving. He tries to go right and can't get an inch of separation. Irving completely interrupts his rhythm, so Curry loses his footing and travels. 
The common denominator on all these plays is how persistent Irving is in crowding Curry's space with both ball pressure and off-ball physicality. The former typically asks for trouble, as Curry normally goes by guys trying to guard him that closely, but Irving can move his feet. 
To the latter point, the off-ball physicality, watch the sequence below. Irving, after again harassing Curry with ball pressure, stays attached to Curry as he snuffs out Golden State's patented split action. Curry wants to come around a screen after the ball enters into the post, but Irving is so tight into Curry that the whole thing is jammed up. Then, when Nic Claxton jumps out to Curry, Irving switches onto a rolling Kevon Looney to thwart that option, and it all ends with Jonathan Kuminga having to force up a shot and Ben Simmons drawing an offensive foul. 
That is such good stuff from everyone involved. Claxton was awesome in this game. Simmons was good defensively and dished out 11 assists. Joe Harris hit some big shots. Royce O'Neale was great, as he has been all season. A lot of guys switched onto Curry in this game and made him take tough shots. By the end you could tell he was indecisive, almost lethargic in trying to get to his spots, which you don't see often. 
This is how you bother a great scorer. Curry still had 26 on just 16 shots. He was 4 for 8 from deep. You're not going to shut Curry down. But you can win a possession at a time, and by the end, the cumulative effect of a connected switching effort and constant ball pressure can wear even a superstar down. From that standpoint, this victory had Irving's prints all over it on both sides of the ball. You know about the offense. But when Irving plays defense like this, the Nets become significantly more dangerous.