Kick off the holidays with 'An Unexpected Christmas' on Hallmark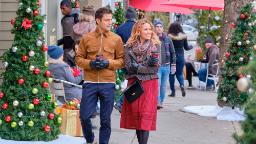 The network began its "Countdown to Christmas," everyday offerings of joyful films, in October.
On Friday, "An Unexpected Christmas" makes its launching, starring Tyler Hynes and Delight Lenz. The movie, executive produced by Matthew R. Brady, story by Greg McGoon and composed by Paul Campbell, has to do with a a man [Hynes] who persuades his ex-girlfriend [Lenz] to impersonate a couple for Christmas.
"I love the fact that [the Countdown To Christmas] creates an event, an anticipation, an atmosphere that is warm leading into the holidays," Hynes informed CNN in a current interview.
Lenz included, "I love that you can always count on, pardon the pun, there being a new Chrismtas story every week. Multiple times a week and I love the build up of the anticipation for the holiday season. It wouldn't be Christmas without Hallmark."
"An Unexpected Christmas" airs at 8 p.m. EST on the Trademark Channel.
Jobber Wiki author Frank Long contributed to this report.