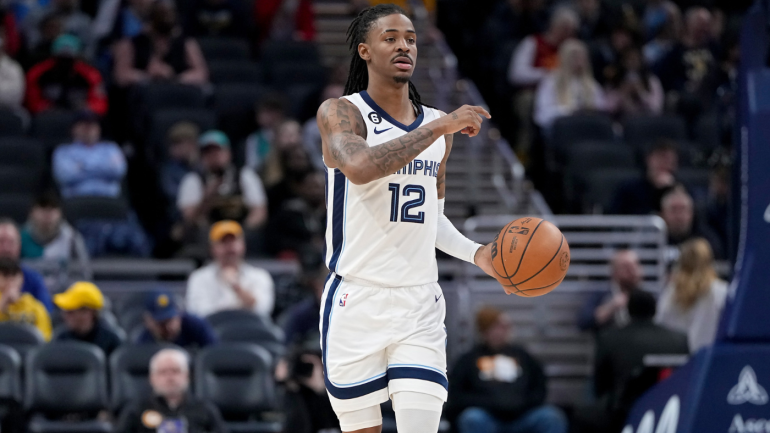 Getty Images
Memphis Grizzlies All-Star point guard Ja Morant could return from an eight-game suspension as early as Wednesday against the Houston Rockets, per Shams Charania. Morant was eligible to return for Monday night's game against the Dallas Mavericks, but the Grizzlies ruled him out with the intention of consulting with the medical staff before determining his status for Wednesday's game.
The NBA announced on March 15 that Morant was suspended for eight games without pay for conduct detrimental to the league. The suspension stems from a video Morant posted on his Instagram Live where he had a gun at a Denver-area nightclub after a loss to the Nuggets on March 3. The suspension handed down by the league was retroactive, so it included the five games Morant sat out after the Grizzlies announced that he would be taking time away from the team. 
During Morant's absence from the team, he spent time at a counseling center in Florida, and he also met with league commissioner Adam Silver. Following Morant's meeting with Silver, the commissioner issued the following statement:
"Ja's conduct was irresponsible, reckless and potentially very dangerous," Silver said in the statement. "It also has serious consequences given his enormous following and influence, particularly among young fans who look up to him.  He has expressed sincere contrition and remorse for his behavior.  Ja has also made it clear to me that he has learned from this incident and that he understands his obligations and responsibility to the Memphis Grizzlies and the broader NBA community extend well beyond his play on the court."
In Morant's absence, the Grizzlies have managed to stay afloat, going 5-3 in the eight games without their All-Star guard. They're currently in a tight battle with the Sacramento Kings for the No. 2 spot in the Western Conference. With 12 games left on Memphis' schedule, getting Morant back should give the Grizzlies a boost down the stretch run to try and secure the No. 2 spot heading into the postseason.