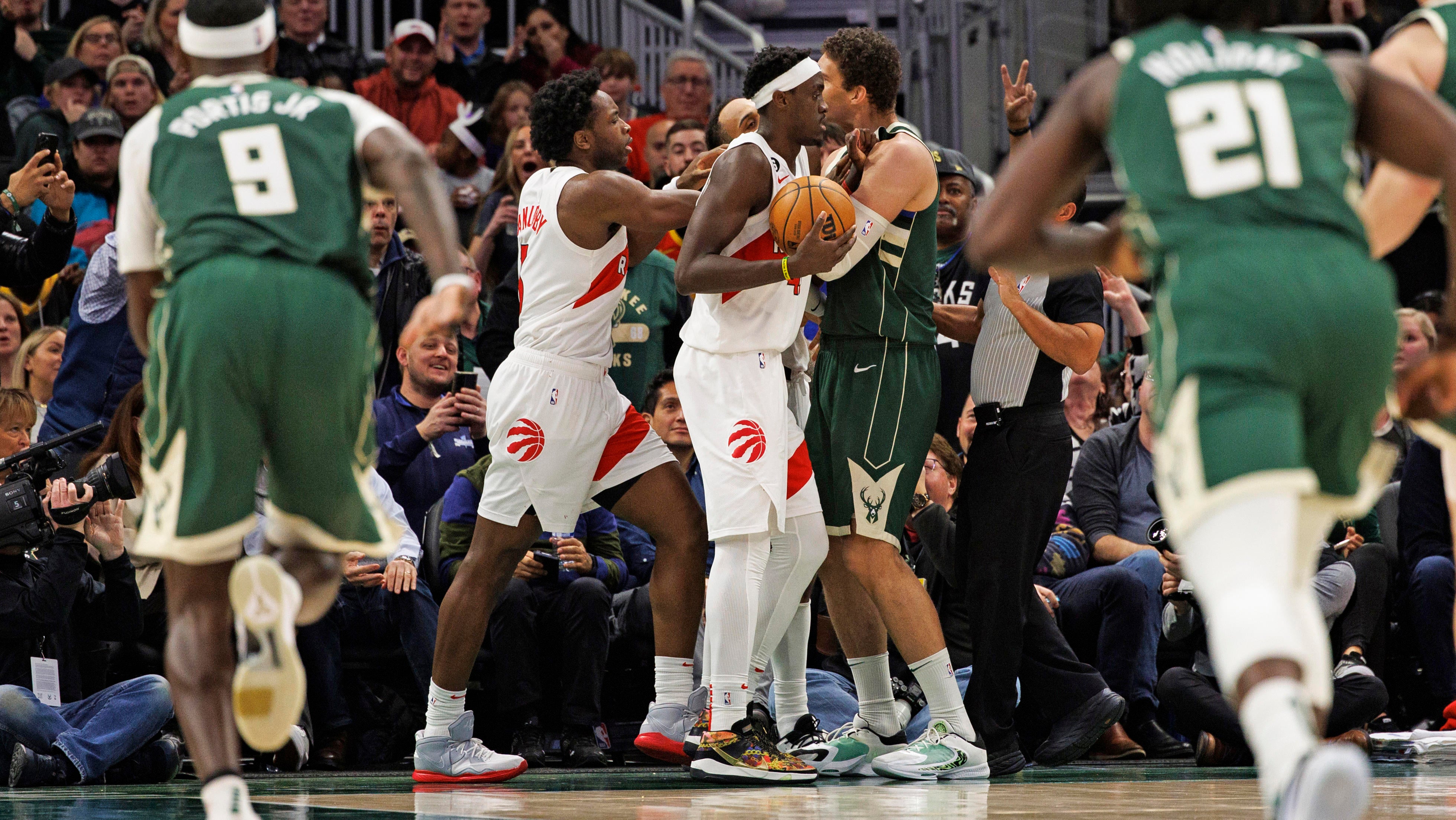 MILWAUKEE — The Milwaukee Bucks picked up a much-needed 130-122 victory over the Toronto Raptors on Tuesday night, in what was a highly entertaining game despite the absences of Giannis Antetokounmpo and Khris Middleton. They also had to play the final 6:40 without Brook Lopez, who was ejected for the first time in his 15-year career following an altercation near the Raptors bench. 
In the middle of the frame, Lopez got tangled up with Gary Trent Jr. in the paint while Jrue Holiday got inside for a layup. With their arms hooked together, Lopez walked Trent down towards the baseline and grabbed his headband off his head. At that point, multiple players from both teams got involved in the scrum, along with Raptors coaches and various security personnel.
There was some pushing and shoving and "cromulent" words exchanged, per Lopez, but no one left the bench and the situation did not escalate from there. Still, Lopez was tossed for two separate technicals: one for removing Trent's headband and one for trying to get back into the fray after he had been pulled away. In addition, OG Anunoby and Raptors assistant coach Jamal Magloire were issued technicals for their roles. 
That seemed like it would be the end of the excitement; both Raptors head coach Nick Nurse and Bucks head coach Mike Budenholzer downplayed the event in their postgame press conferences. Lopez, however, had other ideas. Over the course of several minutes, Lopez, who was being egged on by Joe Ingles, delivered one of the most memorable postgame performances of his career. 
Here, in full, are his thoughts on the ejection:
Zora Stephenson, Bucks sideline reporter: What had you most frustrated?
Lopez: I can't expect the refs to get it right if they're not gonna get it right during the game, why are they gonna get it right when they replay it or any of the other calls. It is what it is. I make mistakes, you make mistakes, [The Athletic writer] Eric [Nehm] makes less mistakes than us probably, but they make mistakes too. They made mistakes tonight. They're human, they're fallible, even with the help of replay they still have a tough time, so it's cool.
Stephenson: Did you watch the rest of the game in the locker room?
Lopez: I did! It was fun. Basketball's a fun game.
Ingles: I just want to know what happened to Gary Trent's headband. Why did it end up on the ground?
Lopez: Should I answer Joe's question? It was just driving me so insane, I had to do something. It was talking to me. Make sure this never gets aired: You know how like serial killers say the dog in their apartment building was talking? The headband was talking to me.
Ingles: Have you answered the question? I'm trying to get a serious answer on how his headband ended up on the ground.
Lopez: I don't know. I didn't see anything happen. I should have gotten minus-two Ts if that makes sense. Like to go forward, like get out of jail free cards. That's how good I was. I was a good person out there. Look, I was a real good person. Apparently Steve Trent, whatever the guy's name is, he wanted to hold me. He wanted to hold me, that's how good of a person I was.
Ingles: I think you're a lovely person.
Lopez: Exactly, thank you. He must have too.
Lopez, who despite his early exit finished the game with 19 points, said he can't predict the future so he's not sure if any more ejections are in the cards. He is, however, glad the Bucks have three days off until their next game on Saturday. The break will give him some time to cool off. "Yeah, seriously, good timing for that," Lopez said.