CNN
 — 

Josh Shapiro had a massive spending advantage and a weak Republican opponent, but the incoming Pennsylvania governor thinks Democrats should still take note of how he made voters see his fight-for-the-little-guy speeches as more than just talk – and racked up the party's biggest margin in any swing-state race of 2022.
"My sense is people don't think government will have the courage to take on the powerful and then be able to deliver," Shapiro said in an interview with CNN. "So I think some people are like, 'This guy really did take on the big guy, and he really did deliver something.'"
What he's talking about is a wide record of six years as Pennsylvania attorney general. He didn't just bemoan the opioid crisis but secured $3.25 billion for treatment and other services in the state. And he wasn't just complaining about corruption but overseeing the arrests of more than 100 corrupt officials from both parties.
In a midterm year in which Democrats lost the House but still did better than expected, Shapiro – who will be sworn in January 17 – dominated every day of his race in a state that was key to both Donald Trump's and Joe Biden's presidential wins.
Former President Barack Obama told Shapiro directly that he's among the 2022 generation of Democrats who need to have a voice in the future of the party, according to people familiar with the conversation. Famed consultant James Carville called Shapiro's campaign the best of 2022. He's already being chattered about by many Democrats as perhaps the future first Jewish president.
As Democrats start planning for what's next – what they stand for, instead of just what they stand against with Trumpism – even White House aides who now rave about Biden's accomplishments being on par with Lyndon Johnson's acknowledge that they're still struggling to make many voters see the direct impact on their lives. Happy as they are about how well Democrats did in the midterms, they see most of that as a rejection of Republicans and Trumpism, with top Democrats telling CNN they know they have a different task in front of them as they head into preparations for an expected Biden reelection campaign and efforts to hold the Senate and win back the House in 2024.
Pollsters John Anzalone and Matt Hogan said in memo last month that while the party should be "understandably encouraged," Democrats "should be careful not to interpret the results as evidence that voters liked the party more than pre-election polls suggested."
From MAGA crowds to Bernie Sanders rallies in Pennsylvania and beyond, voters in interviews often express a common feeling that a small group is getting away with what regular Americans never could, and a cynicism that any politician is even trying to do anything to stop them.
Put Shapiro's tight-rimmed glasses and studied Obama-style speaking rhythms next to Democrat John Fetterman's Carhartt shorts, tattoos and bouncer chin beard and few would see the incoming governor rather than the already iconic Pennsylvania senator-elect as the one with populist appeal. Yet it was Shapiro, who grew up the son of a pediatrician in the Philadelphia suburbs and has been measuring each step on his path to Harrisburg since law school – and some around him say grade school – who got more votes in November.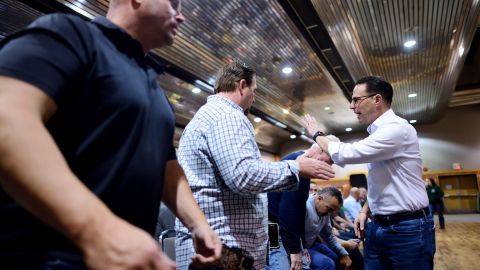 Focus groups conducted by Shapiro's campaign as he was preparing to launch last year had people saying he was "polished," according to people familiar with the findings. Worried that could slip to "boring," or just being written off as a career politician, aides packed his stump speeches full of more references to cases or parts of the $328 million in relief, restitution, penalties and other payments his office says he obtained over six years on the job.
When Shapiro talked about climate change, he talked about getting to affordable energy costs and about the fracking companies he sued as attorney general because the pollution was endangering Pennsylvanians' health. When he talked about student loans, he talked about the $200 million in debt he got canceled by suing a big lender. He was just as likely to bring up the massive investigation his office did into decades of sexual abuse in Catholic dioceses across the state as he was a local construction company from which he recovered $21 million in stolen wages, knowing that either effort would give him credibility and appeal to voters who don't think much about politics, or rarely think about voting for Democrats.
"They don't want to hear you talk," said a top Shapiro aide. "They want to see what you can do."
He had a running start heading into his gubernatorial campaign: Since his election as attorney general in 2016, Shapiro and his team had made publicizing the work he was doing a central part of the strategy, from pressuring a huge state insurance company by having news conferences with women who'd been through breast cancer treatment, to mounting campaigns to have supporters write open letter op-eds to CEOs they were after, to setting up a hotline for church abuse victims to call in with their stories.
With Republicans all over the country stoking crime fears throughout the midterms, Shapiro would talk about the 8,200 drug dealers he'd locked up in his six years on the job. He'd then immediately follow up, saying that the opiates many of them were selling were part of a crisis "manufactured by greed" and how he'd also gone after those companies with the power of his office.
"Look at his model," said Rep. Dwight Evans, a Democrat who represents much of Philadelphia. "What he says is, people deserve to be safe and feel safe. You got to have a way of showing outcomes. And he does that."
Shapiro's Republican opponent, Doug Mastriano, raised only $7 million, had an account full of QAnon-friendly tweets, was seen in a picture dressed up in a Confederate uniform, held events where men claiming to be security blocked reporters from entering and paid consulting fees to the antisemitic website Gab. But in a swing state that Biden only narrowly won in 2020 – and had gone to Trump four years earlier – Shapiro's eventual victory was far from a guarantee.
In reflective moments during the campaign, Shapiro would talk about the "heaviness" he felt while campaigning and about the way his wife would poke him in the chest or voters would grab him by the arm and tell him, "You have to win." An observant Jew, whose campaign debated whether to feature a shot of a challah bread in an opening video in which he spoke about getting home every Friday night for dinner with his family (it ultimately did) and who often cited an old Jewish teaching that "no one is required to complete the task, nor are we allowed to refrain from it," he said he felt the weight both politically and personally.
Voters ended up rejecting election-denying Republicans in nearly every competitive midterm race around the country. Shapiro, though, didn't wax on about the abstract wonders of democracy or voting rights, but detailed the 43 challenges to the 2020 vote count that he defeated in court.
He went on offense, mocking Mastriano for talking a "good game" about freedom, then saying "real freedom" is about freedom of choice in abortion rights, freedom to not have banned books, freedom to not feel targeted by guns on the streets and freedom to have job opportunities.
He talked about the events of January 6, 2021, but only to say that Mastriano's presence in the crowd outside the US Capitol ahead of rioters storming the building showed that he didn't "respect" Pennsylvanians enough to care what they thought.
He never went more than a few words without drawing a direct line back to what he'd already accomplished.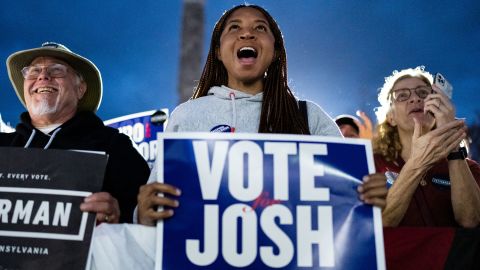 Part of Shapiro's standard routine is always insisting he doesn't pay attention to national politics and doesn't think much about what other Democrats beyond Pennsylvania are doing or saying. One of his favorite lines during the campaign was how his focus was on Washington County, just southwest of Pittsburgh, and not Washington, DC.
So when asked about other Democrats being wary of going after corporations over fears they'd be tagged as socialists, or about Biden's only sporadic attacks on oil companies for profiting as gas prices were high, Shapiro pleaded ignorance – pointedly.
"I don't have a frame of reference," he said, "but I guess I am surprised they wouldn't talk about it as well."
The result for Shapiro: He set a record of winning the most votes ever for a Pennsylvania gubernatorial candidate. As his campaign has proudly pointed out, his win was so big that he could have gotten there even without a single vote from Philadelphia and its suburbs: In Erie County, which Biden won by 1 point in 2020, Shapiro won by 21 points; and in Washington County, which Biden lost by 22 points, Shapiro only lost by 2.
His coattails helped keep the Senate race tilted to Fetterman even when the candidate was sidelined by a stroke. He also helped his party hold three swing US House seats and narrowly win a majority in the state House of Representatives for the first time in more than a decade.
"He was able to represent everyday consumers against the big guys," said North Carolina Gov. Roy Cooper, the outgoing chair of the Democratic Governors Association and a former state attorney general himself. "People remember that, when you stood up on their behalf."
As attorney general, Shapiro faced the corny political joke: "AG" really stands for "aspiring governor." While many have made the jump, few have done it successfully.
Shapiro knows he's going to have to adjust.
"When we were in the AG's office, these cases would come to us," said the Shapiro aide. "Now we're in the position of, we drive the agenda."
They're still trying to sort out what exactly that the shift in mentality will mean.
"It's hard to accuse me of not doing things," Shapiro said. "I feel a responsibility to now be able to take what I did, that type of approach in the AG's office and show that government can work."
There's only so far most Democrats can go in following the Shapiro model. Members of Congress can't go to grand juries. A president can't negotiate legal settlements.
But with Shapiro and fellow Democratic Attorney General Maura Healey of Massachusetts winning their governor's races, other Democratic attorneys general are gearing up for more.
Even in states with multiple competitive races, every Democratic attorney general was reelected in 2022, except in rapidly reddening Iowa, and the party picked up the office in the key swing state of Arizona.
Those and other state AGs are already moving individually and in small groups on more investigations they expect to soon go public in a big way, including more pharmaceutical inquiries, privacy and data protection, and online consumer fraud. Also now rising on the list of targets: cryptocurrency.
"It certainly works. It gets the attention of corporate America. They know they have to contend with us," said Nevada Attorney General Aaron Ford, who also co-chairs the Democratic Attorneys General Association and just won a second term back home. "And the voters appreciate it, and it's recognized."