Houston great-grandmother recovering after escaping violent shootout and crashing into home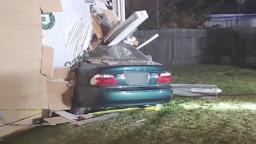 HOUSTON, Texas (KTRK) — A 78-year-old great-grandmother is recuperating from contusions, swelling, and a hurt eye after enduring a wild crash on Monday triggered by a shootout in southwest Houston.
The lady, who asked not be recognized provided the violent nature of what she saw, stated she owes God all the splendor. She spoke with ABC13 Tuesday early morning.
Medical professionals anticipate her to make a complete healing.
"I never prayed like I did last night," she stated. "I'm so thankful for my life, but the main thing that I'm thankful for is that I didn't hurt anybody. Had I hurt those people that live in that house … they could have just buried me right then and there because I never would have gotten over the fact that I had taken another human being's life."
The lady stated when she was leaving of a filling station, she saw the violent shooting.
In her efforts to leave the unsafe scenario, she stated she lost consciousness prior to concerning inside her automobile, which had actually crashed into a house.
"I heard, 'Pow! Pow! Pow! Pow!'" she remembered. "I said, 'Jesus, are those gunshots?' His arm was out stretched. I saw the gun in his hand. I said, 'Jesus, he's shooting a gun.' He was looking directly at me. He's fixing to kill me, because he's going to think I can identify him."
According to the Houston Authorities Department, 52-year-old Mark Jefferson was parked inside his car at the filling station at 7997 W. Airport Blvd. Private investigators stated a male parked his car beside Jefferson's automobile. A conversation ended with shots being fired and the suspect ran away the scene in a black Chrysler 300.
FIND OUT MORE: 1 hurt in shootout on W. Airport; innocent motorist winds up crashing into house
Jefferson is recuperating in the health center with injuries to his abdominal area and arm.
The great-grandmother stated she desires the shooter to turn himself into authorities.
"I would say to him if he believes that there is a God, he needs to turn himself in," she stated. "He needs to turn himself into the police. I say by the grace of God, I could have been coming out of the store at the time the other guy was returning fire and could have killed me. I had nothing to do with it."
Anybody with info on this case is advised to call the HPD Major Assaults and Household Violence Department at 713-308-8800 or Criminal Activity Stoppers at 713-222-TIPS.
Follow Steve Campion on Facebook, Twitter and Instagram.
Copyright © 2021 KTRK-TV. All Rights Booked.
Jobber Wiki author Frank Long contributed to this report.