Key events
So far, seven votes against McCarthy have been cast.
It appears that McCarthy may have lost another ballot, as five no votes prevent his election if all representatives are present.
As roll call continues, representative Ken Buck told reporters that McCarthy would have to "step aside" at some point and let Minority whip Steve Scalise run, if McCarthy cannot win the vote.
So far, four votes for Donalds have been cast by the usual McCarthy opposers.
It's unclear how many of the original 20 no votes can be flipped–or if more representatives outside of the 20 will vote "present'" and lower the Speaker vote threshold.
Fifth round of voting begins
Here we go again!
Roll call has just started for the fifth time.
Colorado representative Lauren Boebert has nominated Byron Donalds for the fifth ballot.
During her remarks, Boebert called on Trump to tell McCarthy that he does not have the votes for the speakership and to withdraw. She was met with a chorus of boos.
In a quick speech, Hakeem Jeffries has again been nominated by Democrats to be the House speaker.
His nomination was met with applause from completely united Democrats.
McCarthy nominated for House Speaker position, again
Ohio representative Warren Davis has nominated McCarthy – for the fifth time – to the House speaker position.
Davis is a member of the House Freedom Caucus, as are a number of McCarthy opposers.
No House speaker elected, once again
The official vote tally has just been read.
As predicted, a House speaker has not been elected.
McCarthy's, Jeffries', and Donald's tally readouts have received applause from House members.
Here's a helpful breakdown of the vote tally from the New York Times:
McCarthy opposers and supports are on social media to voice their opinion on the fourth round of voting.
From Representative Andy Biggs, who casted the first vote against McCarthy's election:
Meanwhile, Representative Marjorie Taylor Greene has condemned the McCarthy opposition, tweeting that the group doesn't have a plan as they are on their third speaker candidate.
Taylor previously tweeted a screenshot of Trump's endorsement of McCarthy, writing: "Let's Go! We have work to do!!"
Now, onto the business of whether there will be a fifth round of voting today or an adjournment for the House.
Representative Tom Emmer, who is apart of House Republican leadership, told reporters that there are discussions happening now on a fifth vote and that it has not been decided.
From CNN corespondent Manu Raju:
McCarthy falls short of House speaker vote
Voting has just ended. McCarthy has lost his bid for House speaker, once again, though an official vote announcement is still needed.
With no majority earned on either side, a fifth round of voting may take place.
With dissent ripe on the Republican side, Hakeem Jeffries has secured all 212 votes from Democrats, versus McCarthy's 201.
McCarthy lost a vote, with Spartz voting present during the fourth round.
Members who did not answer during the first roll call are now being called.
Indiana representative Victoria Spartz has voted present during the House Speaker election.
George Santos, who left the House chamber after casting his vote in today's roll call, voted for McCarthy.
From CBS News' Scott MacFarlane:
So far, we're at 20 no votes for McCarthy as roll call continues.
McCarthy has officially failed to convince any of the 20 Republican holdouts to support his nomination.
California representative Nancy Pelosi received applause as she cast her ballot for Jeffries, who will be her successor after her final term as House speaker.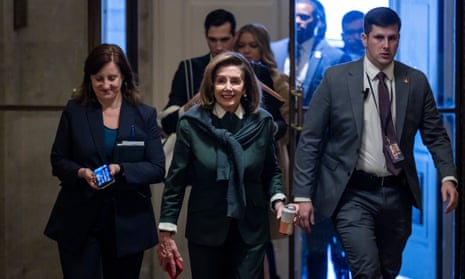 We're currently at 14 no votes for McCarthy.
But a majority of Republicans are giving McCarthy their support, with McCarthy's vote for himself met with applause.
Jeffries also received applause as he voted for himself.
Jim Jordan is reportedly having an exchange with Maryland representative Andy Harris, as roll call on McCarthy's election bid continues.
Jordan was previously floated as a possible nominee challenger to McCarthy.
From Washington Times reporter Mica Soellner: