The Deakin University study engaged 38 male and female Melburnians aged 65 to 80 who did not already perform regular structured resistance training.
Participants performed different exercises such as single-leg knee bends, sit to stand, or single-leg quarter squats performed continuously for one minute with a one-minute passive recovery break in-between.
"By breaking down exercise routines to bite-size intervals of body weight movements simple enough to be done at home, people were more likely to stick to their programs."

Dr Jackson Fyfe, Deakin Institute for Physical Activity and Nutrition
They split participants into four groups, with a control group that didn't exercise, a group that exercised for five minutes a day, and two groups that exercised for five minutes twice a day or three times a day for four weeks.
The researchers were surprised to discover a high rate of adherence among the exercise groups, with between 81 and 97 per cent of participants sticking to their routines.
Of the participants, 82 per cent said they planned to continue exercising once the study was over.
"These findings show it's never too late to start exercising and that even small amounts of regular exercise can create positive results," Fyfe said.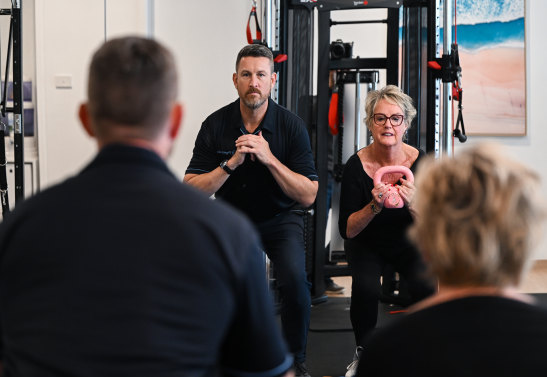 Sports physiotherapist from PhysioTrain, Andrew Hoare, says the recommended exercise guidelines can be daunting for some older adults, particularly when returning to exercise after an injury.
"Try not to let perfect be the enemy of good," he said. "While you might not have enough time or motivation for a long walk or a trip to the gym, this research indicates that performing a small number of strengthening exercises still has benefits. The key is to be consistent.
"Performing regular strengthening exercises helps to prevent osteoporosis and frailty by stimulating the growth of muscle and bone. And feeling physically strong also supports mental and emotional health," says Hoare.
Loading
PhysioTrain client Jill Dore says strength training helps her to stay active and keep up with her grandchildren.
"I do one supervised exercise session per week, but it's nice to know that doing a few simple strength exercises a couple of times a day can benefit my health," says Dore.
Make the most of your health, relationships, fitness and nutrition with our Live Well newsletter. Get it in your inbox every Monday.