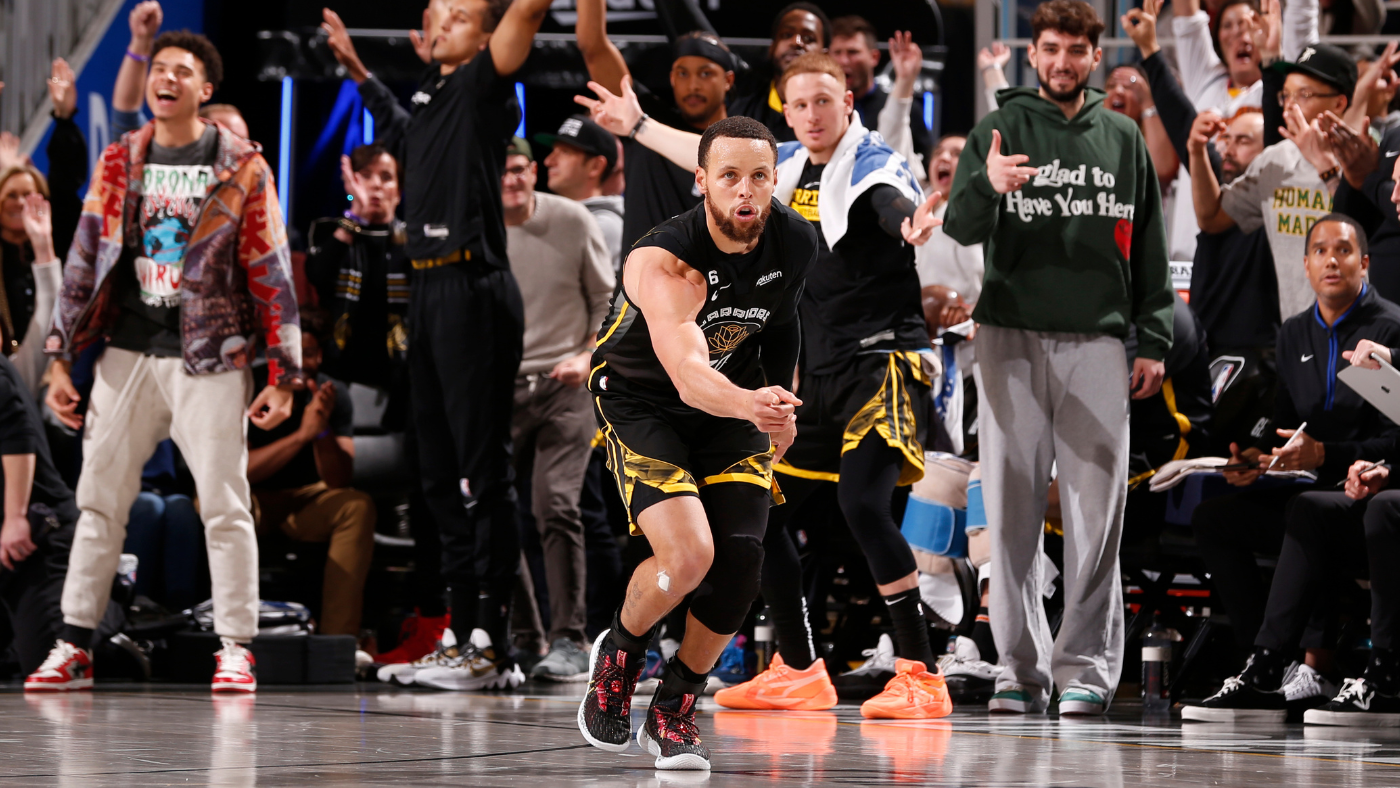 Technically speaking, Tuesday's game vs. the New Orleans Pelicans was not a must-win game for the Golden State Warriors. But it felt about as close as you can get to that with this virtually inseparable Western Conference playoff/play-in race steaming toward a photo finish. 
After letting a major swing game get away from them against Minnesota on Sunday, Golden State sat perilously in the No. 7 seed. Another loss would've left them just one more loss from falling out of the play-in and into the lottery with five games to play. 
Down 17 at halftime, it didn't look good. 
Up 11 at the final buzzer, it looked (and felt) a whole lot better. 
Warriors 120, Pelicans 109. 
The Warriors, who for the moment move up to the 6-seed (tied in the loss column with the No. 7 Wolves), couldn't do anything right in the first half. And New Orleans looked like a team, on both ends, that could pose a serious postseason problem for anyone if Zion Williamson returns. 
New Orleans' defense has been very good for a while, and it was stifling in the first half. Brandon Ingram is a bucket. You best get to know Trey Murphy III. If Herb Jones is making 3s, forget about it. When Jose Alvarado is healthy, the two-way energy of this team can be next level. 
As for the Warriors — if you've been watching the NCAA Tournament — you may have noticed how clumsy the college games can look. I don't know if it's just a skewed prism through which I view the college game now because I watch so much NBA, but at times it seems as though these amateur dudes can hardly dribble. I find myself holding my breath every time they make a move, or a pass, or do any sort of thing that requires a level of coordination. 
That's what the Warriors looked like through the first 24 minutes. Throwing the ball all over the court like some kind of basketball circus. Color man Stan Van Gundy called their butterfinger play "unprofessional," and let me tell you, watching the Warriors toss away 14 first-half turnovers, their second-most in a single half all season, that assessment was on the money. The legitimately did not look like a professional team. 
Good thing they play two halves. 
Inside the first two minutes of the second quarter the Warriors had cut their 17-point deficit to single digits. New Orleans pushed back as long as it could, re-extending the lead every time Golden State made a push, but the incremental momentum was building. You could feel it.  
When the Warriors finally broke the dam, it was just like the good old days inside Oracle Arena across the bay. Home crowd rocking. Ball moving. Everyone cutting. Stephen Curry going nuclear. Draymond Green yapping. Klay Thompson hitting gigantic 3s. Kevon Looney making his latest case for a freaking statue with an absolute lunchpail performance. Two Looney offensive boards that led to kick-out Curry 3s might've been the two biggest plays of this game. 
Another candidate for big-time play of the night was Gary Payton II ripping the ball from Brandon Ingram on the final possession of the third quarter, which led to a Jordan Poole dunk to trim New Orleans' lead to four with all the energy on the side of the Warriors. 
Speaking of Poole, he looked like he might be playing his way straight out of the crunch-time rotation in the first half. In the second, he came up with huge bucket after huge bucket. He got to the rim with his sweet Euro-step. He cashed a pull-up mid-ranger. He stuck monstrous 3s. 
That it took me this long to mention Jonathan Kuminga, who was spectacular in this one with 13 points on a perfect 5-for-5 shooting and is going to be an absolute stud in the future, tells you how many guys came up huge when the Warriors needed it most. 
Also, how did it take me this long to get to this Donte DiVicenzo one-handed put-back dunk in traffic that helped ignite Golden State?
This is what it's going to take for the Warriors to finish out this regular season strong, hopefully stay out of the play-in, and do actual damage in the playoffs. Everyone has to contribute. Particularly if they don't get Andrew Wiggins back, though it was reported on the TNT broadcast that Wiggins has been working out as though he's preparing for a return. 
If the Warriors can keep getting these huge lifts from the support staff, the Big 3 of Curry, Thompson and Green are absolutely still playing at championship level. Curry finished with 39 and is right on the edge of adding another 50/40/90 shooting season to his ledger. Thompson is averaging 23 points on 42% 3-point shooting over the last three months. 
Say what you want about Green and his hot temper, which earned him his 17th technical foul of the season on Tuesday — one more in the regular season, and he's suspended for another game — but when you look up at the final box score and see that the Warriors outscored the Pelicans by 26 points with Green on the floor, while being outscored by 15 without him, you cannot, as ever the case, draw any conclusion other than the fact that this man is an all-time winner. The emotion, overheated and frustrating as it is at times, is all part of his equation, just as some carefree turnovers are part of Curry's free-wheeling style that obviously does the Warriors more good than harm. 
So here we go. The NBA stretch run is in full stride. This thing is so tight that the Warriors might've honestly just gone from a lottery team to a top six or even top-five seed in 24 minutes of basketball. Buckle up. It's going to be a wild, bumpy ride between now and April 9.