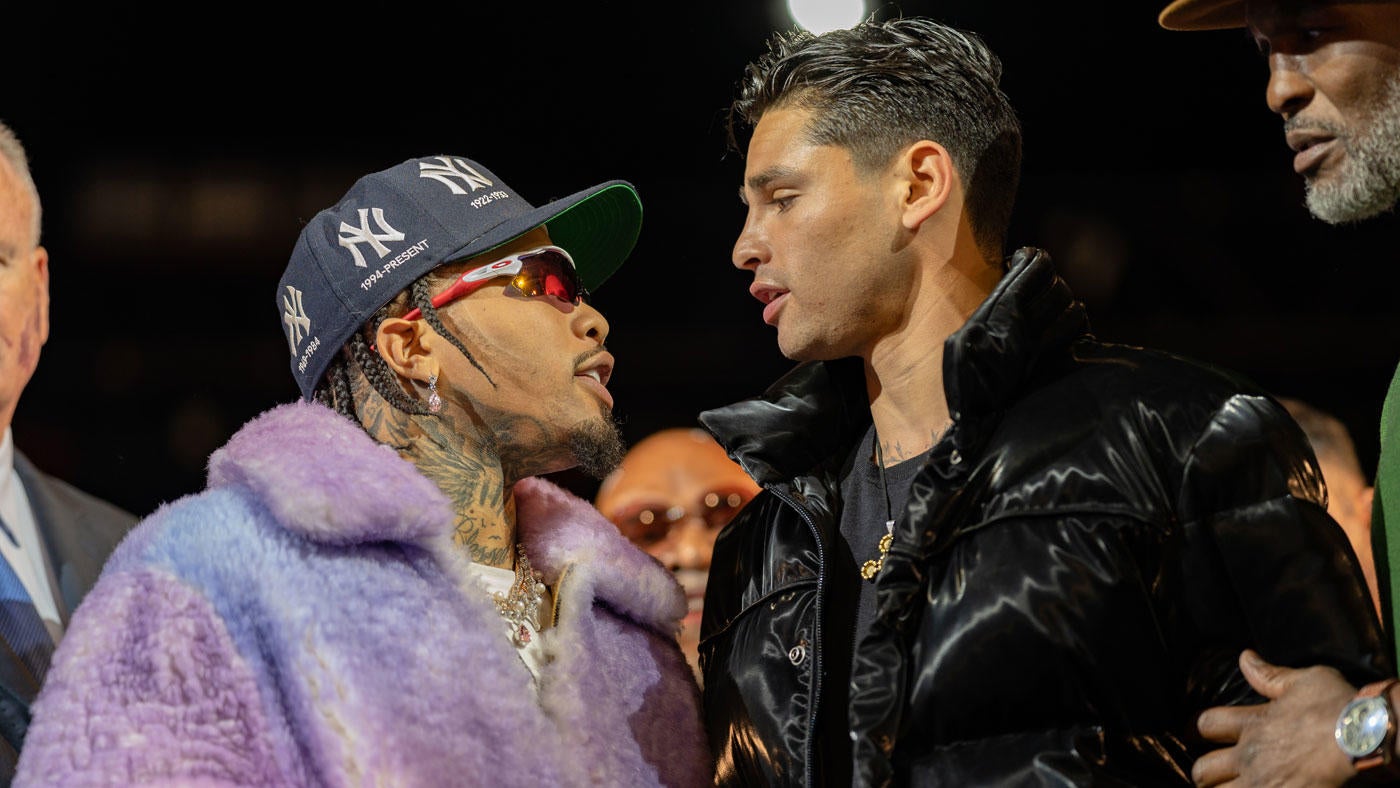 Saturday's fight between Gervonta "Tank" Davis and Ryan Garcia is a rarity in boxing for a number of reasons. From crossing promotional and network lines to the sad reality that the sport rarely sees two young superstars willing to clash with little more than pride on the line, Davis and Garcia are not battling for championship gold,  but because the two men have tied themselves to each other in the press and on social media for years. The time has come to prove who is the better man inside the ring.
Both fighters are undefeated, highly skilled and enter the fight with large fanbases. Both are also no strangers to criticism for a variety of reasons, ranging from Garcia being written off as a "social media fighter" and mentally weak to Davis facing criticism for real-life issues involving multiple accusations of domestic violence and another incident in which he was involved in a hit-and-run.
When young fighters with big personalities are in the same weight class, it's natural for fans to want to see them fight each other. It's also natural for those fighters to exchange words, claim to be the better man and either never fight or only fight once the fight has exceeded its "best by" date.
Can't get enough boxing and MMA? Get the latest in the world of combat sports from two of the best in the business. Subscribe to Morning Kombat with Luke Thomas and Brian Campbell for the best analysis and in-depth news, including a complete preview of Davis vs. Garcia live from Las Vegas below.
That isn't the case with Garcia and Davis as the talk led to the fighters taking action and making the fight happen.
The undercard in Las Vegas is loaded up with interesting matchups before we get to the main event. Secondary WBA super middleweight champion David Morrell is back in action when he takes on late-replacement Yamaguchi Falcao in the co-main event. Morrell is hoping to earn his shot at Canelo Alvarez and the undisputed crown at 168 pounds if he continues to win.
Days before this massive showdown, let's take a look at what both men have working for — and against — them heading into the bout.
Gervonta Davis
Strengths: Davis has some of the best pound-for-pound power in the sport. In 28 professional bouts, Davis has only failed to knock out two men, and only one of those fights was a scheduled 12-rounder. Davis' power doesn't come from any one specific punch. He has knocked out men with both hands, with hooks, with straight shots and with brutal uppercuts. That kind of power is rare and it allows Davis to get away with some of his bigger flaws, though more on that later.
Davis' speed should not be overlooked. Getting his punches out quickly is key to delivering his powerful shots. It also allows him to unleash counters that set up big finishes. He does well to get reads on opponents during the course of a fight and then flashes that speed with those pinpoint counters that force opponents to change their approach and open themselves up more to Davis' skills.
As "Morning Kombat" co-host Luke Thomas explained on the scouting report above, Davis also has some impressive defensive skills. Among the things he does best is attacking the jab, both through counters and by picking off those shots with his gloves. Watch the video for more on this side of Davis' game.
Weaknesses: For all his strength and speed, Davis does have some physical disadvantages. At 5-foot-5, Davis lacks height, which also comes with a reach disadvantage at just 67 inches. That has not mattered much so far with Davis maintaining his perfect record, but he is the one who has to do more work to get into punching range against a taller opponent like Garcia.
Davis can also fall into stretches of passivity. Knowing he has the ability to land crushing fight-ending shots, Davis doesn't always seem as though he is fighting with the intention of securing rounds on the scorecards. Against Rolly Romero and Mario Barrios, Davis gave away many early rounds. No one expected Romero to outbox Davis in their May 2022 showdown, but Romero won several rounds simply because he was more active and Davis seemed like he was looking for the perfect shot, which, to be fair, did come for Davis in the sixth round.
Davis also makes some unforced errors in movement. When getting trapped against the ropes, often as a result of his own decision to back up in a straight line, Davis often fails to pivot away and allows his opponents to stay close and land shots. Also, on occasion, Davis lunges forward to try and close distance from his southpaw stance and leaves his chin a bit exposed. He is quick enough to usually get away with it, but Garcia is fast enough with his left hooks that Davis can't afford to leap forward with his chin up in the air.
Ryan Garcia
Strengths: Garcia has absolutely blistering speed with his punches. For as fast as Davis is, Garcia is simply faster. That's just a rare quality few fighters can match, just as few can match Davis' raw power. Garcia also has solid power, though not at Davis' raw level. That's part of what makes this pairing so compelling. Both men do most things very well but have one thing where they're clearly superior.
Garcia's power is nothing to be sneezed at, however, and he can stop anyone if he connects. Everything starts and finishes with Garcia's left hand. He has a very crisp jab that he uses to set up his trademark left hook. Sometimes the left is fired straight and just as an opponent begins to make the adjustment, suddenly the left comes around the guard in the form of a hook. Garcia also loves to bury the hook to the body and that spot can wear a fighter down and even get the finish.
Garcia also has good size, especially compared to Davis. At 5-foot-10 and with a 70-inch reach, Garcia has the size to make it hard for Davis to get inside and do his work. If Garcia utilizes his jab early and often against a much shorter foe, that could be the biggest key to victory.
Weaknesses: The worst moment in either man's career came in January 2021 when Garcia was dropped hard by Luke Campbell. That one moment showcased Garcia's biggest weakness: a tendency to be too straight with his body while holding his chin up in the air.
For all his speed and technique, Garcia tends to both throw punches and stand still with his chin fully exposed. Against Campbell, that led to Garcia getting cracked with a left hand over a lazy pawing jab. Garcia was able to recover, get to his feet and ultimately get the stoppage, which showed his tremendous heart. But an open chin against a puncher like Davis is a far more dangerous thing than against Campbell.
While Davis doesn't have a ton of experience against elite opponents, he has more than Garcia. Campbell was a fine opponent for Garcia, but he followed that fight up with fights against unheralded Emmanuel Tagoe and a faded and blown-up version of Javier Fortuna, which at least gave Garcia some more work against a southpaw. The fight with Davis is the first real risk in Garcia's career. He's shown plenty of heart already but we'll learn a lot about the fighter he is at his core on Saturday night.
Who wins Gervonta Davis vs. Ryan Garcia? And which prop is a must-back? Visit SportsLine now to see Peter Kahn's best bets for Saturday, all from the boxing specialist who has netted his followers a profit of more than $4,000, and find out.