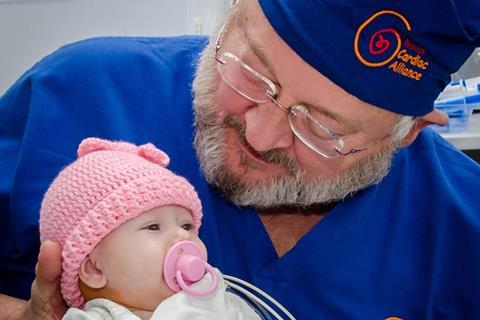 Sales agent Foxglove Entertainment, a sister company to Priscilla Ross Smith's The Coven, is at Mipcom talking to buyers about the documentary Tiny Hearts which follows paediatric cardiac surgeon Dr. William Novick.
The surgeon travels the world operating on children in struggling or war-torn countries and trains local medical teams to provide ongoing care after his departure. Scroll down for the first-look trailer.
Chris dela Cruz, who has previously directed short documentaries, digital campaign ads and music videos, is directing Tiny Hearts and accompanied Novick to Ukraine earlier this year in the days after the Russian invasion. The film will also highlight the doctor's own health challenges.
Eight-time Grammy winner Philip Lawrence, who has worked with Adele and Bruno Mars among others, will compose the soundtrack. The production anticipates wrapping the shoot by the end of the year after trips to Iraq and Libya.
"Fearing for my own safety in Ukraine dissipated when I saw mothers and fathers helpless and desperate with no means, placing their faith in Novick and his team to save their child's life," said Dela Cruz. "Random power outages, air raid sirens going off all throughout the day to warn us of potential missile strikes get placed aside when a child's chest is open and their tiny hearts are being repaired."
"It takes an amazing person to run into places when others are fleeing," said Foxglove founder Smith of Novick. "He is relentless in his pursuit of saving children." Foxglove represents worldwide rights.
Smith recently announced the hire of industry veteran Kendall Anlian as president of global film and TV at The Coven.