Governments and citizens alike need to consider the state of a bank account before investing in physical activity, but they also need to consider the cost of not exercising.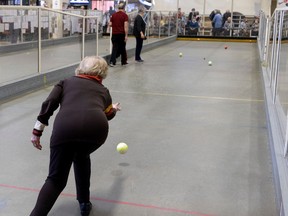 Postmedia may earn an affiliate commission from purchases made through our links on this page.
Article content
How much should we invest in an active lifestyle?  
Article content
For the Montreal borough of Ahuntsic-Cartierville, the $211,000 annual rent on the centre where 450 seniors play bocce is too much. A few months ago, borough mayor Émilie Thuillier informed the community of active older adults that the lease wouldn't be renewed. Instead, authorities offered to rent space in a church basement, but with no room for bocce, suggesting the group engage in sedentary activities like bingo and cards.  
Article content
"We want to do sports. We don't want to play cards," said 86-year-old club president Joe Stinziani when interviewed by the Montreal Gazette in October.
Putting a price tag on physical activity isn't easy, despite the almost universal opinion by health and wellness professionals that the return on investment is worth it. But it's a calculation made by all levels of government. Provincial and federal agencies grapple not only with how much money to invest in recreation and sport facilities, but how much taxpayer money should be earmarked for sport organizations and national and provincial parks, and whether Canadians should earn tax breaks in return for maintaining an active lifestyle.
Article content
According to a 2019 ParticipACTION report, federal, provincial and territorial funding for physical activity programming had remained largely static over the previous several years, with slightly under 10 per cent of budgets posting a decrease, 25 per cent showing an increase and the balance remaining the same. This despite 92 per cent of government agencies stating they had existing policies and programs that encourage Canadians to move more and sit less.
Governments aren't alone in needing to consider the state of a bank account before investing in physical activity. Most Canadians perform their own informal return-on-investment calculation every time they contemplate buying a gym membership or a piece of exercise equipment. Weighing the price tag against potential benefits — will it make me stronger, fitter, leaner, faster? — is common practice among those managing their own budget.
Article content
But what we often forget to factor into this calculation is the cost of not exercising. The World Health Organization estimates inactivity costs US$27 billion globally in health-care expenses, with Canada's contribution coming in at around US$421 million. Inactive individuals are more likely to draw on health-care resources to treat the dozens of diseases and medical conditions linked to a sedentary lifestyle, including some of the costliest to manage, like Type 2 diabetes, stroke, heart disease, hip fractures and depression.
It's not just physical health that suffers from a lack of exercise. Mental health is also affected, with isolation, anxiety and depression more prevalent in the inactive population.
Article content
Also worthy of consideration in determining exercise's return on investment is the positive effect it has on aging. Regular exercise has the potential to slow down the physiological decline associated with advancing age, and with it the increased reliance on health care that often accompanies the golden years.
The key to a healthy aging society isn't just to extend life, but to increase the well-being and quality of life of our elders. Physical independence and social interaction are two key elements in living a full life. Exercise plays a significant role in maintaining both.
Aging is a complex process that isn't easily defined by a single number. People of the same chronological age may present quite differently, which is due to a number of factors, including genetics. But it has become indisputable that exercise can affect biological age. Fit individuals are not only less likely to be limited by chronic disease, they're generally more capable of accomplishing the physical aspects of daily life with less effort than someone who's the same age but has a low level of fitness.
Article content
Middle-aged active men who followed a regular exercise regime over a 10-year period prevented a predicted nine to 15 per cent decline in physical working capacity and aerobic power usually associated with their age group. And studies of elderly men who exercised regularly estimated that their biological age was 4.7 years younger than their chronological age. Similar results have been found among active older women.
As measured by physical and mental wellness, the return on investment for regular exercise is high, and can be realized by Canadians of all ages. And while it could be argued that investment in physical activity has a greater return among our older population, healthy habits picked up in our youth tend to follow us through the rest of our years. No matter which decade of life we're in, we want our health and physical function to be as robust as possible. We also want to enjoy the social benefits that come with getting out and about with our peers.
At no time in life should individuals be relegated to playing cards and bingo if what they truly want to do is move.