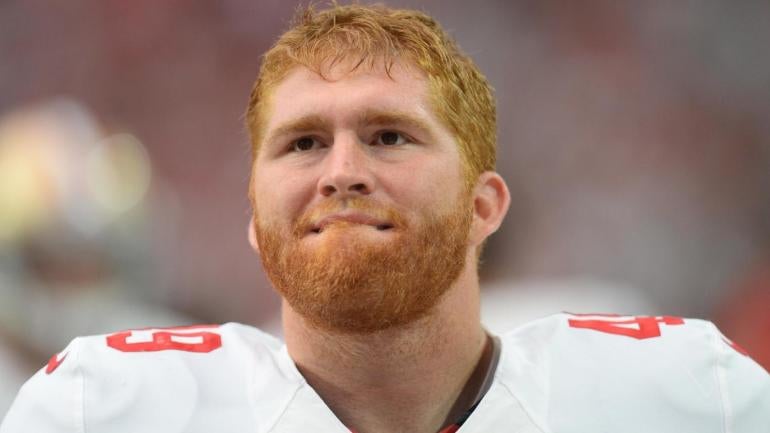 Getty Images
Former 49ers fullback Bruce Miller has been reported to Capitol Police after allegedly sending a threatening message to Eric Swalwell on social media. 
The California congressman shared the contents of the message on Wednesday. 
"Almost time!!!. Would you rather Guantanamo or just execution f—- traitor," the message said. 
The threat came in a direct message, which was sent to Swalwell from Miller's personal Twitter account. The message was threatening enough that Swalwell reported the matter to Capitol Police, according to NBC Bay Area. 
"My family and staff are deeply disturbed by the threat of execution … apparently by former 49er Bruce Miller," Swalwell told NBC. "Threats of political violence are unacceptable."
The 49ers actually reached out to Swalwell on Thursday, although the congressman didn't offer any details on what was said. Swalwell has been a member of the House of Representatives since November 2012 when he was first elected. His district in California includes the Bay Area, which is where Miller spent nearly five years of his life as a member of the 49ers. 
Miller sent out a tweet on Thursday where he attempted to downplay the nature of his message to Swalwell. 
"I was content with trolling corrupt politicians in my DM's, but since you want to make a story out of it then that's what we'll do," Miller wrote. "That was in no way a threat to you or you family."
The former NFL fullback, who was a seventh-round pick in 2011, spent five full seasons with the 49ers, but got released just before the start of his sixth season in 2016. The team dumped Miller just days after he was charged with seven felonies after he allegedly assaulted a 70-year-old man. The 2016 incident came barely a year after he had pleaded no contest to a misdemeanor domestic violence charge. 
Miller attempted an NFL return in 2020 with the Jaguars, but that got cut short. The fullback played in eight games with the Jags before being hit with a six-game suspension. The 35-year-old hasn't played an NFL down since October 2020.